Presidents Cup
Presidents Cup 2022: Max Homa hasn't had time to revel in Napa win, and he's thrilled about that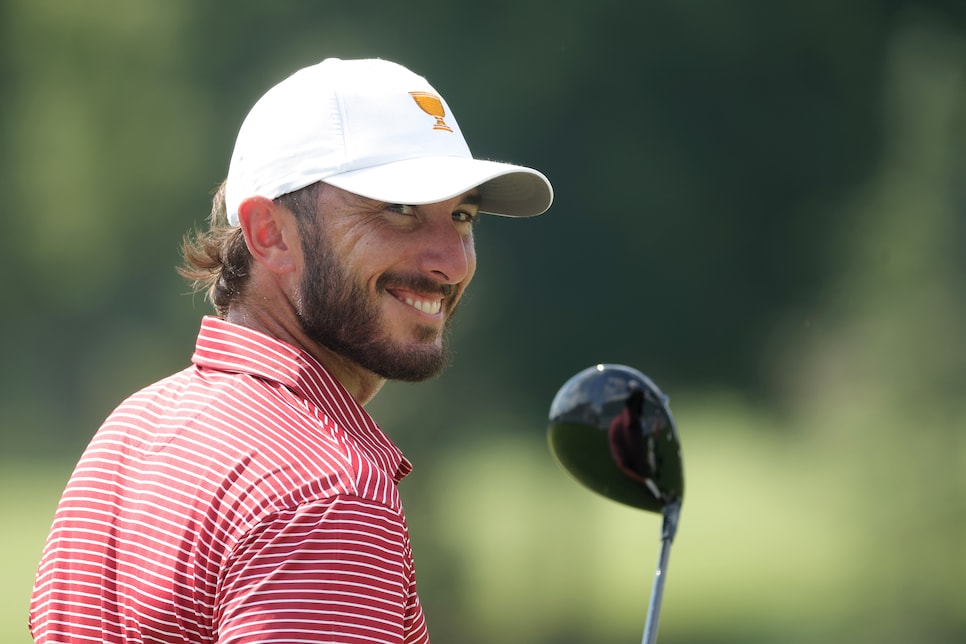 Max Homa smiles during a practice round prior to the 2022 Presidents Cup.
Stacy Revere
CHARLOTTE — Although he is appearing in his first Presidents Cup, Max Homa seems like an ideal candidate to make a significant contribution to the American team this week at Quail Hollow Club. He is coming off a remarkable victory in the Fortinet Championship that concluded Sunday—one that featured a chip-in birdie on the 72nd hole that set up a victory over a faltering Danny Willett. It was Homa's third win in a year's time, and the first of his five PGA Tour titles came at this venue in 2019 when he outplayed the likes of Rory McIlroy, Justin Rose, Sergio Garcia and Rickie Fowler.
But if you ask the self-effacing California player to name members of the U.S. team who would make up the ideal match- play player, Homa chose the driving of Cameron Young, the iron play of Collin Morikawa, the short game of Jordan Spieth and the putting of Sam Burns.
He didn't mention himself. Asked why, he replied smartly, "They're just better than me at those. You said ideal."
Well, Homa is plenty good in all those disciplines, and he proved it by finally making it to the Presidents Cup as a captain's pick after finishing 10th in the U.S. points standings. His victory on Sunday in Napa, Calif., where he successfully defended his title, was enjoyable and rewarding—though he said he still has trouble figuring out just how it happened—but adding this team event to his resume is a bigger deal.
"This is the most validating by a decent amount," Homa, 31, said Tuesday. "Wins are great. I have never won a major where all of us played together, every great player plays together. And the Tiger [Woods] pairing [at the Open Championship at St. Andrews] was amazing. But people choose that. This one, you can't really fake. So, this one was cool. These team things are really hard to get on.
"This is definitely the most validating step for sure."
It's been a long time coming. Homa points out that he turned pro the same year, 2013, as Justin Thomas, who is playing in his third Presidents Cup and has also appeared twice in the Ryder Cup. Homa didn't enjoy being on a different career arc.
"It's a bit eerie because it took so long," he said. It's interesting, I turned pro the same time JT did. We would play a lot of golf, compete against each other a lot. He did it the linear way. So I've watched him play on all these teams so much. For whatever reason, he's the one I felt the closest kind of maybe envy not in a bad way. I saw what could have been, and what looked so fun and why we work so hard. Mine took so long to happen."
Chances are he won't have to wait long to get into the lineup. Coming in hot to a course where he has a victory—"I know what I hit on every hole. I know my lines, I know my misses. That's the benefit to me," he said of Quail Hollow—leads one to believe he'll be among the 10 players chosen to compete in one of Thursday's five foursomes (alternate shot) matches for the U.S., possibly with Young, with whom he was paired with on Tuesday in practice.
"Yeah, he'll get a chance to play," Love said with a notable smirk. "I think we have a rule that everybody has to play once before Sunday, so we'll have to put him in there.
"I was sitting on the 18th green at Minnehaha Country Club watching Steve [Stricker, an assistant captain this week] in a playoff [at the Sanford International he won on the PGA Tour Champions] and then watching Max finish off his tournament. What a great way to start off our week with a win from a player and a win from a captain. Max is riding high for the last year. A lot of wins, a lot of great tournaments, and quite an exciting finish. What a way to win a golf tournament."
Homa obviously is on a high from the events on Sunday, but not for reasons you might expect.
"I wanted to make sure I came here with my game feeling good and some confidence, and I do have that going for me," he said. "So, yeah, all in all, I was going to play the week prior to the Presidents Cup, I would like to win it. I did, fortunately, so that's good."
And yet, he is quickly putting the victory aside. He might normally revel in the accomplishment for a few days, but the Presidents Cup changes everything.
"When I'm in this, I'm so happy to be around these guys, you know, not spending time reliving what happened," he said. "I get to hang out with Jordan and Scottie [Scheffler] and Justin and Sam and all the guys. Kind of brings me back to what you should be doing. I'm still very happy about what happened on Sunday, but I'm very much engulfed in what we're doing."
Besides, he'll have time to celebrate his victory next week. Or, if all goes well, two victories. That would be ideal.