Tour Life
Presidents Cup 2022: The Internationals are certainly united—over who their biggest eater is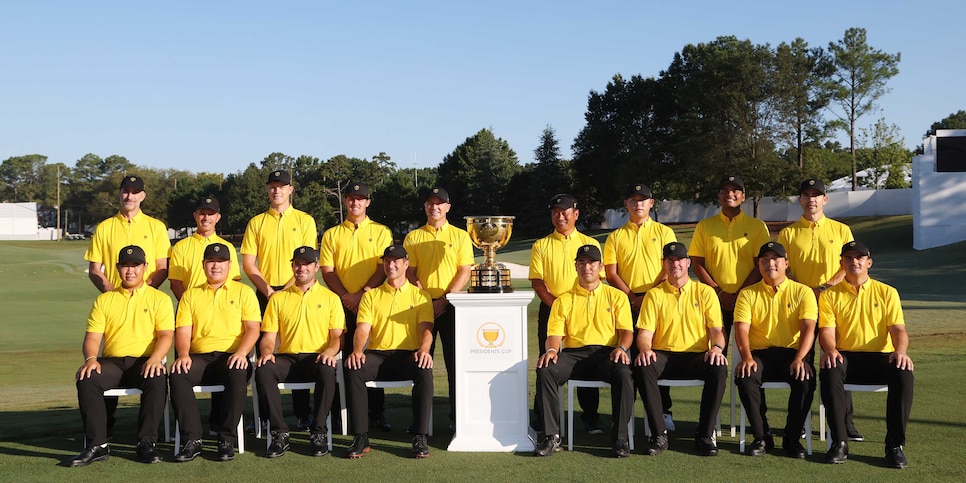 Because their home countries can be so spread out and the potential language barriers that presents, there's always a question of just how tight the International Team is at the Presidents Cup. But fans of the 2022 squad can rest assured that Trevor Immelman's side is completely united. At least, when it comes to its team leader. In the team dining room, that is.
Ahead of this week's competition at Quail Hollow, several members of the team were asked who the squad's biggest eater is. And a certain fast-food loving rookie kept coming up.
In case you don't know, we love Tom Kim. And not just because he likes to chow down at places like Chipotle and Panda Express. He's also the guy who started last month's Wyndham Championship with a quadruple bogey—and then won by FIVE shots! Anyway, when the 20-year-old isn't eating on the course, he's really eating off it. Check out these responses:
The best part, of course, is Kim capping the clip by quickly saying he's the answer. Apparently, the guy is one heck of a grazer in addition to being one heck of a golfer.
Anyway, watch out Team USA, because the Presidents Cup team that eats together, stays together. OK, that doesn't work because they're all eating together this week. Nah, the Americans are still probably definitely going to win, but it sounds like some kind of eating competition could be very competitive.