The lone bright spot
Presidents Cup 2022: Si Woo Kim's anger helped fuel the lone International team victory on Day 1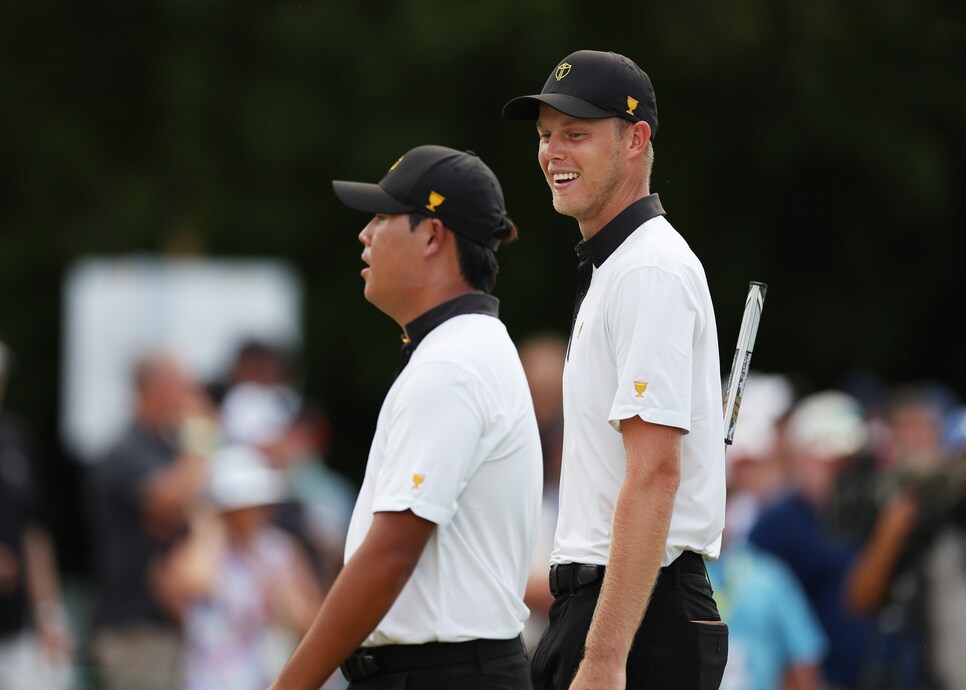 CHARLOTTE — Well, one lesson we learned on the first day of the 14th Presidents Cup is that Si Woo Kim plays quite well when he's angry.
Trailing 3 down through seven holes in his match against World No. 1 Scottie Scheffler and Sam Burns, who together have won seven times on the PGA Tour this year, Kim, of South Korea, and his partner, Cam Davis of Australia, mounted an inspired rally to stun the Americans, 2 up, and provide the only point for the International team in foursomes.
A former winner of the Players Championship, Kim said he was nervous early. And then he got annoyed. And then, well ... he can tell you.
"When we announced our name [on the] first hole, I was a little shaking leg. I don't have experience much," he explained. "And, yeah, kept going through five, six ... I'm getting pissed off because I'm losing, you know."
Scheffler and Burns now know.
The comeback started with a two-putt birdie at the eighth after Davis drove the green on the 321-yard par 4. A key par save by Davis from the 13 feet at the 10th kept the International pair in it, and they cut the deficit to one hole with another birdie at the par-5 12th.
Burns and Scheffler, both Presidents Cup rookies, won the 13th when Scheffler birdied from 14 feet, but then the International pair ran off wins on the final four holes to complete the improbable comeback. They took their first lead when Davis, making his debut, staked his approach from 137 yards at the par-4 17th to three feet and Kim, who went 1-2 in the 2017 Presidents Cup, calmly brushed in the birdie to even his record.
"We didn't really have nerves coming down the final nine, eight holes because we were behind and we needed to chase, and we were playing great," Davis said.
"And, yeah, he [Kim] was pissed."
The victory kept the U.S. team from its first sweep on opening day since 2000. It also was a boost that maybe the International team can draw on in the coming days.
"Yeah, everyone kind of saw where we were. We already pretty much had that conversation behind the 18th green. Everyone is super pumped. We can do this, you know," Davis added. "There's no reason why we can't keep playing that golf. I mean, everyone on our team is capable of the golf we played coming down the stretch. If we can all bring it out at the same time this week, we can really get things going."
"Just so proud of those guys," said International captain Trevor Immelman. "For those guys to fight back—you know, we know Si Woo's ceiling. He's won at the highest level. But for them to finish strong like that to eke out a point for us really is big psychologically. If we got whitewashed today, it would have been a tough pill to swallow. We've got our work cut out for us, but like I said, we'll keep going, man. We'll keep going until they ring the bell."
Few golf course projects had more national attention in recent years than Quail Hollow, mainly because its front nine was redesigned just a year before it hosted the 2017 PGA Championship, won by Justin Thomas. The par-4 first and par-3 second holes were completely torn up, replaced by a new long dogleg-right par-4 opening hole. Several acres of pines to the left of the fifth tee were removed to make room for a new par-3 fourth. (With its knobby green fronted by three traps, it proved to be the most frustrating hole for pros in the 2017 PGA.) More pines were removed to the left of the par-4 11th, replaced by bunkers, and even more trees chopped down on a hill left of the par-4 18th to make room for money-making hospitality boxes. There's no question that this latest remodeling, rushed though it was, improved the course. The course was also rerouted for the 2022 Presidents Cup.
View Course
MORE PRESIDENTS CUP 2022 STORIES FROM GOLF DIGEST