News
Presidents Cup 2017: The winners & losers from Day 3 at Liberty National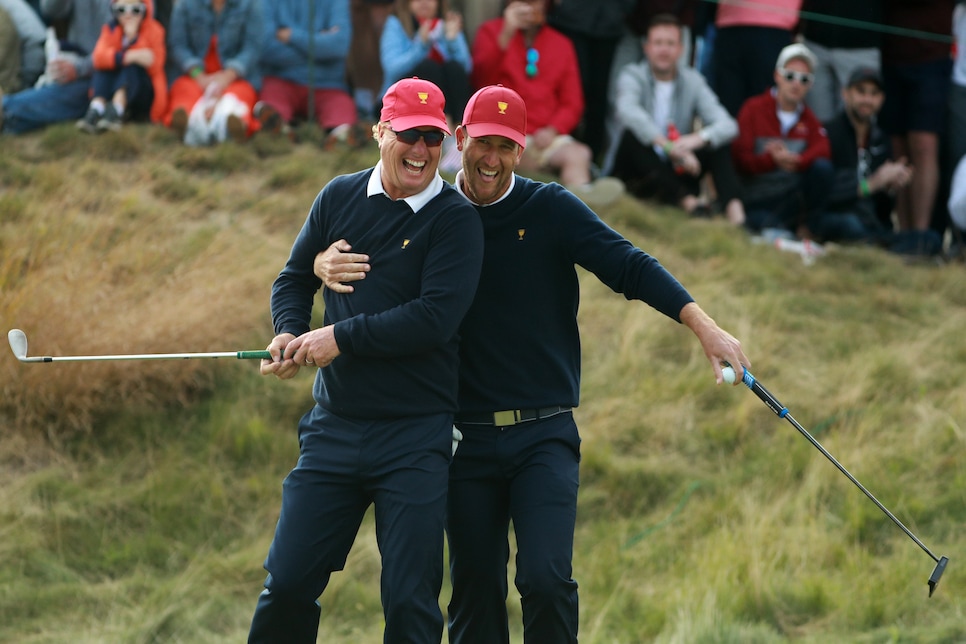 JERSEY CITY, N.J. — The 2017 Presidents Cup, AKA "The Romp By The Swamp," got historically out of hand on Saturday. Only a late, unlikely rally kept the International Team in the competition. But Nick Price's squad seems to have less of a chance to come back and win on Sunday than Jim Carrey had at pulling off those one-in-a-million odds with Lauren Holly in Dumb and Dumber. Anyway, to wrap up another lopsided day at Liberty National, here's our latest look at winners and losers.
The Americans basically won this four-day event in THREE days. That's ridiculous.
Loser: International Team
The Internationals basically lost this four-day event in three days. Again, that's ridiculous.
Winner: Patrick Reed & Jordan Spieth
Maybe Reed and Spieth were listening yesterday when we declared Justin Thomas and Rickie Fowler Team USA's new super squad. Our apologies, guys. On Saturday, this dynamic duo went back to dominating, winning the lead match of both sessions, which never allowed the Internationals even a glimmer of hope. With two more victories, Reed & Spieth, still Team USA's top squad until further notice, ran their record as a pair to 3-0-1 this week, and an incredible 8-1-3 dating back to the 2014 Ryder Cup.
While the pair of Patrick Reed and Jordan Spieth get most of the attention for Team USA, Johnson is actually the lone player on the squad to have won all four of his matches. For the World No. 1, it doesn't matter who he plays with, as he sports 2-0 records with Matt Kuchar in foursomes and Brooks Koepka in four-balls. With another win on Sunday, DJ would become just the sixth player in Presidents Cup history to win five matches in one year.
This really isn't a knock on the International team captain, because there's nothing he could have done to stop the American onslaught. In fact, Price tried just about everything from breaking up his best team to pairing guys with the same first name—and nothing worked. But facts are facts, and Price will go down as the losing captain of record at the Presidents Cup. For a third straight event. Ouch. On Saturday evening, Price sounded like he's turning over the reigns to Ernie Els for next time. There's only so much one man can take.
Yes, this event has had less drama than an episode of Judge Judy, but the sportsmanship we know and love shined as brightly as Lady Liberty's torch when Kevin Chappell conceded the final putt of the day—a two-and-a-half-foot tickler—to Anirban Lahiri, which resulted in the Americans' lone loss. Well done by Kevin. Although, it's not quite Jack Nicklaus conceding the final putt to Tony Jacklin at the 1969 Ryder Cup. And it was odd timing after everyone watched Chappell grind out that seven-footer for a par. Maybe Captain Stricker got in his ear. Regardless, the gesture drew rare applause in the media center. And it meant the Internationals are still at least mathematically alive heading into Sunday.
Spieth and Reed had to concede the 12th hole of their match after Spieth raked away an Oosthuizen eagle attempt and tossed it back to him. The problem? Oosthuizen's ball—although some 15 feet past the cup—was still moving. Barely. Of course, none of this wound up mattering because Spieth and Reed are on Team USA and Team USA has basically won every match this week. This match was no exception as Spieth and Reed came back to win. Obviously. But the rule seems silly and everyone involved seemed to think so. Except rules official Andy McFee. At least it led to this funny exchange in which he dismissed Tiger Woods:
The Aussie lost twice on Saturday, dropping his record for the week to 0-3-1. But it gets worse. For a second consecutive Presidents Cup, Day, who is arguably his team's best player, has laid an egg. Combined with his 0-4-1 record in South Korea two years ago, the former World No. 1 is now a dismal 0-7-2 the past two editions and 4-11-4 career in this event.
If not for Lahiri, the U.S. would have been spraying champagne around Liberty National on Saturday. But clutch birdies on 16 and 17, followed by an up-and-down on 18 (He's probably glad Kevin Chappell didn't putt that last one) gave Lahiri and Si Woo Kim a 1-up win over Charley Hoffman and Kevin Chappell. Sure, his rally was the equivalent of someone getting an infield hit to break up a perfect game, but we appreciate the effort.
Already up against NFL football, a slate of all-but-meaningless singles matches could draw lower TV ratings than the 2015 Presidents Cup. And that was contested in South Korea while most of America slept.
Yep, Dan and Johnny are going to earn their money on Sunday.