Viewer's Guide
Everything you need to know about the PNC Championship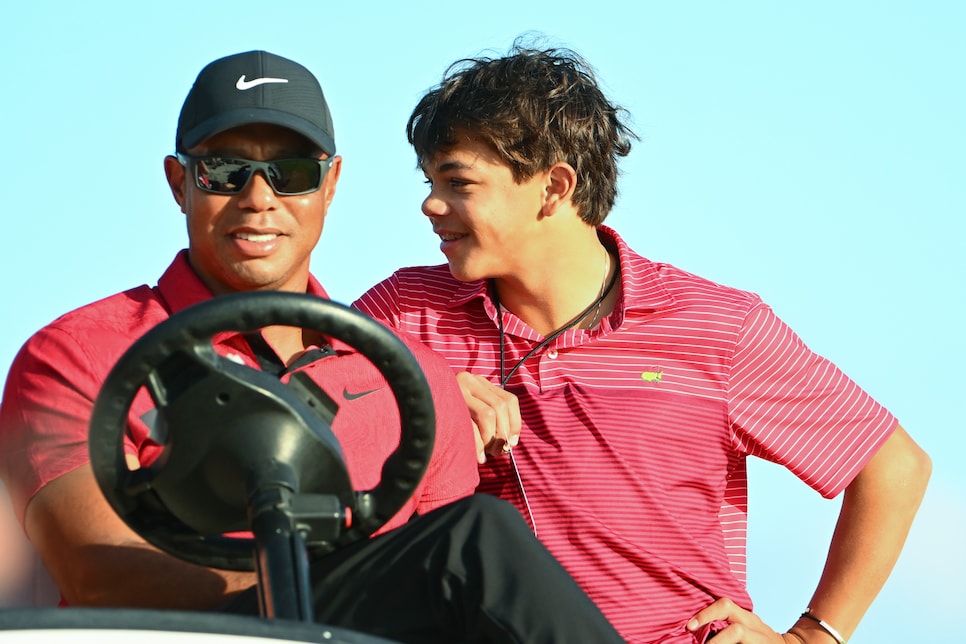 December is typically the quietest month on the golf calendar. Thanks to Tiger Woods, it has become one of the more newsworthy of the season over the last few years.
While Woods didn't tee it up in the Hero World Challenge two weeks ago, he did return to action this past Saturday for The Match. There, his latest injury issues were on full display as he hobbled to his golf cart after each shot during his losing effort (along with Rory McIlroy) against the pair of Justin Thomas and Jordan Spieth.
Nevertheless, Woods will persist at this week's PNC Championship, where he and his son, Charlie, will be making their third appearance as a team. Believe it or not, they are not the only main attraction, either.
Here's everything you need to know about the PNC Championship.
While Tiger and Charlie are the headliner, the PNC field is as loaded as it has ever been for 2022. Justin Thomas and his father, Mike, the 2020 champions, are back for a third straight year. Jordan Spieth and his dad, Shawn, make their PNC debut, and defending champions John Daly and Little John Daly, Jr., will tee it up, too. Nelly Korda will play alongside her father Petr, and Annika Sorenstam will team up with her son, Will McGee.
The PNC Championship, which consists of 20 two-player teams, is contested over two days, and on both days it is a scramble format. Each player will hit a tee shot, select the best of the two and then repeat the process from there until the ball is holed.
The PNC Championship does not officially begin until this Saturday, Dec. 17, but fans can watch coverage of Friday's Pro-Am from Noon-2 p.m. ET on Golf Channel. On Saturday, Peacock will have early-round coverage from 1 p.m. to 2 p.m., with Golf Channel taking over at 2 p.m. On Sunday, live coverage begins on Peacock at 11:30 a.m., then moves to Golf Channel at 12:30 p.m. and finally moves to NBC at 1:30 p.m.
The PNC Championship is held on the Grand Lakes course at the Ritz-Cartlon Golf Club in Orlando, Fla. It was designed by Greg Norman (awkward) and has played host to this event since 2012.
While it is an unofficial PGA Tour Champions event, the PNC Championship does have a purse of $1.085 million, with $200,000 going to the winning team.
Unfortunately, the forecast for Saturday in Orlando calls for a 50 percent chance of rain, with a high of 69 degrees. Sunday is supposed to be sunny, though somewhat chilly for Florida, with a high temperature of 60 degrees.