Practice Makes Perfect
Players 2022: From money matches to mentor sessions, practice rounds are a valuable part of PGA Tour life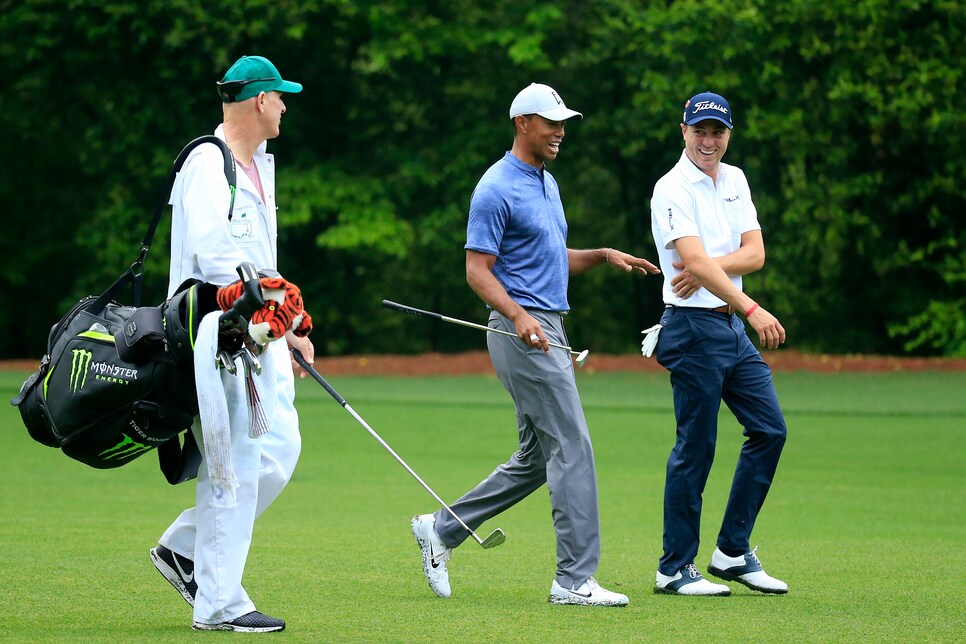 Tiger Woods, Justin Thomas and caddie Joe LaCava share a laugh during a Monday practice round at the 2019 Masters.
Augusta National
PGA Tour practice rounds can be an enigma. You'll often hear folks talk about how enjoyable it is to attend one as a spectator, compared to a Saturday or Sunday tournament round, because the course isn't packed with crowds, tickets are cheaper, and you get an up-close look at how the best players in the world prepare. Sure, you won't find that thrilling final-stretch energy on a Tuesday morning, but that doesn't mean that practice rounds lack drama.
They're important every week, because players can get a feel for the setup and any changes to the course from the last time they played it. Is the rough up? Are the greens faster? And that's particularly true for majors and massive events such as this week's Players Championship at TPC Sawgrass, where the total purse is $20 million and the champion earns $3.6 million.
To get a sense of what is really happening in a PGA Tour practice round, you first have to recognize that players choose when they want to play, how long they want to play for, what shots they want to hit and who they want to play with.
"I played a hole and a half with Brooks [Koepka] at Torrey Pines," says PGA Tour rookie Sahith Theegala. "It was funny, he hit a couple balls way left off the tee on one hole and then was, like, 'See you, I'm going to the range.'"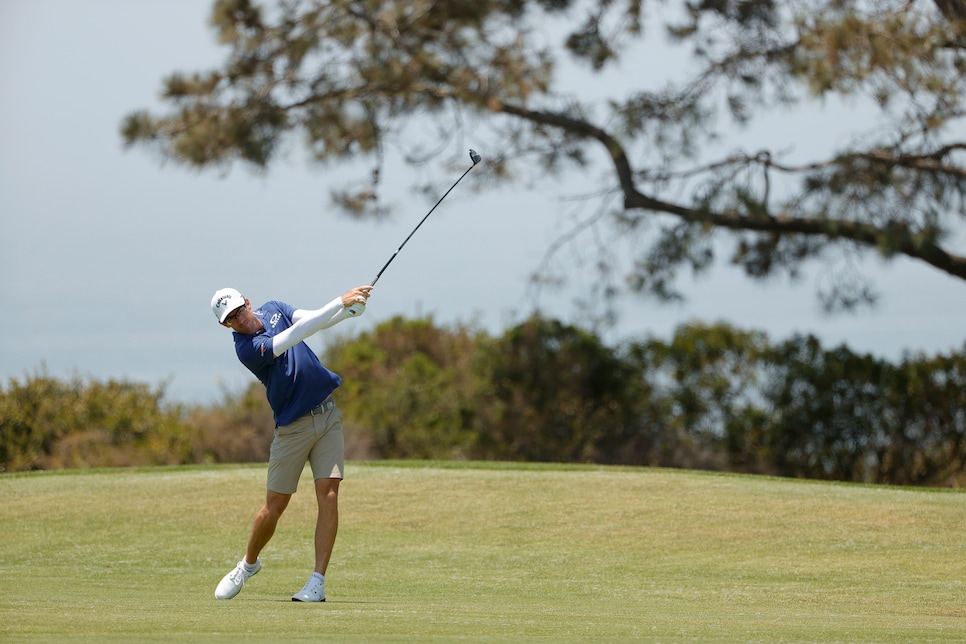 Players often wear shorts during practice rounds when the weather is warm, as Dylan Frittelli did during the buildup to the 2021 U.S. Open at Torrey Pines.
Ezra Shaw
There's an unusual freedom to the days leading up to a tour event. (Some players wear shorts, after all.) But how one decides to structure that liberty speaks volumes about who he is as a player. Whether seeking advice from a veteran, working with a coach or looking for a high-stakes money game, players are exceedingly intentional in how they go about practice rounds.
On the most basic level, guys are going through their own personal routines to "get a feel for the course." For many players, their hole-to-hole strategy is already in place before they step to the tee on a Monday or Tuesday, whether it's a track they've seen a dozen times or if they rely on their caddie to manage old yardage books and pin sheets.
"Usually, we don't have too much of an issue with course knowledge and deciphering how to play holes," says Dylan Frittelli, a South African in his fifth year on the PGA Tour. "I'm just trying to hit some shots under tournament conditions, see how the ball bounces and rolls, read some putts."
Most of the work players do during a practice round is around the greens. They rarely hit more than two drives off the tee or take multiple divots in the fairways, unless they're deliberating a risk-reward option on a hole. And these days, when players do hit full shots, they'll often set up a lauch monitor to dial in their distances. Technically, players are only allowed one approach shot in the fairways, according to PGA Tour regulations (primarily for maintenance purposes), but ample short-game experimentation is more than acceptable.
"During practice rounds, my players are learning how certain putts break and storing that in their memory bank," says Boyd Summerhays, swing coach to Tony Finau, Talor Gooch and Wyndham Clark. "They're spending tons of time on short-game shots. Sometimes you're playing on Poa annua, sometimes rye, sometimes bermuda. Different grasses react better to different wedges and bounces, so sometimes they'll play around with the bounce of the wedge they're using that week."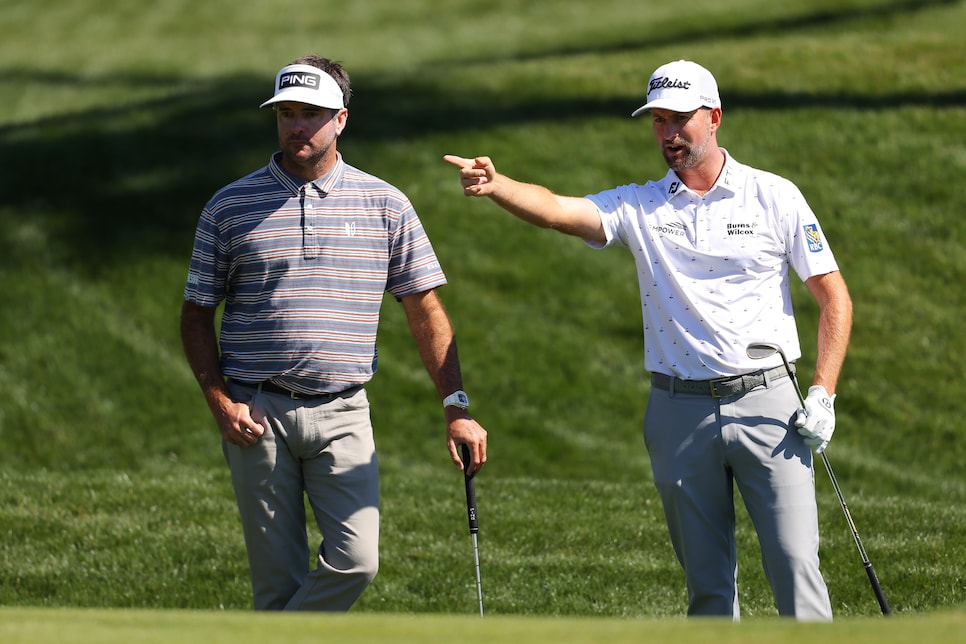 Bubba Watson and Webb Simpson talk during a practice round before the 2021 Players Championship.
Kevin C. Cox
If a player hasn't set up a practice-round pairing with his coach or friends, it's standard practice to simply walk up the first or 10th tee and see who's there. Pay close attention to the type of groups players choose to join during practice rounds. Between a twosome and a foursome, the dynamic can have a stark contrast.
"Webb despises foursomes in practice rounds; he hates them. It's chaotic and slow, with so many balls on the green" says Paul Tesori, the longtime caddie for Webb Simpson. "When Webb's at work, he's at work. If he's going to spend six hours at the course, he wants five hours and 45 minutes of that to be incredible focus."
For players who aren't quite as businesslike, practice rounds can get boring. Think about it: For longtime PGA Tour members, Monday and Tuesday rounds might start to feel painfully repetitive. "Telling stories and laughing helps make things interesting," says World No. 21 Abraham Ancer.
Lightening the mood by playing with friends is one way to make the day more entertaining, but many players like to take things up a notch. Money games are an inherent part of practice rounds for more than just a few tour pros. According to Summerhays, "It would almost be really weird if someone didn't want to play for something." You might be wondering: Wouldn't gambling distract players from their weekly preparations? Ask almost anyone on tour, and they'll say just the opposite.
"I was with Vijay Singh for five years, and it was the same M.O. every week. He wanted a foursome and he wanted a money game," said Tesori, who caddied for Singh from 2000 to 2006. "With a money game, he felt like he really got to play the golf course in competitive conditions."
On the other end of the spectrum, you might not want to contend with someone who isn't going to let you forget a loss.
"From what I hear, guys got tired of playing with Phil [Mickelson in practice rounds], because he just wouldn't lose these games, and you'd have to hear about it months and months on end," Tesori said.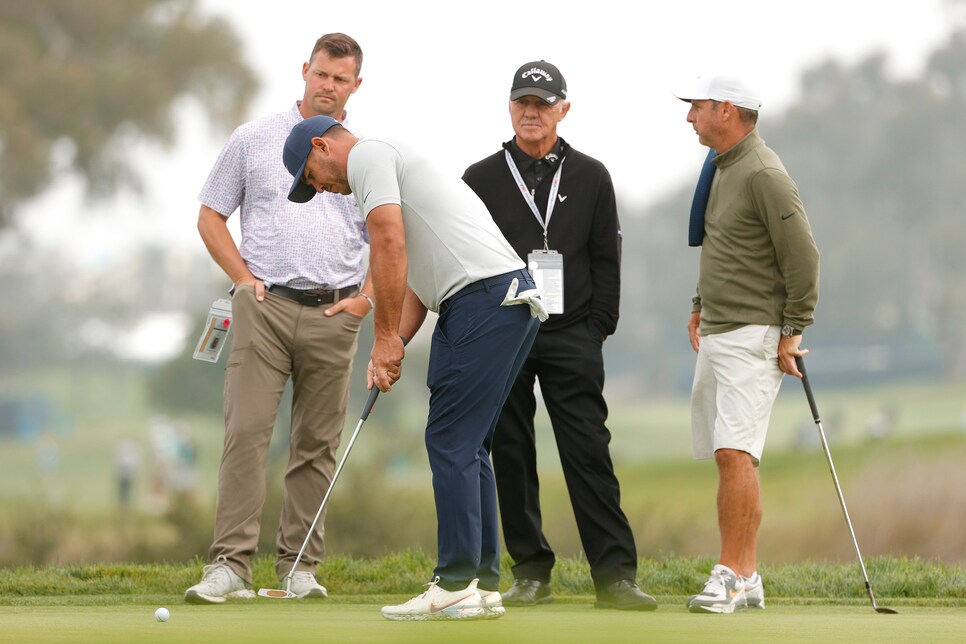 Brooks Koepka practices early in the week of the 2021 U.S. Open at Torrey Pines with coaches Jeff Pierce (left), Pete Cowen (center) and caddie Ricky Eilliott.
Ezra Shaw
Gambling takes many forms during practice rounds. From Nassau matches to birdie games, players will do anything to add an element of competitiveness to an otherwise pressure-free day. According to Summerhays, Gooch and his caddie pick a 40- to 60-foot lag putt on every hole and bet a certain amount for a sink.
It doesn't matter if a few bucks or $5,000 is on the line in these games, the prospect of losing in any capacity forces players to stay in the zone.
"They could have won the week before and made a million and half dollars, and if they lose 50 bucks, it's like this awkward, painful experience," Summerhays says. "It's funny to see the exchange after the round. It's always in cash. You don't Venmo. The pain of passing over your cash hurts more."
Four-time tour winner Charley Hoffman says he's always on the lookout for a game that emphasizes match play or making birdies. "I definitely like to try to spice it up with something like that," he said. "You don't want to have to grind out pars or whatever, so birdie games are fun. If you're making birdies you can make some money; if you're not, you can just pick up."
The impact of these money games goes beyond the simple joy of receiving a wad of cash from a fellow tour player. The best way to learn about the state of your game is when adversity is involved. According to Tesori, Singh welcomed requests from younger tour players to join his games and pick his brain throughout their rounds. The World Golf Hall of Famer wouldn't offer up his advice to just anyone, though; he wanted rookies to approach him with questions. And when they did, he didn't hesitate to take on the role of an elder tour statesman.
Especially at major championship venues—Augusta National in particular—there are frequent "unlikely" practice-round pairings between older tour veterans and rising young stars. At the last year's Masters, Justin Thomas was asked during a press conference about Tiger Woods' absence from the event after his car accident the previous February.
"I'm very, very lucky that I somehow got thrown into that practice-round group with Tiger and Freddie Couples the last four years," Thomas said. "Especially around this place, I just follow them around like puppy dogs. Wherever they go, that's where I go after. If they hit chips from somewhere, I go hit chips from there."
Whether it's how a certain putt tends to break or techniques for controlling your nerves down the stretch on a Sunday afternoon, one tiny piece of advice can alter a player's entire outlook. On a recent episode of "Henni and Hally Can't Quit Golf," Collin Morikawa recalled a practice round that changed the course of his career.
"I owe [Steve Stricker] a little tidbit of my PGA Championship win [in 2020 at TPC Harding Park]," Morikawa said. "That's the first time I met him. I played a practice round with him and Davis Love III on Tuesday. From that day on, I've trusted Steve Stricker, because he helped me win a major championship."
The value of practice rounds varies, but that Steve Stricker moment is always a possibility.