Players Championship
Players 2021: What's wrong with Rory? The Northern Irishman reflects on his hits and misses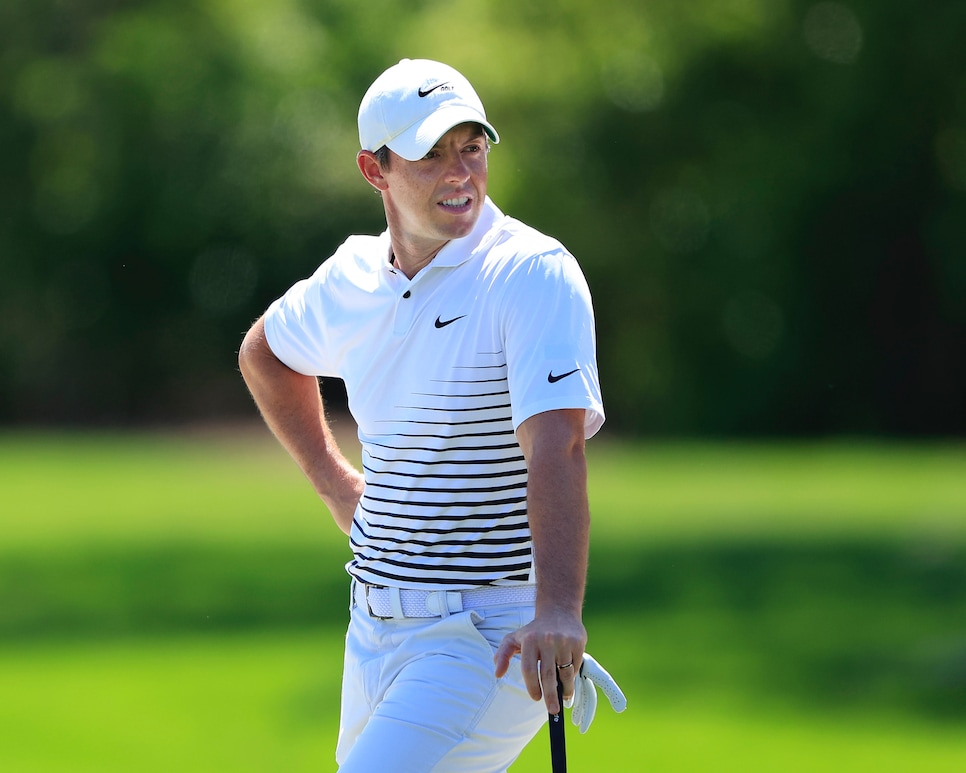 A couple of hours after a dismal 76 that ended any chance of winning the Arnold Palmer Invitational on Sunday, Rory McIlroy poured some wine and tuned in to what he called "a pretty compelling interview," a reference to Oprah Winfrey's sit down with Prince Harry and Duchess of Sussex Meghan Markle.
McIlroy and Markle know each other well, with Markle having participated in a memorable ice bucket challenge with the Northern Irishman in 2016. But this was as much a chance to decompress and figure out what went wrong at Bay Hill as anything, another opportunity in the final round having slipped away.
"It felt so good on Thursday and then felt off a little bit on the weekend," McIlroy said on Tuesday of his tie for 10th last week. "So, it's, like, What happened? What changed? What is the difference?
"I think that's where I've sort of struggled the last few weeks is that inconsistency of the good being very good, good enough to lead the golf tournament, but when it just gets slightly off, not being able to manage it."
Bob Rotella famously penned the book Golf is Not a Game of Perfect, and Tiger Woods has said often that the sport is a game of misses. McIlroy, who hasn't won since 2019 when he did so on four occasions, including at the Players Championship, knows this, too.
"Just trying to get the bad golf a little better because the good golf is always there, and the good shots will always be in there," he said. "When you're not feeling quite 100 percent, that's when you need to just be able to manage it a little better, and I just haven't managed it well over the last few weeks."
Actually, it has been longer than even that. And if it feels like a familiar trend, it should.
In 2020, McIlroy's year started well on paper—four straight finishes in the top five. But there were no wins, despite multiple chances on Sunday. One of those was the Genesis Invitational, where McIlroy started the final round tied for the lead and ended in a tie for fifth after a final-round 73, one of just three scores over par among the top 10. Another was at Bay Hill, where, playing in the final group of the afternoon, McIlroy hit his approach on the par-5 sixth over the green and made bogey. Three holes later, he carded a double bogey and that was that with another fifth-place finish.
When the tour resumed its season at the Charles Schwab Challenge last June following a three-month hiatus because of the COVID-19 pandemic, so did the pattern for McIlroy. He entered the final round at Colonial just three shots back. But he bogeyed his opening hole, turned in 41 and saw his top-five streak come to an end as he tumbled to a T-32.
Since then, McIlroy has just two top-fives—at last fall's Masters, where Dustin Johnson ran away from the field, and in Abu Dhabi, where he led by one going into the final round but shot a maddening even-par 72.
What gives? The answer spans multitudes.
When the tour resumed play, sans fans, the 31-year-old four-time major champion and former World No. 1 talked about feeling flat without the energy of the gallery week to week. He wasn't the only player to express those sentiments, and the feeling was understandable—golfers are performers and like to show off.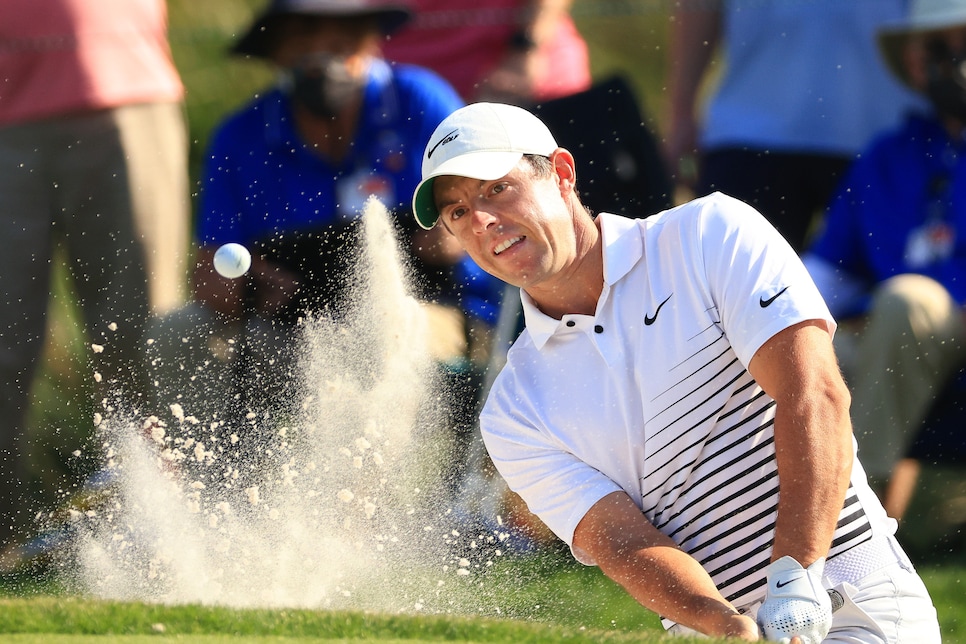 More concerning, though, have been the particulars of his game and his swing.
This season, McIlroy's iron play, usually a strength, has been poor. His strokes gained/approach is the worst it has been in any of the last five years. Breaking it down further, his proximity to the hole ranks 170th on tour, at 38 feet, 9 inches. To put that in perspective, when McIlroy won four times in 2019 he was, on average, four feet closer to the hole and ranked 29th on tour in the statistic.
Getting even more granular, there are also some alarming numbers when it comes to McIlroy's short game. From 125-150 yards, he ranks 174th and from 50-125 yards he's 137th. His scrambling hasn't been sharp either, with McIlroy getting up and down 59.1 percent of the time, good for just 114th on tour.
Those numbers are all significantly worse than they were in 2019. Why?
"Thinking over the last couple days where my swing is, it's an unusual pattern for me," McIlroy said. "Usually what happens is the club gets out in front of me on the way back and then drops behind me on the way down, where at the minute it's the opposite, it sort of gets behind me early and then I sort of throw it back out in front of me on the way down. So it's a completely different pattern that I'm having to manage and one that I'm not used to managing.
"My whole golf career I've got used to dropping it underneath the plane on the way down, and from there I can manage it. I can hold it off. I'm used to that feeling. But this feeling that I have at the minute, I'm not used to managing it, so that's where the two-way miss comes in, and that's where I just have to figure out what to do to get it back to a familiar pattern."
It hasn't been all doom-and-gloom for McIlroy. There are elements of his game that have been good, some surprisingly so. A notoriously inconsistent putter, McIlroy's play on the greens, using strokes gained as the metric, has been better than most of any of his last five years. Currently 80th on tour with a SG/putting of 0.263, his proficiency on the greens is one of the reasons he has finished outside the top 25 just once in 10 starts this season.
There are other parts that are working OK. McIlroy's driving, despite two balls in the water off the tee on the sixth at Bay Hill on Sunday, is about the same as it has been each of the last five years, and his bunker play has actually been slightly better.
Still, consistency day to day within the confines of the same week has been difficult to find. As a result, he's down to 11th in the world, his lowest ranking since 2018,
"My par-3 play has been pretty poor," McIlroy added. "That goes back to iron play and missing it in the wrong spots and stuff. That's the big area of focus is just trying to get the iron play a little better."
If there is a positive for McIlroy, it's that this week he returns to a course in TPC Sawgrass where he has a history of playing well. In 10 career starts at the Players, he has four top-10s, including a win the last time the tournament was completed in 2019.
That year, he was producing similar results, having finished in the top six in each of his five starts leading into the tournament, but was without a victory despite multiple chances. One of those was a tie for sixth at Bay Hill, where he again had a chance to win but shot 72 in the final round, the worst score of any player in the top 10.
His confidence and swing in a better condition than it is now, a week later McIlroy won the Players, birdieing two of his final four holes for a one-stroke victory.
"I feel like I can go out there this week and string four good rounds together, but it's maybe just a bit more of a challenge than it maybe felt a couple years ago," he said. "But that's on me to try to get a little more comfortable and work pretty hard these next couple of days to be ready to go on Thursday and feel like I'm in a bit of a better place with it all.
"You have to be an eternal optimist in this game, and I truly believe that my best days are ahead of me."