News
Players Championship 2018: Tiger Woods cards one-under 71, putting him right on the cut line at TPC Sawgrass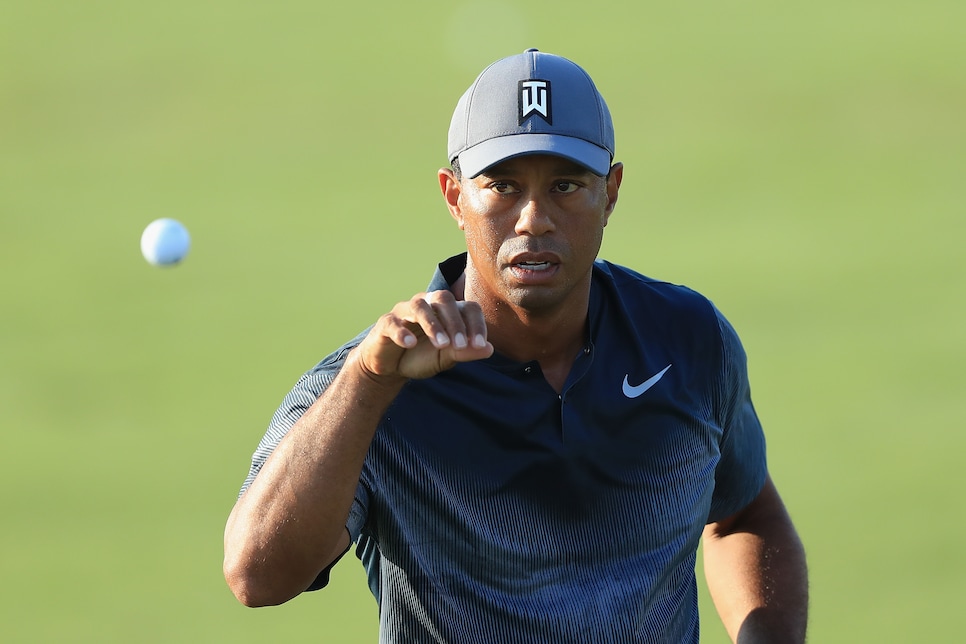 Tiger Woods' first round at the Players in three years contained a big highlight (an eagle on the par-5 9th) and a big save (a 15-foot bogey putt on 18). Add it all up and the 14-time major champ opened with an even-par 72. That leaves Woods six back of a sixsome at six under that includes World No. 1 Dustin Johnson. But Tiger is certainly not out of it heading into Friday's second round, and at the very least, he has a nice cushion on playing partner and longtime rival Phil Mickelson, who opened with a disastrous 79. Keep it right here all day for the latest news, scores and highlights from Tiger's round as he tries to make it to the weekend at TPC Sawgrass.
1:27 p.m.: Woods' drive went well left, leaving him no chance to get to the green in two and forcing him to punch out to 100 yards. From there, he puts one 30 feet from the hole and two-putts for par, finishing off a one-under 71 that has him right on the current cut line. Now, he waits.
1:10 p.m.: After a solid tee shot from 230 yards on the par-3 8th, Woods' 40-footer looks like it's going to drop before lipping out. He remains at one under -- right on the cut line -- with one hole to play. It also happens to be the hole he eagled yesterday. Stay tuned.
12:57 p.m.: Another hole, another par for Woods -- and another double for Fowler, who suddenly looks like he will join Mickelson in missing the cut. Coming up next, the long par-3 8th followed by the par-5 9th.
12:39 p.m.: After a solid par at No. 5, Woods makes a somewhat disappointing one at the short par-4 6th after a perfect tee shot. The hole also involved a lengthy delay as Rickie Fowler's ball got stuck in a tree.
The resulting double bogey has Fowler back at one under with Woods, right on the current cut line. Meanwhile, Mickelson makes a sixth birdie of the day, but still trails both by six shots.
12:00 p.m.: Tiger hits a perfect tee shot on the tricky 4th, but sails his approach into a back bunker. From there, he makes a nifty sand save to remain at one under. Playing partners Rickie Fowler and Phil Mickelson each birdie the hole. The good news for Phil, is that it's a third consecutive birdie. The bad news? He's still six over and heading home this afternoon. Well, unless he has any board meetings scheduled in Ponte Vedra Beach over the weekend.
11:45 a.m.: After a missed opportunity at the par-5 2nd following a perfect drive, Woods gets a much-needed birdie on No. 3. The 15-footer puts him back at one under, which is currently the projected cut.
He is miles behind the lead, though, as Chesson Hadley has moved to 12 under. Not bad for a guy who was struggling on the Web.com Tour at this point last year.
11:19 a.m.: A so-so tee shot, so-so second shot, so-so first putt and a make from four feet gives Woods a par to start his second nine. Still even. Still one outside the cut line. For now.
11:01 a.m.: Woods slings a stinger down the fairway on No. 18, but finds the moguls right of the green on his second. A decent pitch from a funky lie gives him a chance at par, but he blows his eight-footer past. It's back to even par as Woods' first nine results in seven pars, one birdie and one bogey. He's going to need to a good second nine on the front just to stick around for the weekend.
10:43 a.m.: Tiger hits a great shot to 10 feet on golf's scariest par 3. Unfortunately, he doesn't scare the hole with his birdie attempt. Still one under as he heads to No. 18 for his ninth hole of the day.
10:30 a.m.: Finally, a birdie! And it wasn't easy. A terrible tee shot resulted in a lengthy delay as Woods eventually got relief from a hospitality tent. From there, he played a bold shot, slicing one from the pine straw to just left of the green. Woods opted to putt his third from a tricky spot, coaxing it nicely to about eight feet and then making the second putt. He's back at red numbers -- for now. No. 17 is next. . .
10:05 a.m.: Tiger makes two great swings at the difficult par-4 15th, but again can't convert a mid-range birdie. Still even on the day as he heads to TPC Sawgrass' famed finishing stretch.
9:48 a.m.: After a drive into the right rough on the par-4 14th, Woods hits a beautiful shot with the ball well below his feet to about 15 feet. He can't get off the par train, though, burning the edge to remain at even par. Tiger is going to have to get something going soon if he's going to contend. He's now nine shots behind co-leaders Patrick Cantlay and Chesson Hadley.
9:35 a.m.: Woods flies the green on the par-3 13th, but gets up an par thanks to a good effort from the fringe. Phil Mickelson makes another double bogey and his week can't end soon enough -- especially since the hits on Twitter keep coming regarding his shirt:
9:18 a.m.: For a second straight day, Woods lays up on the short par-4 12th. However, this time, his approach isn't quite as sharp, leaving him with a 15-foot putt he can't convert. Three pars to start isn't terrible, but it's a bit disappointing with two of those holes being a par 5 and a drivable par 4. He's also not the low man in the group anymore as Fowler's back-to-back birdies have pulled him back to even par as well.
9:06 a.m.: Tiger finds the fairway bunker on the par-5 11th, forcing a layup. His third shot is decent, but he leaves it 15 feet below the hole with a back-left pin and misses the birdie putt. That's two pars to start his day as he remains at even.
8:42 a.m.: Woods short-sides himself with his approach, but hits a nice chip to tap-in range for an opening par. Mickelson can't say the same as he bogeys the par 4 to drop to eight over. And with a white button-down to go with grey slacks, the five-time major champ isn't exactly taking advantage of casual Friday. In case you missed it, this is why Mickelson is wearing dress shirts in the Florida heat and humidity. And reactedthis is how Twitter reacted roasted him for it.
8:27 a.m.: After Phil Mickelson and Rickie Fowler found the fairway bunker on the par-4 10th, Tiger selects driving iron and smokes a stinger down the center of the fairway. It's a nice start to his second round, but he could have used a similar shot on 18 the previous day when he snap-hooked the same club into the water.