News
Players Championship 2018: Tiger Woods opens with even-par 72 at TPC Sawgrass, beats Phil Mickelson by seven shots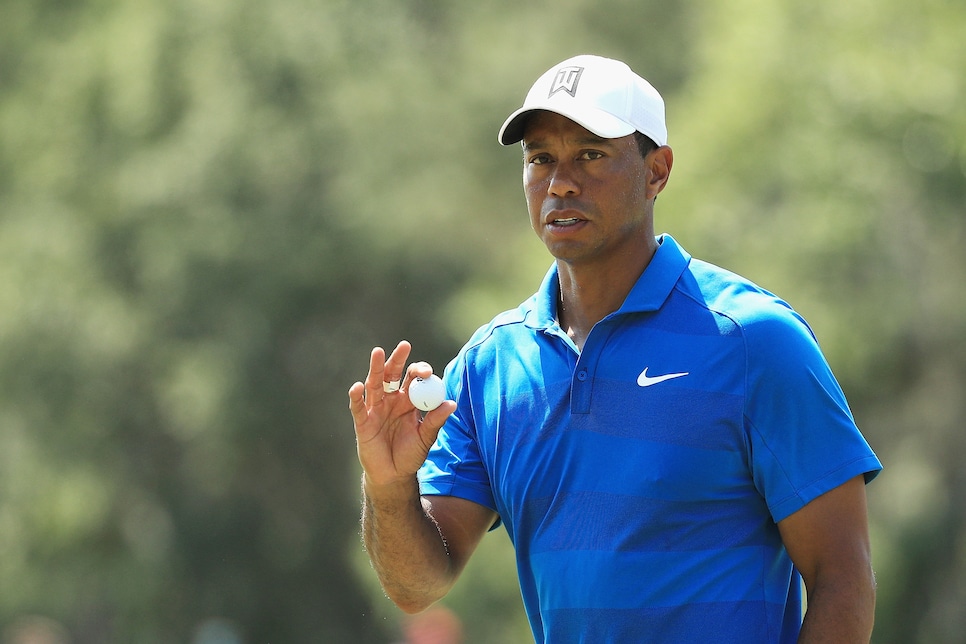 The Tiger Woods Rejuvenation Tour turns to TPC Sawgrass this week for the 2018 Players Championship. This will mark Tiger's first appearance in golf's "fifth major" since 2015, when he failed to get much going to finish T-69. Due to Sawgrass' fickle nature, few players have consistently solid track records at the venue. However, Woods is one of only five competitors with multiple titles at the Stadium Course, and has never missed the cut at the event (albeit with two W/Ds).
While all Tiger starts are must-see affairs, Thursday's round will be of particular interest. Following impressive performances at Innisbrook and Bay Hill that sent "Tiger-mania" off the rails, Woods has come back down to Earth with so-so outings at the Masters and last week's Wells Fargo Championship. Will Tiger be able to bounce back, especially in the short-game arena (Woods ranked 3rd-to-last out of those that made the cut at Quail Hollow in strokes gained/putting), or will his erratic driving lead to a quick exit in Florida?
Woods will tee it up Thursday afternoon with Phil Mickelson and Rickie Fowler at 1:52 p.m. ET, and the Golf Digest crew is here to document Tiger's round in our live blog.
7:10 p.m.: Woods makes a closing bogey, but it could have been a lot worse. After a drop left him with 270 yards to the hole, Tiger hit one through the green leaving a difficult pitch. After coming up 12 feet short, Woods makes the putt to avoid a disaster and finish his round at even par. He's six shots behind a sixsome of players at six under, including World No. 1 Dustin Johnson.
"I felt like I should have shot something in the 60s," Woods said after. "But I didn't do it."
A 72 on a day of easy scoring conditions isn't great, but on the bright side, Tiger looked like he found something with the putter. And oh yeah, he beat both his playing partners as Fowler finished with 74 and Mickelson shot 79. And if the two golf legends really were playing for anything extra, Woods' dinner (at least) is on Phil tonight.
6:57 p.m.: After narrowly avoiding disaster at 17, Woods finds the water off the tee on 18. With an iron. Ouch. So much for posting a sub-par round. Woods will now be struggling to make a closing bogey.
6:54 p.m.: Tiger's "better-than-most" attempt doesn't drop this time, but it's still good enough to set up a par. His playing partners can't say the same as they both make double bogeys. Mickelson, in particular, has hit the skids, playing the past four holes in seven over(!).
6:44 p.m.: After a looooong wait on 17 tee (let's just say, Sergio Garcia is NOT leading anymore), Tiger finds the back of the green. With a front pin. Sound familiar? Woods will face a difficult putt, but he's in great position compared to his two player partners as both Mickelson and Rickie find the water. Absolute carnage right now. What a hole.
6:32 p.m.: Woods finds the fairway on the par-5 16th, then hits a fantastic long iron that had him flash a club twirl and an early walk. Unfortunately for him, his golf ball catches a ridge and funnels into a collection area just off the green. Woods two-putts for what David Feherty describes as a "disappointing birdie" to get back to red figures. But no time to dwell on what could have been. It's on to 17. . .
6:10 p.m.: This time, Woods can't recover from a drive right. After his tee shot ends up against the lip, he does a nice job of advancing his ball and hits a solid chip to five feet. But Tiger jams his par putt through the break to drop back to even. Elsewhere on the course, a pair of former winners at TPC Sawgrass are playing a lot better than this marquee trio of Players champs. Matt Kuchar and Sergio Garcia share the lead at seven under.
5:54 p.m.: On a hole that's historically given Tiger fits, Woods finds the right rough, hits his approach over the green, chips to about 15 feet, and. . . bang! Another nifty par save keeps him at one under. And he takes a three-shot lead over playing partner Phil Mickelson, who needed to make an eight-footer just to save double moments after blading a chip shot. Mickelson drops to two over -- and the hits keep coming on Twitter regarding his button-down shirt:
5:37 p.m.: Tiger hits a beautiful 7-iron over the flagstick on the par-3 13th, but it just goes a bit long, catches a slope and winds up 40 feet from the hole (A perfect shot to Sunday's traditional pin position). From there he two-putts for par to remain at one under.
5:22 p.m.: From 58 yards, Woods hits a great pitch that comes up four feet short. He converts the putt for his first birdie of the day -- to go with that eagle on No. 9 -- to get into red figures for the first time. Meanwhile, playing partner Phil Mickelson makes a spectacular up-and-down from 80 yards away in a fairway bunker to make birdie as well. But he trails Tiger by one with six to play in the first round.
5:12 p.m.: Tiger decides to lay-up off the tee. Luckily it works, finding just the third fairway of the afternoon. Short pitch left to try to get to red figures.
5:05 p.m.: Tiger gives it a good run, but the putt falls off to the right. With a disappointing par, will need to take advantage of the drivable 12th, the easiest-scoring par 4 on the course.
4:56 p.m.: Deep in the pine straw, Woods is able to advance it relatively far up the fairway. Should have a wedge left for his third.
His third is on line, but checks up short and leaves 25 feet or so for bird. It's a putt few have made today, although most in that position have been attempting eagle.
4:49 p.m.: Woods goes with the big stick on the 11th and, oh boy, it sails to the right. WAY right, and takes a hop even further right. The 11th has been the third-easiest hole today; anything higher than birdie is giving one back to the field.
4:43 p.m.: Woods pulls out the putter from the fringe, and it's...it's not good. Woods leaves his third a good 5-7 feet short of the hole. These haven't been nonchalant pars.
But, the man sinks it. Woods stays at even heading to the par-5 11th.
4:40 p.m.: Tiger's able to get his second shot somewhat close to the green, just falling off the back left. Not an easy pitch upcoming, yet he'll take it after the tugged tee shot.
4:25 p.m.: Woods found the fairway just twice on the front nine, although hit the green in seven instances. Exciting as the eagle was, not going far if the tee-ball troubles continue.
And they do on the 10th. Taking an iron off the tee, Woods yanks it left into a bunker. His second shot may be blocked by the tree line.
4:22 p.m.: And finally, the hole opens up, as Woods' eagle attempt finds the bottom of the cup. Even threw a fist pump for good measure.
In spite an shaky walk around the front, Woods heads to the back even for the day.
4:13 p.m.: Woods' drive traveled just short of 350 yards. That's...that's a long piece of nectar. From 240 yards out, Woods goes with 6-iron and knocks it just off the back of the green. It's one of the shots of the day, and leaves Woods with 15-20 feet for eagle.
4:00 p.m.: Tiger rips his best drive of the day on the ninth, carrying that bad boy 312 yards with a nice 20-yard run off. Better yet, it rolls to the right side of the fairway, giving Woods an alley to give the green a go in two.
3:50 p.m.: Good news: Tiger's tee shot on the par-3 eighth found the green. The bad: he's left with 40 feet for birdie.
Pretty nice lag though, and taps in for his par. Big chance ahead at the par-5 ninth to start making a run.
3:37 p.m.: Pretty nice approach from Tiger, as he keeps his second shot just right of the pin. Has about 25 feet or so, but in a good spot to get one back.
Unfortunately, the putt doesn't sniff the hole, falling harmlessly to the right of the cup. Likely par for Woods, but he's not taking advantage of his opportunities thus far.
3:30 p.m.: Woods goes with fairway wood at the seventh, but can't find the short stuff, falling again to the right side. Ball is sitting up, however, and shouldn't present much of a problem.
3:25 p.m.: Only has 12 feet or so for birdie, but his putt slips to the right. Only six holes in, but not looking like Woods' day.
3:15 p.m.: Woods successfully breaks out the stinger, leaving just 100 yards or so into the sixth hole. Good chance to get one back.
3:05 p.m.: Woods' second shot starts right and doesn't come back, landing flag high in the rough. He's unable to get it relatively close, and is left with 8-10 feet for par.
Tiger burns the edge on the right, make his second bogey of the day to drop two over on the afternoon.
2:57 p.m.: Tiger's drive on the fifth goes right, flirting with the water. Though it's not the angle he was taking, it finds land and avoids the sand.
2:50 p.m.: The putt is on line but falls just short. Still, despite its short length, the fourth has thrown a curveball to the field thus far, so nothing wrong with four here.
2:40 p.m.: Tiger goes with an iron off the tee, and he's on the board with a fairway. The fourth is only measuring 384 yards or so, leaving Woods with a short iron in for his second.
He takes advantage of the tee shot, leaving his approach just short of the pin. Has a 20-footer left to get back to even.
2:30 p.m.: This has not been an auspicious start for Tiger. He hits a weak fade into the par-3 third the hops off the rightside of the green and into the rough. Tough up-n-down awaits.
After an okay pitch, Woods is left with a six-footer and...ewh, a very stabby stroke goes left of the hole. That's a bogey for Woods, dropping to one over for the round.
2:23 p.m.: Woods' birdie attempt comes up wayyy short, leaving an awkward five feet for par. But he goes at it without incident, making his par. It's another missed birdie opportunity at a par 5, yet could have been worse.
2:15 p.m.: Absolutely dead. That's what Woods was dealing with, forced to chip out into the fairway. Par 5s have been the bane of his existence this year, a trend that looks to continue at the start of Round 1.
From 240 yards, Woods manages to put this third in the middle of the green. Has about 35 feet or so for bird.
2:12 p.m.: Woods pulls the 3-wood at the second and goes right again, this time ending up in the pine straw behind a tree. Going on a limb and saying that wasn't what he was looking for.
2:00 p.m.: Tiger makes clean contact with his approach, and though he walks after like he stuck it, the ball lands in the middle of the green, leaving about 20 feet or so for bird.
Woods leaves his birdie attempt just short, but walks away with an opening par.
1:50 p.m.: And we're off. Tiger goes with #smokewagon on the first hole, and blows it to the right of the fairway. Ball seems to be sitting up in the rough, however, and shouldn't face too much of an obstacle on the second shot.
1:30 p.m.: Tiger and company don't tee off for another 20 minutes, but will have their work cut out this afternoon. Seven players are currently five under or better, including co-leader Dustin Johnson at six under. Conditions are expected to be a tad harsher this afternoon, with the wind picking up and greens rolling. Something about 70 should be considered a solid score.