The Loop
Players Championship 2017: Spend an hour on No. 17 and you'll see a LOT of crazy things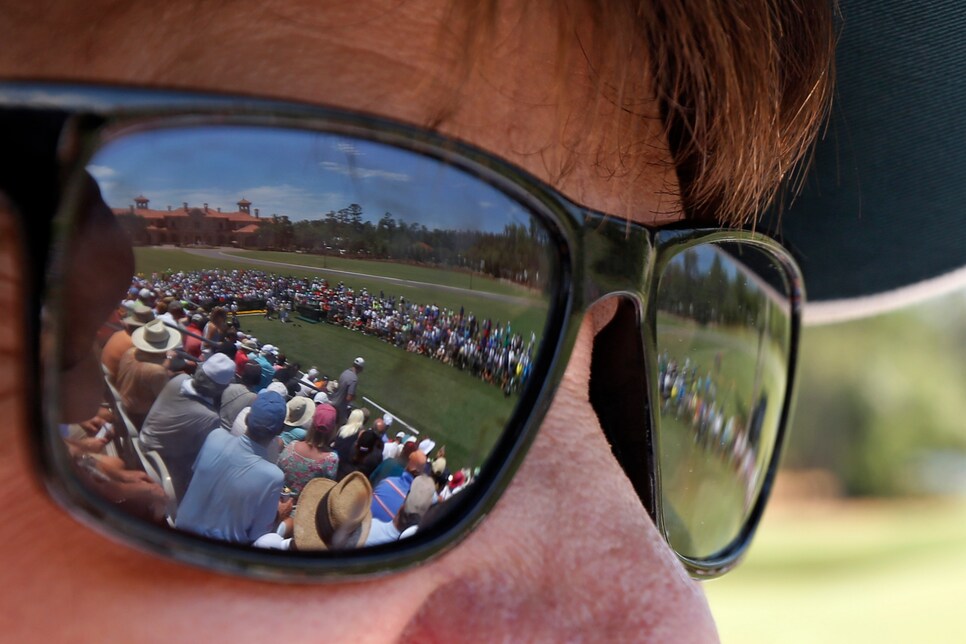 PONTE VEDRA BEACH, Fla. -- Yeah, yeah, this is another story about the 17th hole at TPC Sawgrass' Stadium Course. You know, the "iconic par 3" with Pete Dye's "famed island green." What an original idea, right?
The most shown hole in the world gets rammed down golf fans' throats every May, but there's a legitimate reason for that. It's awesome.
On Friday at the 2017 Players, I spent an hour standing just behind the walkway that (Shh. . .) technically makes it a "famed peninsula green." And there was never a dull moment.
I arrived as the group of Danny Willett, Bill Haas and Shane Lowry made its way up to the green. All of them avoided the water, I thought. But I thought too soon. Willett had managed to find that one little pot bunker and as soon as he blasted out, the groans from the fans started. Willett's ball had too much steam and it wound up in the water, forcing him to take a particularly embarrassing walk back to the drop area.
After hitting his fourth shot on the green, Willett waited as Haas attempted a long birdie putt. Then Willett walked to the green and two-putted for a highly unusual triple bogey. About 15 minutes later, the 2016 Masters champ withdrew, saying his "body and mind need a rest." Yeah, from No. 17.
Jon Rahm suffered a similar fate in the next pairing, lipping out his par putt to drop him out of a tie for the (very early) lead. "So annoying," he muttered as he walked off the green. "So annoying," he said again, a little louder. It's OK, Jon. Let it all out. . . "F*#%!" There you go.
Rahm was playing alongside Justin Rose and Martin Kaymer, but you would have thought Matt Kuchar was in the group based on the pair of fans yelling, "KUUUUCH" at Rose. C'mon guys, it's barely 10 a.m. Pace yourselves.
The attention quickly turned to Sergio Garcia, Thursday's hero around these parts, who was getting to the tee. Could he possibly ace this hole on back-to-back days? "That's gotta get up!" a fan screams as Garcia's golf ball is in the air. CRACK! The ball lands right on top of the railroad ties that surround the green, but takes a fortuitous bounce onto the putting surface, which draws a loud cheer. The golf gods are really digging Sergio these days, huh?
After escaping with par, a bubbly Garcia explained to Adam Scott, "When I hit it, I thought that's flat, so it should bounce forward." Guy wins a green jacket and now he's basically calling bank shots off railroad ties?
By the way, it was Scott who was really in control of the hole. He hit it to 15 feet and made the lone birdie I saw (You've got to be bold to mess with that back pin) while out there. Speaking of bold, I'd be remiss if I didn't mention this fan's outfit: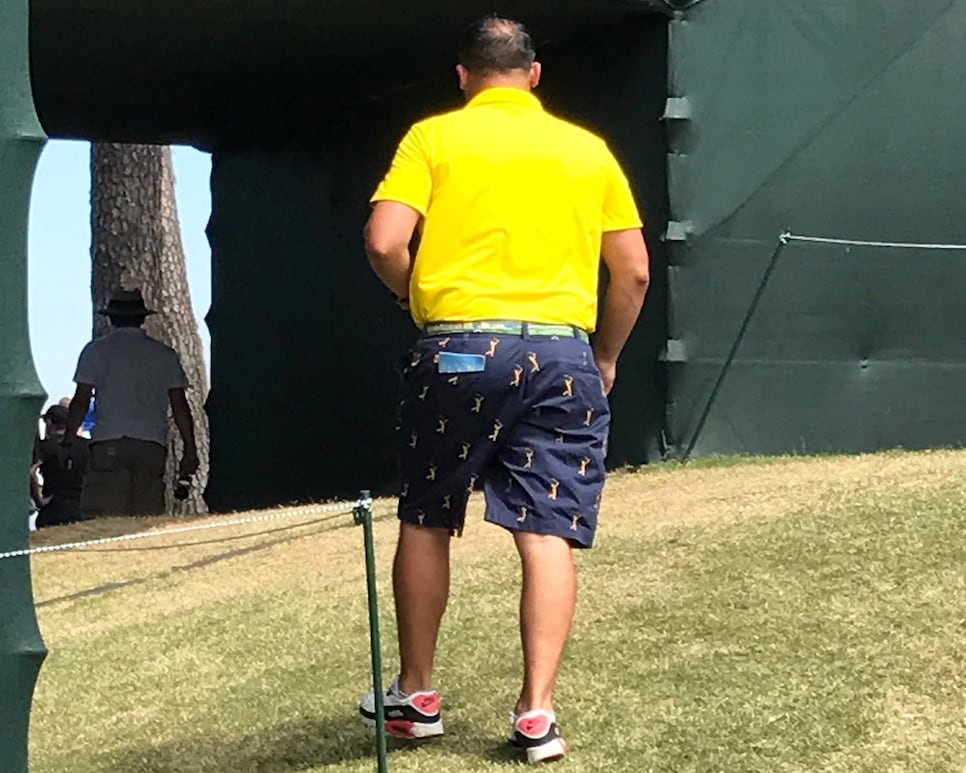 Those pants? Spectacular. Back to golf, arguably the marquee group of the first two days -- Dustin Johnson, Rory McIlroy and Justin Thomas -- is on the tee. And all avoid the water, but Thomas nearly putts his ball off the green.
"I was nervous for a second," Austin Johnson says as they walk off the green. "You're telling me," Thomas replies. Another case of a bogey not seeming so bad on the short par 3.
By the way, did I mention how hot it is out there? Forget about cooking an egg on the pavement, it feels like the pavement might start melting at any minute. But I realize that if I move back about 15 feet I can stand in the shade of the tunnel that players walk through and basically have the same view.
Ahh, that's much better. I wish I had realized it sooner. Man, is it a roaster out there. But it's difficult to leave when you see something different with every group that passes through and now I'm watching Mackenzie Hughes hit a chip shot with his heels hanging off the edge of the bulkhead. He made bogey, but there was a fan sitting in the grandstand who knew exactly what to say to him.
"Nice birdie on 16, Mac!" Hughes flashed a smile and gave a thumbs up.
Then Hughes headed through that shaded tunnel and I followed him up 18 and to the clubhouse. It had been a fun and eventful hour at one of golf's most recognizable spots, but it was time to leave. At least, for now. The coverage of No. 17 -- whether it be on TV, live streamed or through virtual reality -- is more relentless than the Florida sun at noon, but this hole is like a magnet. I'll be back.