News
Players Championship 2017: Sergio Garcia's magical run ends with rough front nine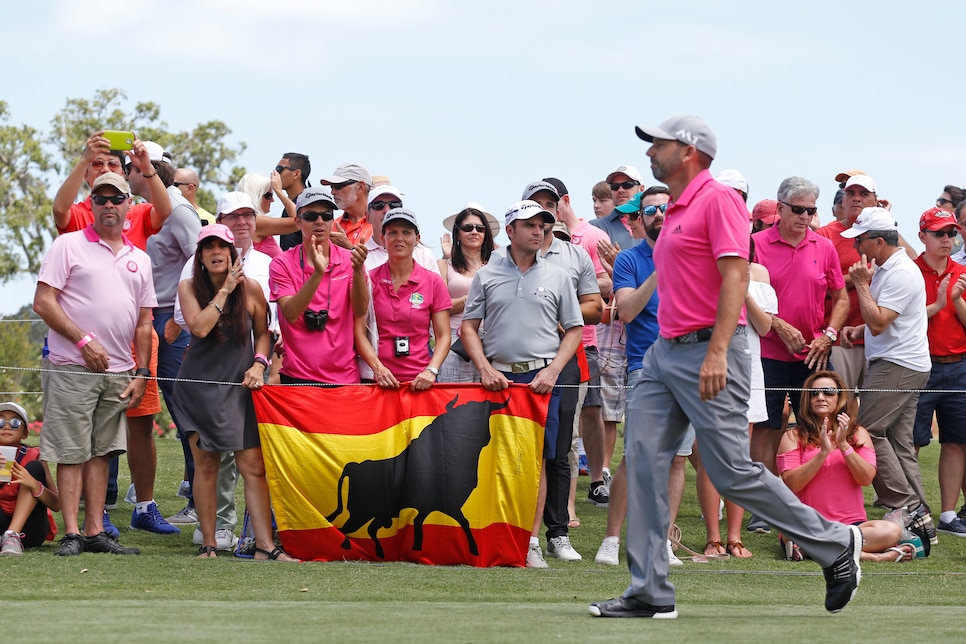 PONTE VEDRA BEACH, Fla. -- Sergio Garcia hasn't always felt the love from the fans at TPC Sawgrass, but he received a loud ovation as he teed off on Sunday at the Players -- especially from a group of fans holding up a Spanish flag with a bull by the first tee. Unfortunately for his supporters, though, the charge never came.
After birdieing the second hole to get within three shots of the lead, things went bad for the reigning Masters champ. In a hurry.
Garcia's tee shot on the par-3 third came up short and spun back down a bank. He muttered that someone had taken a photo during his backswing. And suddenly, all that great mojo -- the green jacket, the hole-in-one on 17 -- seemed to disappear.
Garcia made bogey. Then he left a bunker shot in the trap on No. 4. Double bogey. Then after a par, three more bogeys, leading to a front-nine 41. Garcia, the leading money winner in Players Championship history, wound up shooting 78 to tumble to T-30.
Overall, it was a decent week for Garcia, who was making his first start since breaking through to win his first major championship last month. In the interim, there was a media tour, a trip to Rory McIlroy's wedding in Ireland, and an opening kick-off at the Real Madrid-Barcelona match.
Not surprisingly, he looked rusty from his time away in his opening round when he started four over through six holes. But Garcia clawed his way back to a 73 thanks to the eighth ace on the 17th hole in Players history. Rounds of 71 and 67 the next to days put him in position to match Tiger Woods (2001) as the only golfers to win the Masters and the Players in the same year.
Despite the disappointing finish, Garcia still has a wedding to look forward to this summer and a green jacket hanging in his closet. It's still very much the Year of Sergio.