Live Blog
Players 2022 live updates: Cameron Smith survives wild finish for biggest career win, $3.6 million first-place prize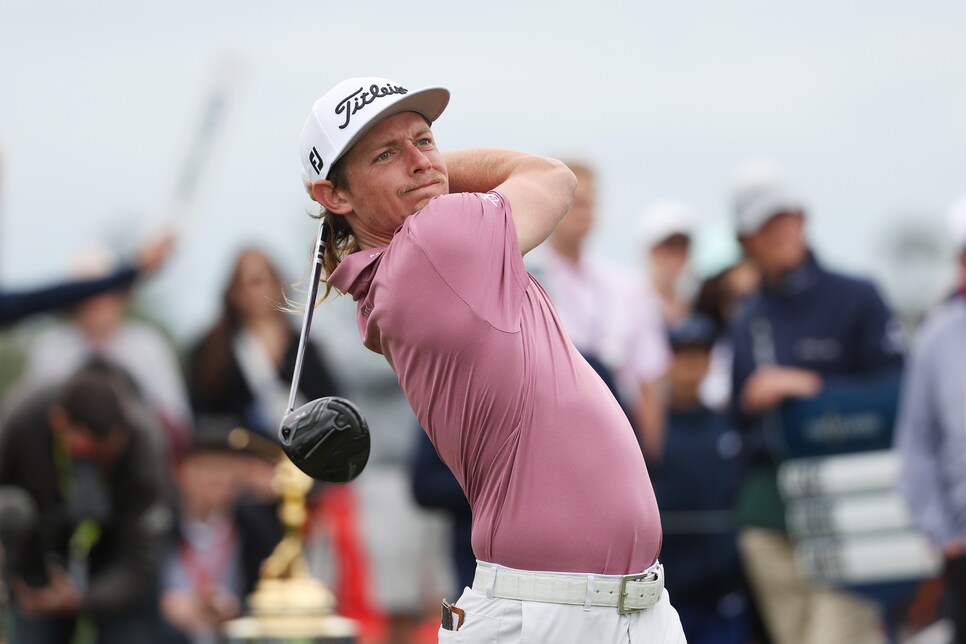 We should be crowning a champion Monday at The Players. The weather is rather benign—although not hot like Thursday, it is not cold, windy or stormy—so we will take it.
(Scroll down for the latest updates)
This wild Players Championship has set up another marathon day—with the leaders playing the back nine of their third rounds. The final group of Sam Burns, Harold Varner III and Tom Hoge will tee off on No. 10 to start their days.
Of course, the surprise leader is Anirban Lahiri, the 322nd-ranked player in the world who slept on his one-shot lead over Hoge and Varner. Lahiri has never won on the PGA Tour, in fact only has five top-five finishes in 153 career starts. Two of those did come in big-time events: A T-2 at the 2017 Memorial and a T-5 at the 2015 PGA Championship. Our Joel Beall has a great piece on why it should be easy to root for Lahiri, who goes by 'Ban,' on Monday.
Players 2022 live updates:
6:24 p.m.: Anirban Lahiri's chip comes up shy, a valiant effort but securing the victory for Australian Cam Smith, who lives closeby here in Jacksonville Beach. Smith wins the biggest first-place prize in tour history ($3.6 million) and the biggest event of his career. Congrats to Cam, who has his mother and sister over from Australia ... such a cool scene for Cam!
And Lahiri is devastated, but like we said, what an incredible display for the 322nd-ranked player in the world, who will secure solo second and the $2.18 million prize.
Here are some of the bgreat post-round scenes with the 2022 Players champ:
6:21 p.m.: Needing a birdie to tie Cam Smith, Anirban Lahiri pushes his tee shot and leaves it just short of the green to the right. He'll need to chip that in for a birdie to force a playoff. But hey, a par would mean solo second place for $2.18 million ... but judging by Lahiri's reaction, he's playing for the win ... he's upset with himself as he walks up to the green. He should be proud of his play all week at TPC Sawgrass.
6:17 p.m.: A clutch up-and-down for bogey for Cam Smith to card a 6-under 66 ... good currently for a one-shot lead over Anirban Lahiri with Lahiri yet to play his approach on 18. Smith needed just 101 putts through 72 holes ... absolutely incredible.
6:14 p.m.: After the drop and playing his fourth shot, Cam Smith scares the hole and knocks it to 2 feet. We'd expect that to be holed for 5 ... meaning that Anirban Lahiri will need a birdie at 18 to force the playoff.
Lahiri STRIPED his tee shot on 18, meaning he'll have a real shot at birdie. (There have been only six birdies at 18 by the way.)
6:11 p.m.: Cam Smith has made this VERY interesting down the stretch. With his second shot punching from the right trees, the Aussie put too much heat on the escape and it rolled into the water! OH MY. He's going to need to get up and down now for 5, because Anirban Lahiri just rolled in the birdie putt from 13 feet at the 17th hole. A double bogey would mean a playoff here at TPC Sawgrass ...
6:05 p.m.: Cam Smith is dry with his tee shot on the 72nd hole. He took driver somewhat surprisingly, especially considering he hit his tee shots in the first and second rounds into the water on this hole. But he went right into the pine straw ... he'll just need to avoid disaster from there to lock up the W.
Casey went with fairway wood and found the fairway, though he still has 205 yards left.
Back on the 17th, Anirban Lahiri hit a terrific tee shot to 13 feet, which looks like it could at least lock up a solo second-place finish which is a TON of money.
Also, if you didn't catch the exchange on the ESPN+ broadcast ... you need to do yourself a favor and click the link below from our Christopher Powers. Some testiness in the heat of a golf tournament:
6 p.m.: Cam Smith capitalizes on that incredible tee shot by converting the four-footer for birdie to grab a three-shot lead as Casey and Lahiri both par. That's the Aussie's 10th birdie of his round (!), making it the most in TPC Sawgrass history. Barring another Cam Smith duck hook (ducks after typing that), this is his tournament.
5:52 p.m.: Cam Smith just hit the Rickie Fowler tee shot on 17! He went RIGHT at the tucked right-hand pin and sticks it to 4 feet, 4 inches (!!!). Was that where Cam was looking with a two-shot lead? We would doubt it ... but even if he pushed it, it ended up perfectly. It's actually the only shot to end up right of the pin. WOW. Cam Smith ... Players champion has quite the ring to it after Paul Casey played to the center of the green and Anirban Lahiri played a poor third shot at 16.
5:42 p.m.: Cam Smith played out of his mistake with such sensibility here at the 16th hole. He took his medicine and punched out with his second, then hit a terrific shot from 238 yards out onto the left side of the green—giving himself a chance for a two-putt and a par that you thought might've been nearly impossible after his drive.
Cam is used to one-putting these greens ... but he's setting himself up for a two-putt that will likely clinch the tournament.
OH MY. The Aussie nearly holed the putt from 49 feet ... but it rolls about 3 feet by. An incredible effort.
Meanwhile Paul Casey probably made the sensible play, too, by laying up with his second shot given the awful depression his ball was sitting in, giving himself 100 yards for his third shot. But Casey misses his mark and overspins the shot off the green.
Cam Smith makes the par of the tournament to remain at 13-under, taking a two-shot lead into the 17th hole. Casey does the same—a much more disappointing par than Smith's ... but he does have a shot as they walk to the island 17th.
5:35 p.m.: Keegan Bradley hurt his chances with his three-putt at the 17th hole, but he just cost himself a ton of money with his play on the 18th hole. After missing way right with his tee shot, he tried to play a scooting punch through the trees ... and it just scooted too much and never cut, rolling right into the water.
5:28 p.m.: OH MY ... the drama here at the 16th hole. Cam Smith just duck-hooked his drive off the tee ... a complete smother. He is deep in the trees in the pine straw—he will just have a punch shot left. Cam has been miraculous with the scrambling this week ... it appears he's going to need to conjure that magic just to make another par.
Meanwhile, Paul Casey stepped up after Cam's drive and hit an absolute bullet down the middle of the fairway. And he just got one of the most unlucky breaks you'll see in the heat of a golf tournament. His ball rolled into someone else's ball mark. The Englishman must think his drive is in position A ... and it's going to be a rude awakening when he seems his poor luck.
5:25 p.m.: That's a costly miss for Keegan Bradley at the par-3 17th hole, who has been so good with the putter all day. He rolled his first putt nearly off the green (it was in the fringe), and he just came up short with the par bid. He falls two back of Cam Smith now in a tie with Anirban Lahiri and Paul Casey.
5:22 p.m.: Cam Smith does. not. miss. He just rolled in his seven-footer for par for yet ANOTHER one-putt—he now has a one-putt on every green on the back nine to maintain his one-shot lead over Keegan Bradley, who just torched his approach putt at the par-3 17th hole.
5:16 p.m.: One of the game's biggest stars just shot a course record 63—and we somehow only saw one shot of it. That's just the nature of the final round here with so many guys in contention ... and Dustin Johnson wasn't really ever in the mix. This might be the most backdoor top-10 of all time ... finishing it off with a holed wedge from 67 yards out at the ninth hole.
Check out this scorecard ... that's DJ's lowest round since a 63 in the Northern Trust when he dusted the field at TPC Boston.

Here's DJ's third at the ninth:
5:08 p.m.: Keegan Bradley two-putts from 37 feet at the par-5 16th hole for another birdie—his eighth of the final round (to go with a bogey at the fifth)—to get within one of Cam Smith ... who just nailed a spectator in the chest with his tee shot at the par-4 15th hole. Keegan kind of willed that one into the hole, hitting a ton of the hole before falling.
5:01 p.m.: Cam Smith has been absolute nails all day. His chip from short of the green came up 14 feet shy leaving quite the tester. But he rolls it in smoothly for his 10th one-putt of the round ... and just his second par of the round. That's a pivotal par for the Aussie as he looks to secure the biggest win of his career.
4:54 p.m.: Tyrrell Hatton looked like he could post a number for the last few groups to think about—coming into the 17th hole after a nice two-putt birdie at the par-5 16th to sit at 9-under. But knowing he probably needed to make one more birdie coming in, Hatton went right at the pin ... but didn't have enough club. That'll be a costly ball in the water and cost him a chance of this tournament.
A bit surprising that Tyrrell didn't helicopter his club into the water, to be honest. He settled for a club slam in the bag.
4:52 p.m.: Keegan Bradley maintains pace with the leaders with a big-time birdie putt at the 15th hole. That's his fifth birdie in his past seven holes to remain two back of Cam Smith.
4:50 p.m.: You know things are tight when they go to the double screen! Cam Smith in one box. Anirban Lahiri in another. Smith makes birdie at 13 and Lahiri misses at 12. Smith is at 13 under and two up, coming back from the three straight bogeys with four straight birdies. He's got one par on his card through 13 holes!
4:34 p.m.: Paul Casey birdies his third straight hole to get into a three-way tie at the top, but Cam Smith answers with a birdie at 12, and now he's alone at 12 under.
4:32 p.m.: What an incredible day this could be for Anirban Lahiri. He just made an eagle putt on the 11th hole (overcoming that double on No. 8) to tie Cam Smith for the lead at 11 under. He's six under (!!) for the week at No. 11 and has four eagles overall for the week. Sure looks like it could be destiny in the making.
4:03 p.m.: Brian Harman is well back, but pretty sweet little roll back and tip in for eagle at No. 4. Only the 32nd eagle there in tournament history.
3:58 p.m.: Forgive us for not providing updates every single minute. That's how fast things are happening. Smith birdied 10 and Bradley made his fourth straight birdie at 12, and now they're at the top at 10 under. Oh, and it's raininig. Wasn't there a 1-percent chance of this? Luckily, it looks like a small and fast-moving cell, which seems to be affecting only the golf course. Perfect for this week.
3:49 p.m.: Viktor Hovland joins the guys at the top with a birdie at 14. At any other course you figure he could get lapped by the time it's over. Not here. He could win if he birdies 16 (where Justin Thomas just made eagle!) and gets clubhouse lead. Lahiri makes birdie at 9 and there's a five-way tie: Hovland, Smith, Casey, Bradley, Lahiri.
3:43: If you're placing live bets: Keegan Bradley has played the back nine this week in nine under. Cameron Smith is at two under and Paul Casey at one over. Of course, two of those birdies for Bradley have come today.
3:40 p.m.: With Keegan Bradley tied for the lead, the broadcast crew reminds us that Bradley suffered a two-stroke penalty in Round 2. That's when he put a mark down for his ball, but had not picked it up. The wind then made it move, and instead of re-marking. Bradley picked it up. The rules say he had to play it from where it ended up. You can only replace it on the original spot if you'd already marked and picked up. Anyway, maybe a reason to root for Keegan if you're inclined to redemption angles.
3:33 p.m.: Double bogey at 8 or Lahiri, and boy was it an adventure. Found his ball in the bushes, chose to drop and move these poor people who were just trying to enjoy their lunch, got his high wedge shot on the green, and then two-putted. Smith bogeyed his third straight at 9, and now Paul Casey and Smith are tied at nine under. (Keegan Bradley makes birdie as we're typing and now he's tied at the top too!)
3:15 p.m.: With Anirban Lahiri getting ready to hit his tee shot at the par-3 eighth, we were marveling at the hole playing 260 into the wind. 260! That's a nutted driver for many of us mortals. As it turns out, we couldn't have fared much worse than Lahiri, who double-crossed a 4-iron left into the Palmetto bushes. Stay tuned for how many srokes he's dropped out of the lead when he's done here. (Though Cam Smith is also in trouble at 9.)
3 p.m.: With a birdie at 11, Daniel Berger is four under for the day and only three shots off the lead. Some guys with pedigrees are rising. Will it be too little, too late?
2:40 p.m.: This guy is a machine! Cam Smith makes another birdie to get to 12-under. He's 5-under thru six and retakes a two-shot lead over Lahiri. Five players are at 8-under, including Honda Classic winner Sepp Straka, who's 6-under thru 14.
2:34 p.m.: Viktor Hovland has officially entered the chat. After turning in 3-under 33, the Norwegian stuffs his approach to about four feet on the 10th. He'll have that to pull within three with a par 5 and drivable par 4 up next.
2:20 p.m.: The straight-faced Kevin Kisner is all business today, but we wouldn't blame him if he cracked a smile. The pride of Aiken, South Carolina, is 2-under thru six holes; three back of Smith.
Lahiri, after a couple nervy pars settles in with a smooth birdie at four to get to 10-under. He hasn't made any big mistakes, but now trails by one, despite being 1-under thru four. There's a bit of separation between him and everyboody else now. Casey, Kisner and Knox are next closest, at 8-under. Russell Henley and Viktor Hovland are each mounting a bit of a charge. Henley has a 5-under round going, though he only has five holes to play. Hovland is 3-under thru nine. Both are four back at 7-under.
2:05 p.m.: Cam Smith is playing a video game. The Ponte Vedra resident is 4-under thru four and now has a two-stroke lead. That's it. That's the whole update. The guy can't miss. If this was NBA Jam, he'd literally be on fire.
1:53 p.m.: And there is our second ejection of the day. Doug Ghim goes for the par-5 second in two, finds the greenside bunker and ... walks away with a double bogey. That is going to sting. The good news is he's only four back and still has almost the whole course to play.
Russell Knox looks determined to not let Cam Smith have all the fun. A third birdie in his opening four holes moves him to 9-under, in a tie with Lahiri, one back of Smith.
1:47 p.m.: Cam Smith is now the outright leader at 10-under. The Aussie burries a nine-footer on three for a third consecutive birdie to open. Can't birdie them all unless you birdie the first three.
1:33 p.m.: Cam Smith has tied the lead at 9-under. Like Knox, he is 2-under thru two. Twelve players are within three shots of the lead. At four, an all-world par save from Kisner after a skulled fairway bunker approach shot flew the green into long rough. A flop shot played away from the flag to the top of a slope and 13-foott putt later, and he moves to the fifth still two shots back. That's why he's leading the field in SG: Around the Green this week.
1:25 p.m.: Hello, hello. Russell Knox is 2-under thru two. A pair of birdies to open and the Scot is one back.
MEANWHILE, we just got a "highlight" package on the broadcast of World No. 1 Jon Rahm depositing two balls in the water and making a NINE on the par-4 fourth. He did birdie the next hole, to his credit, but that's not going to do much. Thanks for playing, Jon.
1:19 p.m.: And there's our first ejection of the day. Muñoz's second from the fairway bunker on one finds "unknown" left of the left greenside bunker. He is stuck in the pinestraw right behind a bit of shrubbery and short-sided. His third barely makes it through the bush. His fourth is still short of the green. A tidy chip nestles to a few feet and it looks like double at the first. Oof size: large.
His playing partners show no signs of being affected by that display, however. Both Ghim and Lahiri tap in for stress-free pars. Must be nice.
1:10 p.m.: And big putts are already dropping. Cam Smith puts a circle on the card right away, holing a 38-footer to get within one shot of the lead. Paul Casey drops a 13-footer on top of him, but that's for par to stay one back. Ahead, Kevin Kisner drains a birdie from 20 feet on the par-5 second to get within two. Things are getting spicy, folks.
1:07 p.m.: And the final group is on the course! If Anirban Lahiri had any first tee nerves, they didn't show. The No. 322 player in the World Ranking pipes his drive down the middle, Sebastián Muñoz finds the right rough and Doug Ghim is the last man off the tee with a fairway finder of his own.
12:40 p.m.: Scores are out there today, as only two players who started within four strokes of the lead are over par. The wind is starting to freshen a bit, and the back-nine pressure has yet to mount.
The final three groups are about to get going here in a few minutes. Nobody has really made a run at Anirban Lahiri just yet—at least nobody within realistic striking distance—but a few players are 2-under through the opening six holes.
11:23 a.m.: The final round has officially started, just a little more than 24 hours after it was scheduled to be. And we already have some fireworks!
Russell Henley started his final round with a double bogey on the 10th hole ... not so good. Then he got to the par-5 11th hole and holed out from 240 yards! An albatross! Perhaps that portends a WILD Monday finish here at TPC Sawgrass. Wow! Henley is now 3-under overall.
10:50 a.m.: BIG par putt for Sam Burns on No. 18 to stay at eight under. Burns piped his tee shot down the middle on the difficult par 4, but came up well short on his approach and first putt before draining a 12-footer to end his round with a 71. OK, so here's a final leader board rundown before we (finally) start the final round: You've got Anibarn Lahiri at nine under, followed by Burns, Paul Casey, Sebastian Munoz, and Doug Ghim at eight under. Those guys are followed by Cam Smith and Tom Hoge at seven under before a large group of Harold Varner III, Will Zalatoris, Kevin Kisner, Kevin Streelman, Louis Oosthuizen, Shane Lowry, and Russell Knox at six under. Hope we didn't miss anyone there. And hope we see you back here in a couple hours when the final round starts at 1 p.m.
10:32 a.m.: Oh, hello, Scott Stallings. The three-time PGA Tour winner matches Sebastian Munoz with a 65 for the low round of the week at TPC Sawgrass. And he only parred his final five holes. After making the cut on the number, Stallings is all the way up to T-16 as we near the end of the third round. The fitness enthusiast will now have a couple hours to hit the gym before his final round begins.
10:28 a.m.: Paul Casey misses a golden chance from eight feet to tie the 54-hole lead. That being said, he flahes a big smile because as our Chris Vernon, our favorite Masters leaderboard update guy says, "PAUL CASEY ALWAYS SMILING!" But seriously, he should be smiling. He's in great shape to pick up the biggest win of his career at age 44. Not to mention, he began this tournament way back on Thursday with a triple bogey on No. 10. Not sure if he was smiling after that, but knowing him, he probably was.
10:22 a.m.: The last group of the third round, Sam Burns, Tom Hoge, and Harold Varner III, all find land on No. 17. But we have just a hunch that hole will provide more drama later this afternoon—esecially with that $3.6 million winner's check on the line.
10:15 a.m.: How about Doug Ghim? After playing his way into the penultimate group at the Players last year, he's right back in contention through 54 holes again. Ghim drains a long birdie putt on No. 18 to get to eight under and one back of Anirban Lahiri. Sam Burns birdies No. 16 to join that group at eight under as well.
10:07 a.m.: Paul Casey drains a 40-foot downhill snake on 17 to get to get back to eight under. It looked like he might have a share of the lead, but Anirban Lahiri holes another solid par putt on No. 18. He will be your 54-hole leader at nine under unless something crazy happens. What an amazing performance thus far from a guy who entered the week ranked 322nd in the world.
9:52 a.m.: Cam Smith moves to seven under after a tap-in birdie on No. 17. But then he blows his tee shot on 18 waaaaaaay right. That being said, it's better than the snap hooks that he hit into the water the first two rounds. Lahiri, still holding the lead, splits the fairway. Up ahead, it's not going as smoothly for Justin Thomas. The defending champ went for a bold recovery from the right side, but it bounced off a tree and found the water. JT also found the water with his second on 16 and made bogey. He's going to need a miraculous final round now to become the first back-to-back winner of the Players.
9:45 a.m.: And Will Zalatoris enters the fray! The ball-striking machine sticks a mid-iron to within four feet on No. 16 to set up an easy eagle to move to five under. In the group ahead, Lahiri two-putted from the fring to remain in first at nine under.
9:37 a.m.: Sam Burns continues to be wild off the tee and he pays the price on No. 14. Burns is unable to advance his second shot to the green then fails to get up and down to fall back to seven under. He's currently tied for third with Paul Casey and Tom Hoge, one shot behind Sebastian Munoz and two behind Anirban Lahiri, who birdied No. 16 and, just as importantly, found land on No. 17.
9:17 a.m.: Viktor Hovland hole-in-one alert!!! And it comes on the difficult 219-yard eighth hole! What a freaking shot by the young man. And what an amazing reaction as well as he picks up playing partner Kevin Streelman. Even with a second eagle of his back nine, Hovland is only at four under. Still, you never know—especially with this guy's penchant for making late runs.
9:13 a.m.: We have a three-way tie at eight under after Anibarn Lahiri's par putt on No. 15 juuuuuuuuuust hangs on the lip. Wow. He gave it the full 10 seconds, too, but to no avail. Lahiri, Burns, and Sebastian Munoz, who just posted a third-round 65, are all at eight under. And it could have been a five-way tie, but Harold Varner III and Tom Hoge missed great looks at No. 12.
9:06 a.m.: Daniel Berger becomes the latest to find the water on No. 17 after spinning one back into the pond. Be careful if you have "CONTROL THE SPIN" on your Players Championship drinking game card, because you might get absolutely wrecked today. Then again, you're probably in bad shape already if you're playing a Players Championship drinking game on a Monday morning. But seriously, you have to CONTROL THE SPIN out there, guys. Especially on No. 17.
8:55 a.m.: Sam Burns birdies No. 11 to move to eight under. He remains one back of Anirban Lahiri, who makes a 10-footer for par on No. 14. He's now in solo second, however, after Paul Casey's par putt on No. 13 horseshoes out. Playing with Burns, Harold Varner III has a pretty violent lip out himself for birdie on No. 11 as he remains at seven under and two back. Who cut these holes?! They are razor sharp!
8:45 a.m.: Louis Oosthuizen rattles a chip off the flagstick and in for an unlikely birdie on No. 15. After a year in which he lived on major championship leader boards, the South African looks like he'll be a contender at the Players this afternoon as he moves to six under.
8:35 a.m.: Um, hello, Keegan Bradley! The 2011 PGA champ just capped a back-nine 30(!) to move to five under. Bradley now gets a nice break before the final round. The 30 is the low nine of the week at TPC Sawgrass. And it proves that the guys will have an opportunity to make big moves today with these soft, calm conditions.
8:30 a.m.: Despite hitting (by far) the worst tee shot of the final group on No. 10, Sam Burns is the only one of the three to make par. Burns holes a nice eight-footer for par while Harold Varner and Tom Hoge both make bogey. All three are now tied at seven under, two behind Anirban Lahiri.
8:23 a.m.: Paul Casey becomes to first of the contenders to put a birdie on the board Monday morning. The three-time PGA Tour winner makes 4 on No. 11 to move to eight under. He's just one back of Anirban Lahiri. Doug Ghim also birdies the par 5 to get to seven under.
8:17 a.m.: OK, now they're really off! The final group of Harold Varner III, Tom Hoge, and Sam Burns had a lengthy wait before teeing off on No. 10, but they've gotten their rounds (back) under way. Varner and Hoge find the fairway, but Burns misses into the deep rough to the right. No surprise there considering he's hit just one fairway in his third round.
8:12 a.m.: It didn't take long for No. 17 to claim it's first victim. And it's a familiar one in Sergio Garcia. The man who infamously found the water twice in the final round of 2013 when trying to chase down Tiger Woods looked to hit a nice shot on Monday, but it carried too much spin and ripped back into the water. "Story of my life," the Spaniard, who began his day with a birdie on 16 to move to five under, muttered. Always an optimist!
8:05 a.m.: And they're off! This marathon Monday at the Players has gotten off on schedule and it looks like we have the best scoring conditions of the week. We also have a LOT of golf left. We'd say that at this point in any golf tournament, but at TPC Sawgrass with all its trouble lurking it's an eternity. It hasn't been the most fun week thus far, but today should be a golf fan's heaven. Well, unless you're stuck at work without a TV. Still, keep it right here!