Creativity Counts
Players 2022: This explains how Justin Thomas and Bubba Watson both shot bogey-free rounds Saturday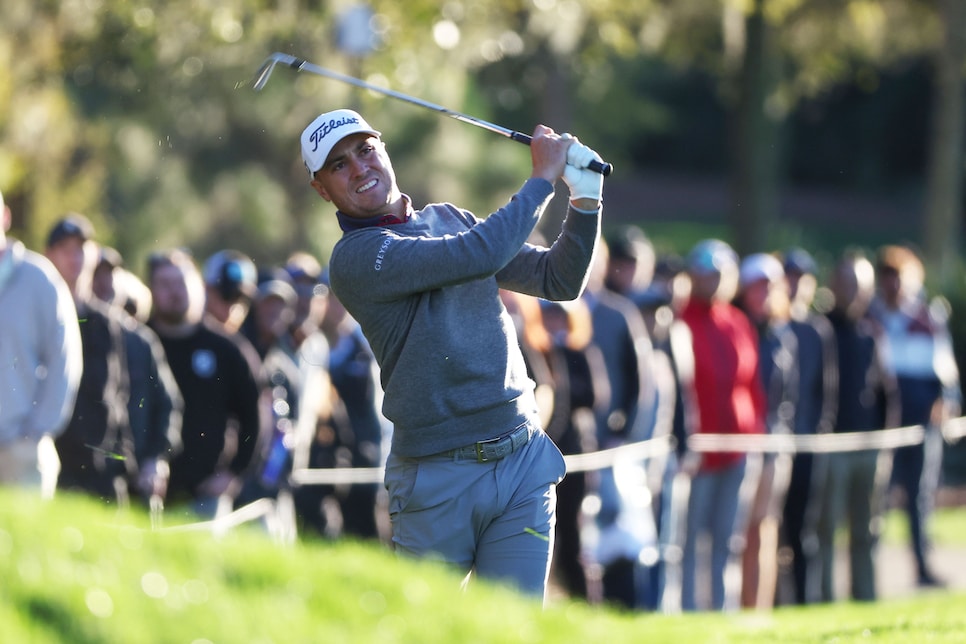 PONTE VEDRA BEACH — There were 40-mph gusts and 120-yard 7-irons, tops and slices, club slams and more club slams. It was one of those days at TPC Sawgrass, when an even-par round catapults you up the Players Championship leader board. Brooks Koepka did not break 80. Jordan Spieth posted 79. Xander Schauffele shot 78, and Xander Schauffele never shoots 78.
Getting through the day without a double bogey was a minor miracle. This is the anti-links course; the vast majority of holes don't have pathways to run a ball onto the green. And even if they did, three-plus inches of rain morphed this course into a pillow. Carrying onto the putting surface is the only option.
It all leads to one question: How in the hell were Bubba Watson and Justin Thomas able to play bogey-free in their second rounds despite facing constant 25-mph winds?
Thomas put it succinctly: "Our creativity has to help—the amount of shots we can hit."
Thomas is sometimes lumped in with the rest of the tee-it-high-and-let-it-fly bombers, but it's a mischaracterization. He varies shapes and trajectories on virtually every shot. He'll hit the high draw on one hole and the hold-off cut on the next. The enduring memory of his Players Championship victory a year ago is the rope-hook 3-wood he hit off the 18th tee, a shot most guys simply do not have. He's a bit old school that way, a chip off the block of his adopted older brother Tiger Woods, a master of letting conditions dictate his shot choice.
Woods will be proud of Thomas' grind on Saturday. After double-bogeying the final hole of his first round for an even-par 72, the defending champion regrouped and flashed his full arsenal in the afternoon, making three birdies for a three-under 69 that has him nicely positioned in this most peculiar tournament.
"I'm thrilled with how I played and how I competed today," said Thomas, looking to become the first repeat winner in Players history. "It was a very, very tough day, and I just stayed very patient and executed well.
"It was one of those days I think could be really fun to play if you're [at your] home [course]. It's not really fun when it's TPC Sawgrass for the Players, and you're kind of around the cut line to start the day. It's so hard. I really just … as soft as it is in normal conditions, the first round, you're just trying to knock it close. You're trying to make a lot of birdies. But I just tried to hit as many greens as I possibly could [today]."
It's a simple strategy that required mastery-level execution of a diverse range of shots. He sent a pitching wedge into the heavens on the downwind par-3 13th. It flew 180 yards. He hit a back-foot 6-iron to safety on 17, a hole that terrorized all afternoon. At 18, which played as the toughest hole, Thomas hit a knockdown draw with driver down the center, then a 5-wood from 204 yards right into the middle of the green. He peeled a cut down the center on 4 then punctuated it with an aggressive club twirl as if to say yep, I'm cookin'.
"It's not really a swing rhythm because you're just not really making that many swings—it's just a lot of shots. A lot of choking up, very, very narrow, open stance, slicing it against the wind, drawing it against the wind.It was some of the most bizarre conditions I've played in."
With similar wind forecasted for Sunday morning, when the early/late wave will play the meat of their second rounds, Thomas will surely inch up from his current T-15 position. So will Bubba Watson, also on three under after a four-under 68 in his second round Saturday. He, too, didn't make a bogey … or the double he was expecting.
"It was funny—the last two holes, I barely hit it on the green on 16. So I three-putted 16. I was trying to get to 4-under so I could make double bogey, double bogey, so I could still be at even. I told my caddie Gabe, man, I need a birdie so I can go double bogey, double bogey."
He went par, par and now finds himself in an unfamiliar position: primed to contend for the Players Championship. His best finish in 13 previous starts is a T-37. Watson famously does not, cannot, see a straight shot. Everything curves one way or another. On the right course—say, Augusta National—he looks a genius. On the wrong course—essentially any U.S. Open setup—he looks a fish out of water. That's been the case at TPC Sawgrass.
"Blind shots are very difficult for me, and this golf course, the designer knew what they were trying to do," Watson said. "I'm the perfect person that fell into the trap on every hole, because for me, I like to look at certain shots or see certain shots. … There's a lot of holes that don't fit my eye.
"This one reminds me a lot of Hilton Head. Even though you can move the ball and do things, you know, overhanging trees, vision of bunkers, it just kind of throws me off. So I'm not a guy that aims at a target and then just they can pull the trigger. So I have to see it. I have to visualize my whole shot, and blind shots are difficult for me."
You couldn't tell. Watson was third in strokes gained/off the tee for his second round and, rather surprisingly, first in strokes gained/putting. But just because a round is bogey-free does not make it stress-free—he made three eight-footers for par and a 13-footer at 18, his ninth hole of the round.
"The last couple holes, I brought a couple of extra sandwiches today, and I started eating to get some energy because the mental part, especially me, wears me down real fast. Today it's all about the mental grind and trying to stay committed to the shots or the putts even when the wind's blowing. Even the two-footers, right? It's very tough."
Not too tough for bogey-free golf, apparently.