The Loop
PK Subban scores ridiculous center-ice screamer, locks up goal of the year in December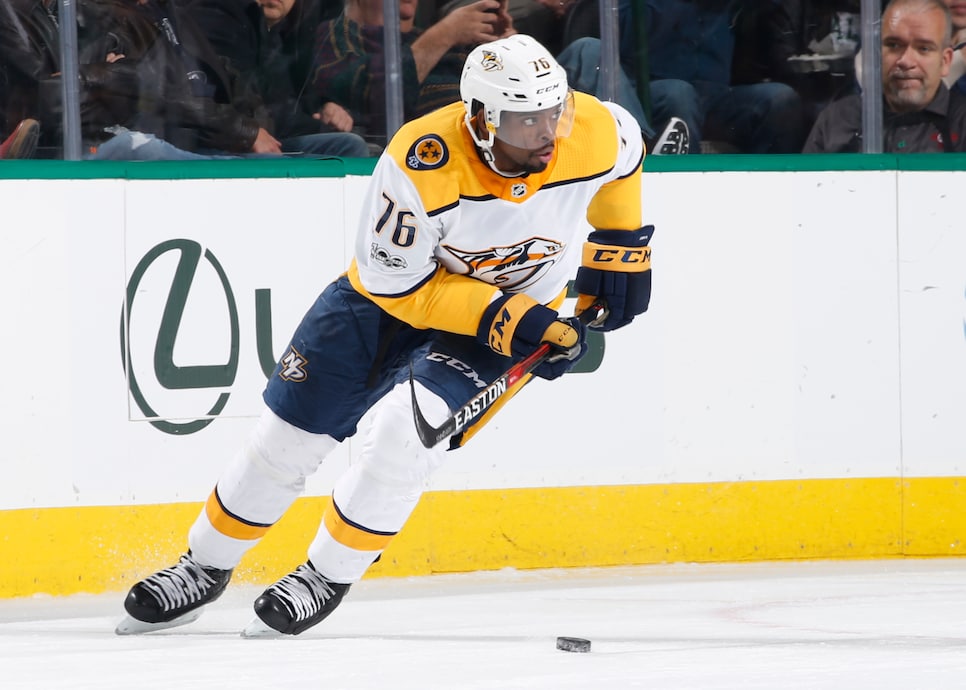 Remember a few years ago, when Steph Curry exploded into the NBA consciousness, forever altering the game of basketball with a combination of audacious skill and low-swinging cojones that taught defenses there was literally nowhere on the floor that was safe? Well, on Wednesday night Predators all-star defenseman and One of the Few Marketable Hockey Guys™ PK Subban took a page out of Steph's free-firing book, picking up the puck deep in his own zone, turning, and firing a center-ice stinger past Canucks goalie Anders Nilsson and into the back of the presumably still-smoldering net. WARNING: MAY INDUCE SPONTANEOUS HEAD EXPLOSION.
Despite the pure head-in-hands absurdity of those highlights, however, the most shocking thing about this goal is not that Subban scored from center ice—a bit of soft tending certainly helped—nor that he pretty much wrapped up the goal-of-the-year sweepstakes before Christmas. It's the way that he did it. Watch it again. Once Subban hits the center circle, there's no doubt in his mind that he's going to shoot. Once he's at the top of his shot—a ferocious 12-to-9 swipe that deserves it's own emblazoned statue in Toronto—it's clear that he's not just trying to shoot. He's trying to score.
That's where the Curry comparison comes full circle. When Curry started putting up 30-footers on a nightly basis and practicing half-courters in warm-ups, he wasn't doing it because the shot clock was about to expire or because he was wanted a crazy clip for Snapchat (this was a few years ago, remember). He was doing it because he thought he could score from there. And he did. A LOT. Eventually defenders learned they couldn't just stand there and guard the three-point line. They learned that once Curry was in the front court, he was a threat, and that is the potential, at least, of what Subban did.
If he can go out there and add this to his already voracious skill vocabulary—score another from center ice or create a fat rebound chance or two—NHL defenses are going to have to wake up, step up, and keep him honest. And once they have to do that, forechecking changes, and, possibly, the whole of hockey along with it. For now, however, let's just enjoy this for what it is: A chemtrailing, palm-breaking beauty (and beast) of a slapshot from the baddest dude on skates since Johnny Weir.