Stylish Collab
Ping teams up with Atlanta fashion house Hideoki on upscale golf apparel and accessory collection
*All products featured on Golf Digest are independently selected by our editors. However, when you buy something through our retail links, we may earn an affiliate commission.*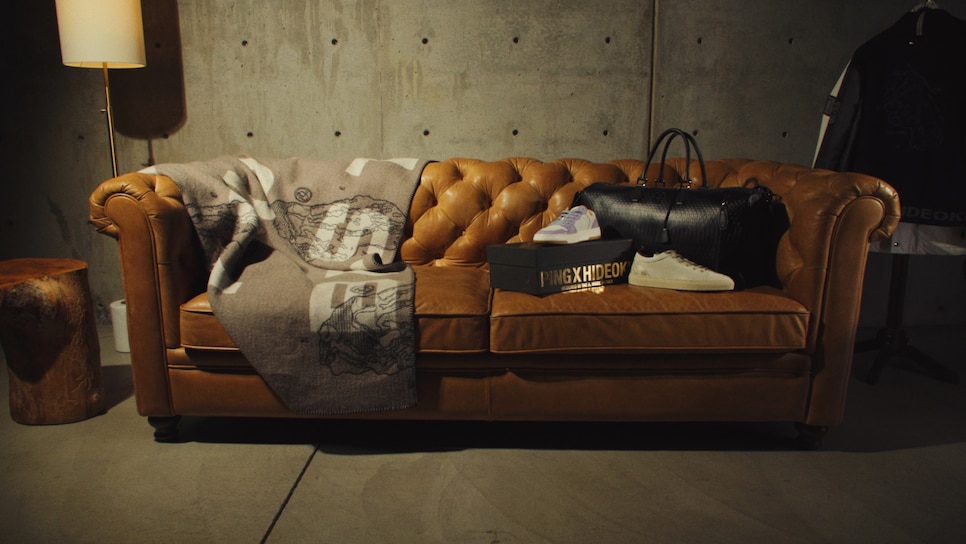 The sleek logo design for the inaugural collaboration between Ping and Hideoki Bespoke is telling: a fine needle, wielded like an expertly crafted golf club, slicing through air in curves reminiscent of the most artful swings of golf legends. Just launched, the 60-piece capsule draws from the technicalities of American-founded Ping with the contemporary, sophisticated vibes and tailoring of Atlanta-based Hideoki.
The collection—in style and in pricing—is upscale. Pieces run items run for a cool $65 for a pair of limited edition designer socks, to $2,195 for a wish-list-worthy duffle bag with putter-inspired geometric detailing. It's a collection of high-fashion designer pieces designed in Atlanta and made in Italy with luxe materials like cashmere, silk, leather and wool. Teaming up with a design house like Hideoki that's known for sophisticated-modern styling for men, has provided Ping a great opportunity to expand its apparel and accessory offerings into new and more splurge-worthy ways in this collection. Ping is not typically lauded for being on-trend fashion-wise, providing a nearly blank canvas for the creative designers at Hideoki.
The partnership comes from two brands who value attention to detail and spreading the joys of sport, luxury, and design. Dubbed "The 19th Collection," the collaboration goes beyond this capsule, with a joint effort to address inequity, accessibility, and awareness surrounding systemic racism in golf and beyond, which includes a $1 million commitment to Texas Southern University, a Historically Black College and University (HBCU), and a promise to address racial injustice and foster greater diversity through similar programs and efforts.
This ethos is reflected in the capsule's design, thanks to the nostalgic, old-school silhouettes and sense of masculinity (think: silk foulard scarves, patterned glass whiskey glasses, structured, militaristic field jackets, and knit wool polos) with modern minimalism, technology, and coolness. For instance, there are black crewnecks enlivened with pastel geometric designs, classic beanies marked with skater-inspired typography, or the cashmere hoodie, styled with graffiti inspired yet subtle design accents for edge.
And then, of course, for sneakerheads, there are the limited edition golf shoes, retailing around $800, with four options to choose from, whether it's brogues and wingtips you're after, or a barely-golf shoe that's versatile and practical, with silver metallic accents and tattoo-inspired ink sketches.
More from the Ping X Hideoki Collaboration