Style Watch
Trend Watch: The best collarless golf shirts for men and women right now
*All products featured on Golf Digest are independently selected by our editors. However, when you buy something through our retail links, we may earn an affiliate commission.*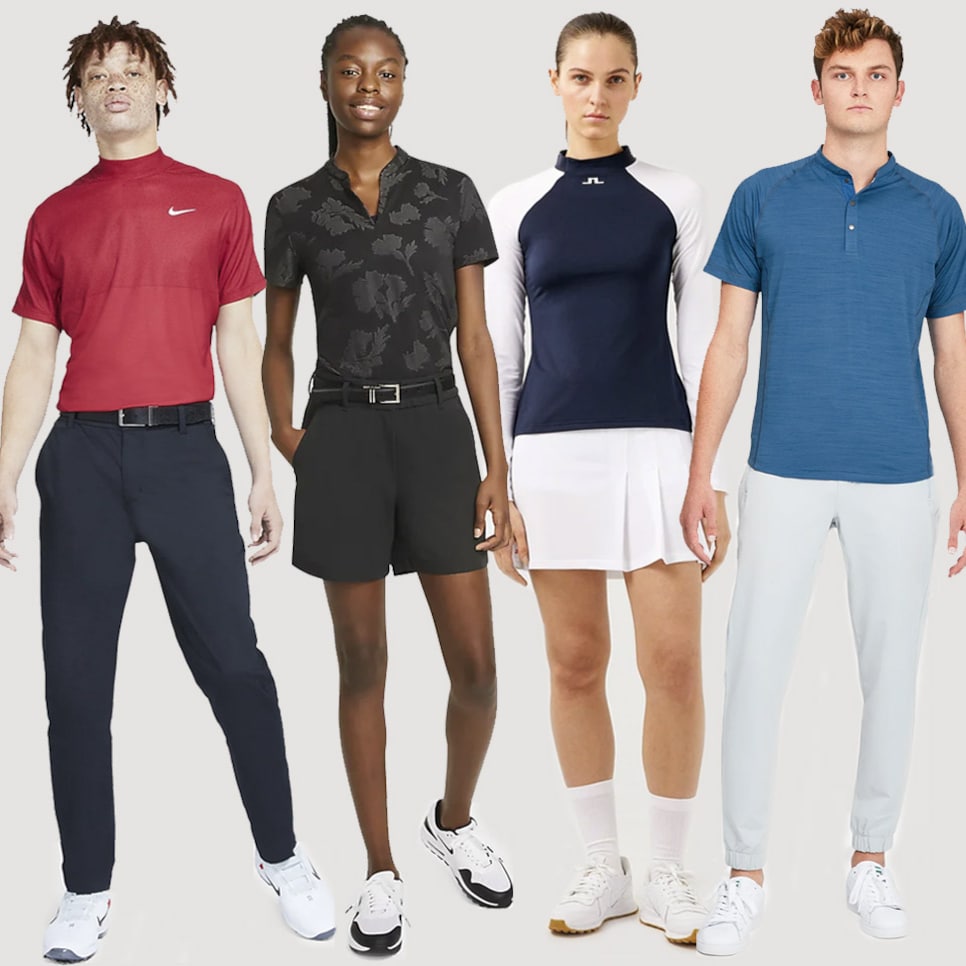 Over the past several years, the golf world has become increasingly accepting of casual clothing trends. Comfort is the priority for golf apparel brands, even if it pushes against tradition. We've seen hoodies and joggers worn on the LPGA and the PGA Tour, and although those pieces were originally controversial, their popularity is undeniable.
Similarly, collarless golf shirts are on the rise in golf fashion—they're an additional way for golfers to blend their on-course looks with their off-course style. Whether it's a Tiger-esque mock neck silhouette or a blade-style zip design, check out these trendy alternatives to the standard collared golf shirt for men and women.
RELATED: Best joggers for golf, according to Golf Digest Editors
Men's: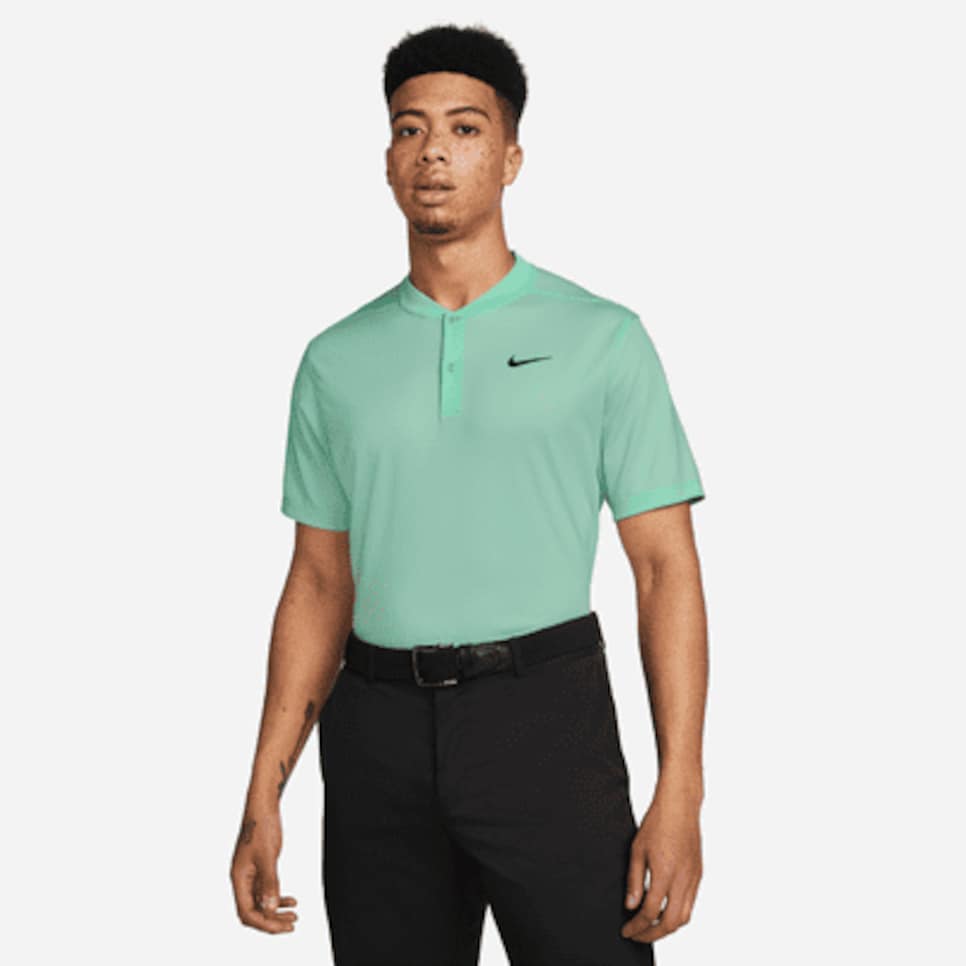 Nike Dri-FIT Victory Men's Golf Polo
This Nike buttoned blade collar is a great choice for those who are accustomed to traditional on-course style but want to experiment with the collarless trend. With nine different colorways, the basic model is made with 100 percent recycled polyester fibers.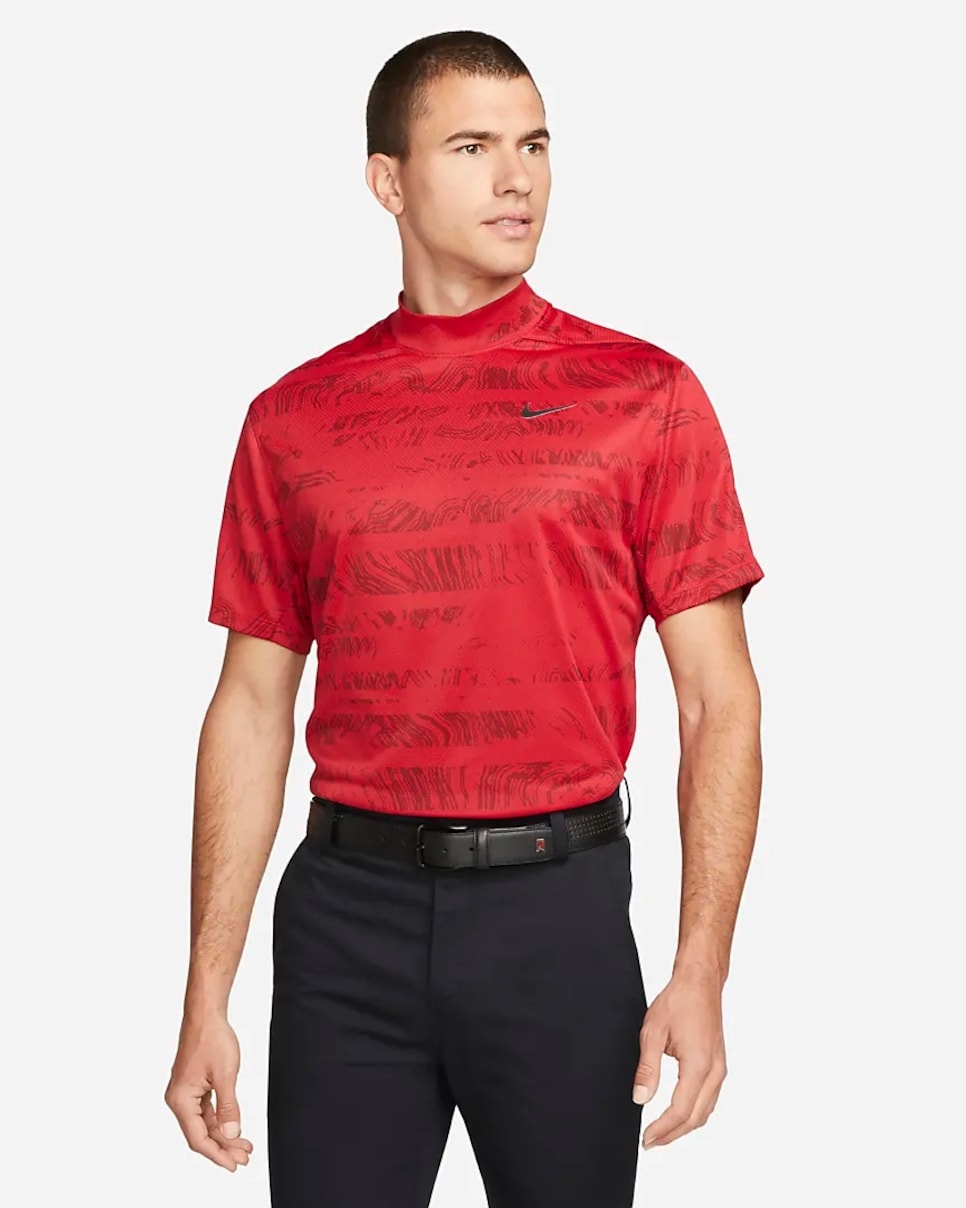 Nike Dri-FIT ADV Tiger Woods Men's Mock-Neck Golf Polo
The Tiger Woods Mock Neck golf shirt is a statement piece, but it's a fun option for any fan of the 82-time PGA Tour winner. The shirt features a relaxed fit and Dri-FIT technology to manage moisture throughout any round or practice session.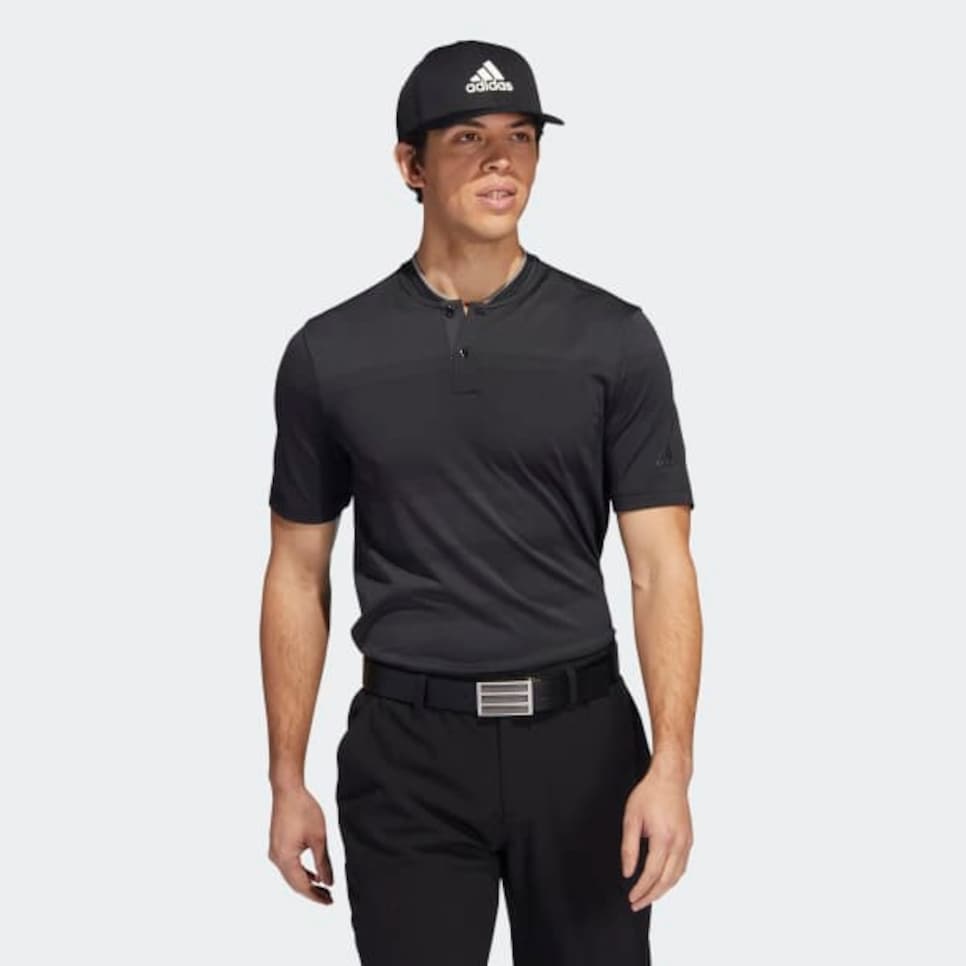 Adidas Statement Seamless Primeknit Polo Shirt
This breathable Adidas option is perfect for warmer golf days. The seamless construction makes for a sleek, modern look that will pair well with most golf pants and shorts you already have in the closet.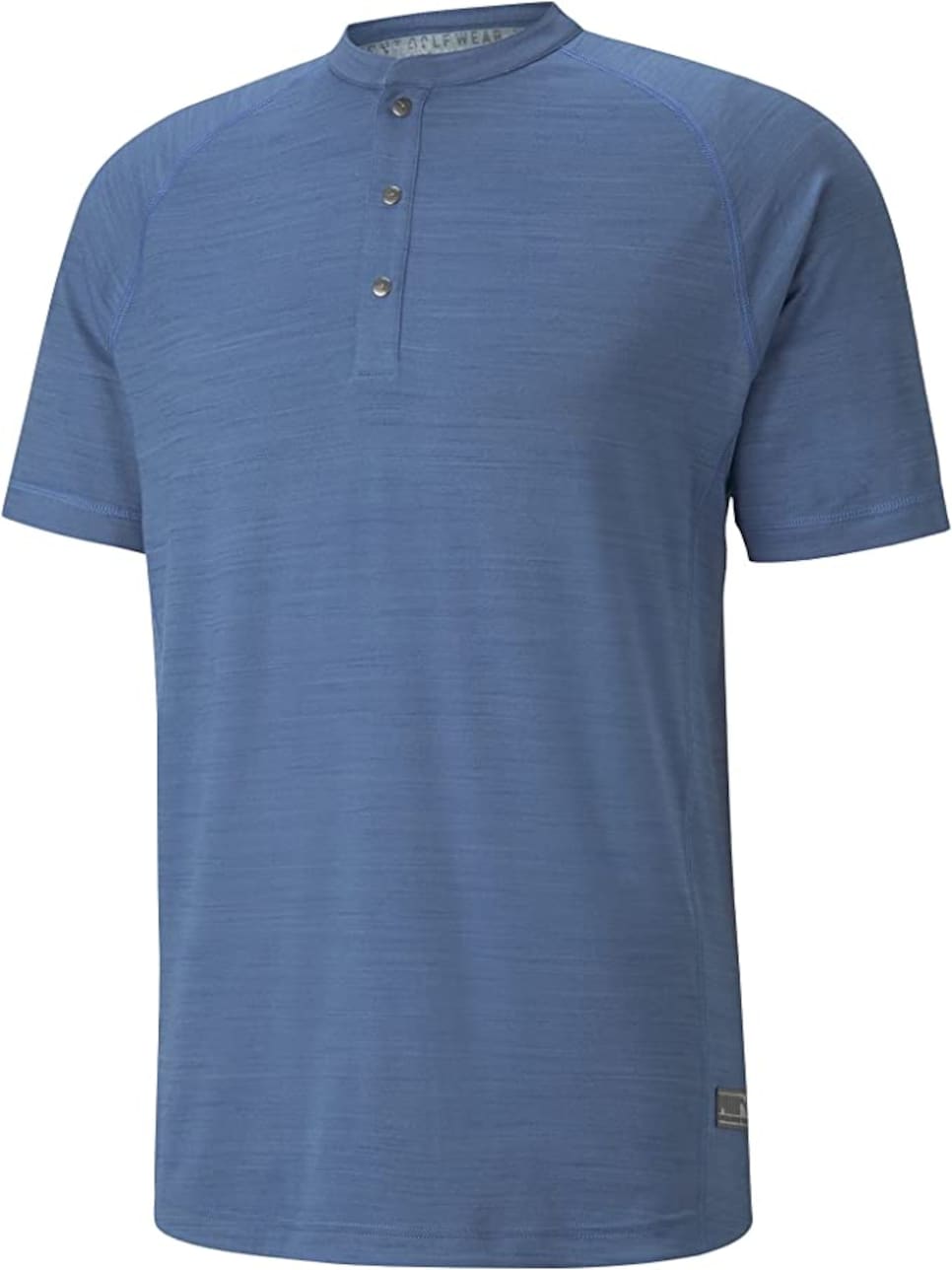 Puma Men's Standard Cloudspun Polo
This blade collar Puma shirt has three snap buttons, making for a clean but casual silhouette. The piece is meant to transition seamlessly from performance to lifestyle-wear.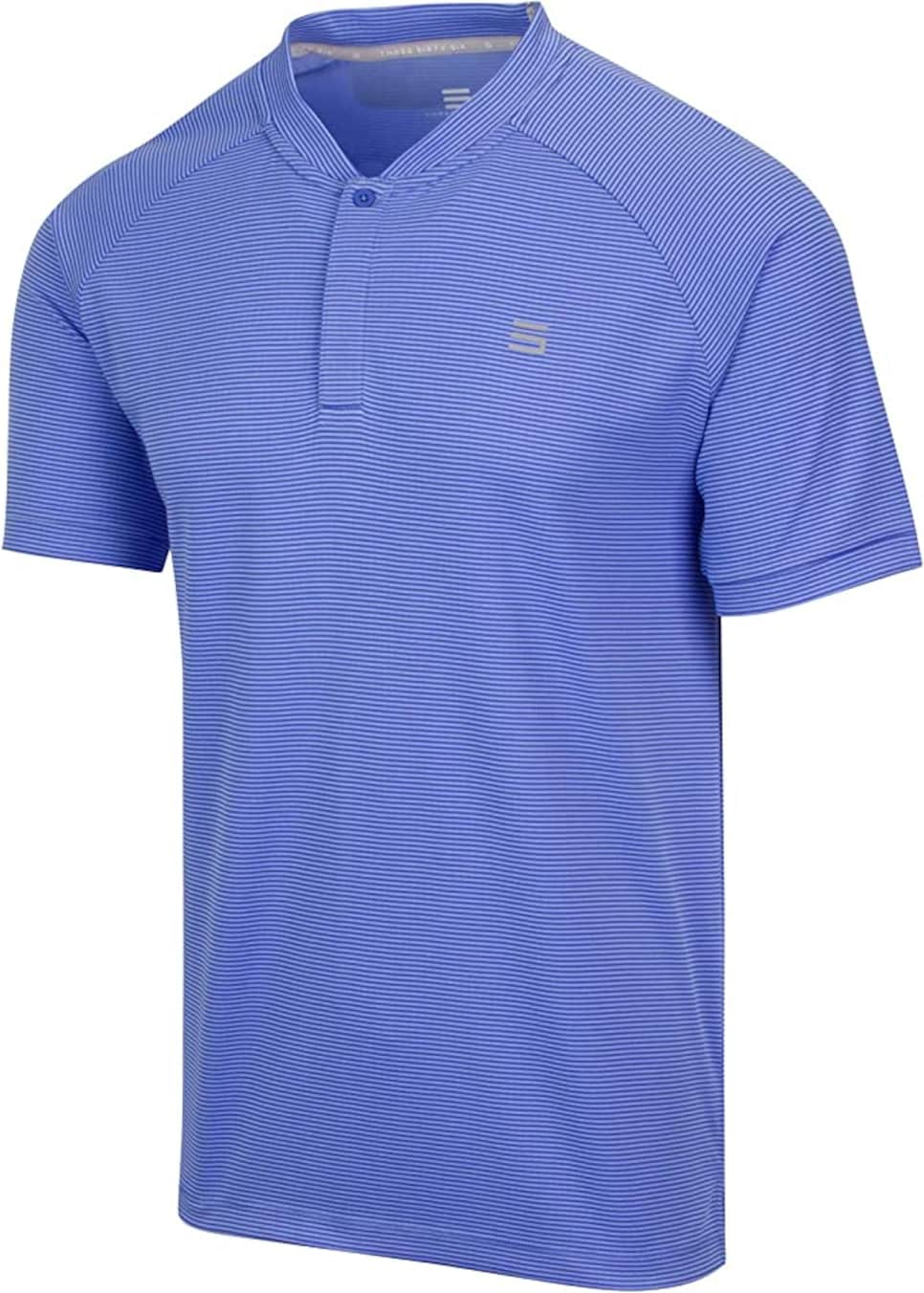 Three Sixty Six Collarless Golf Shirt
There are Three Sixty collarless shirts for every occasion and look—the brand offers the style in 16 color options. With moisture-wicking and ultra-soft jersey fabric, the casual golf shirt combines comfort and style.
Women's: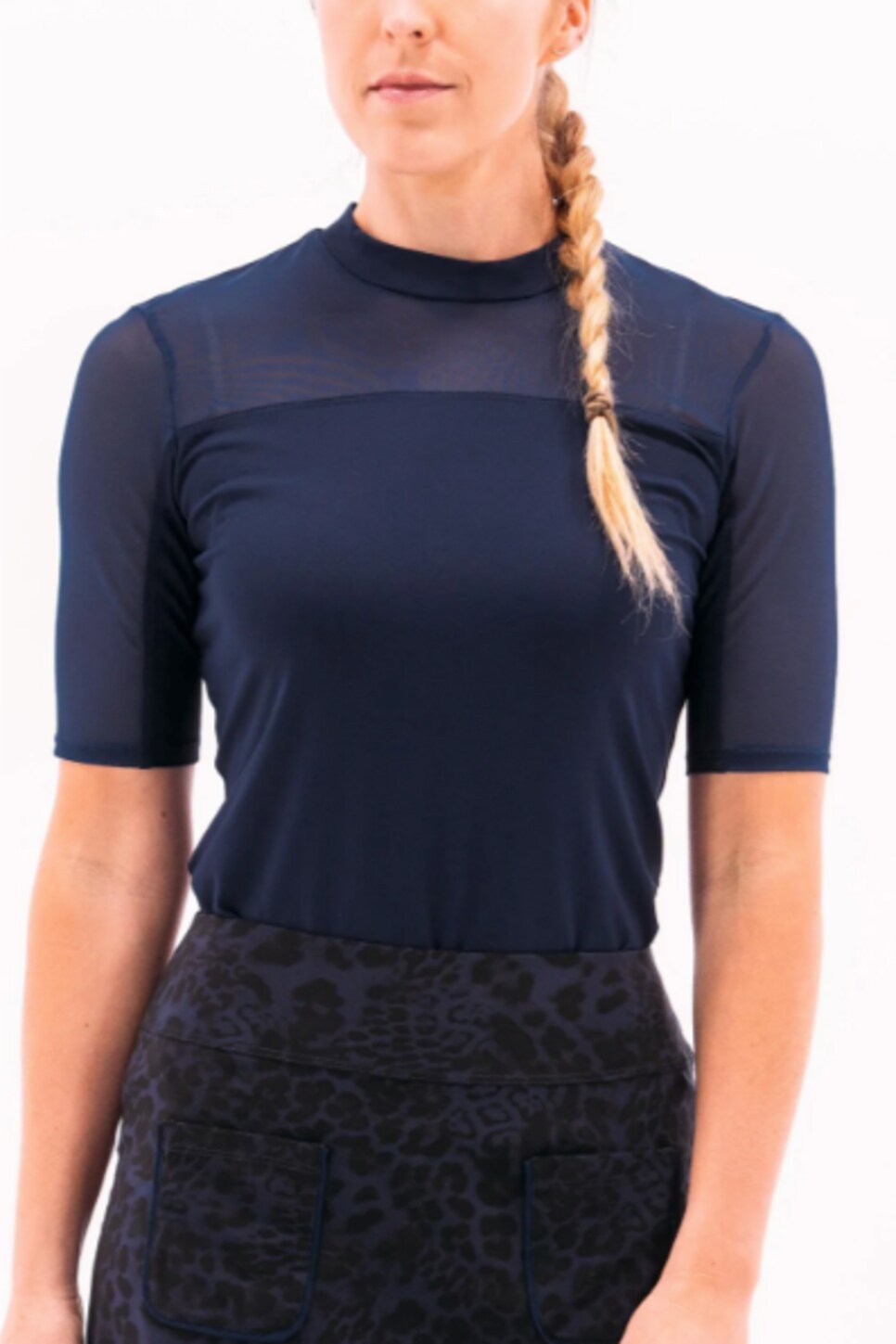 Foray Mesh Short Sleeve Top
The mesh detailing at the top of this Foray golf short sleeved shirt adds a nice touch of femininity. Pair it with almost any color bottoms for an edgy and comfortable outfit.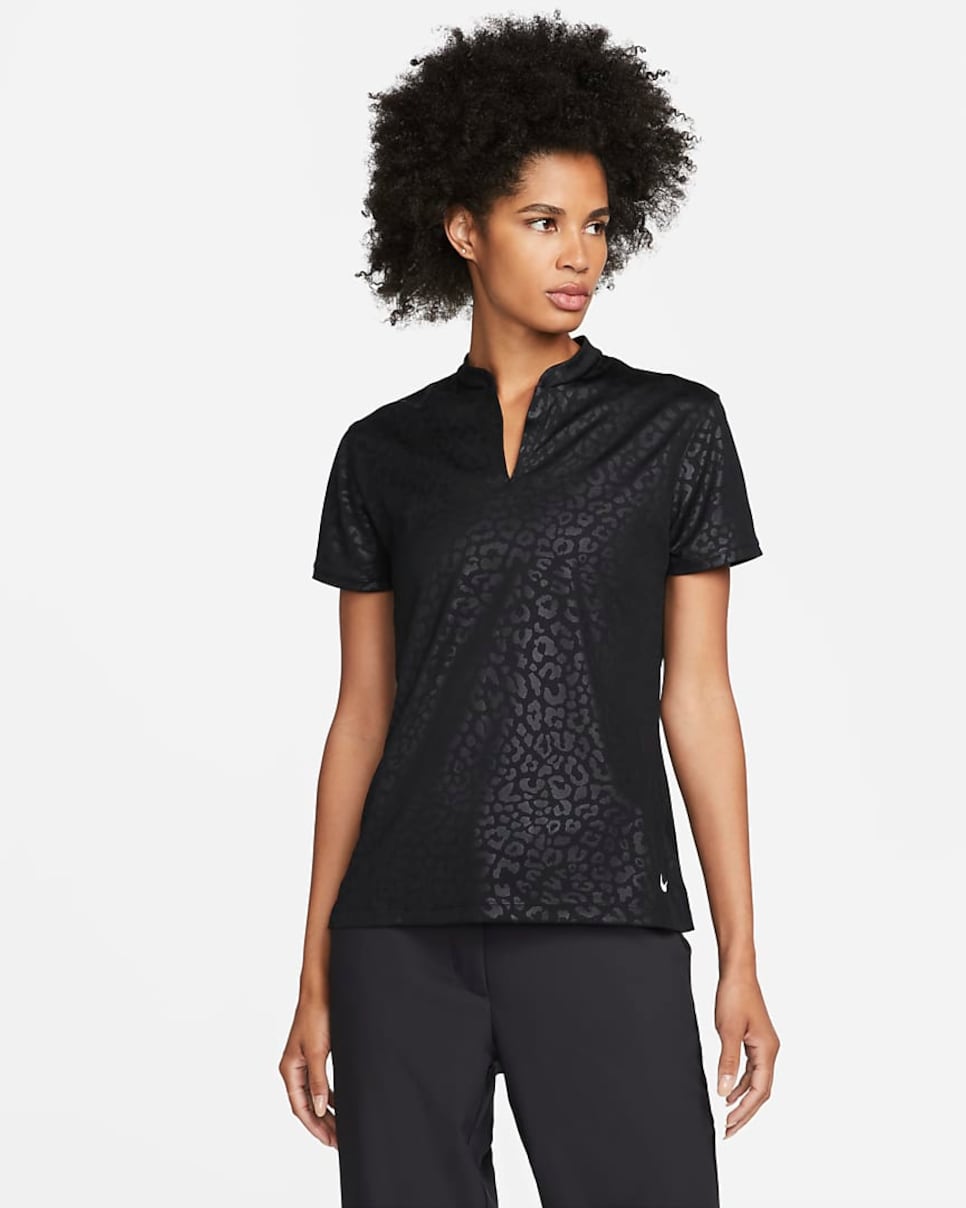 Nike Dri-FIT Victory Women's Striped Golf Polo

Similar to the men's version, the Nike Victory golf shirt line is a great way to test out collarless shirts without going full send. The muted, cheetah design and relaxed V-neck fit make this shirt a cheerful option without sacrificing comfort or breathability.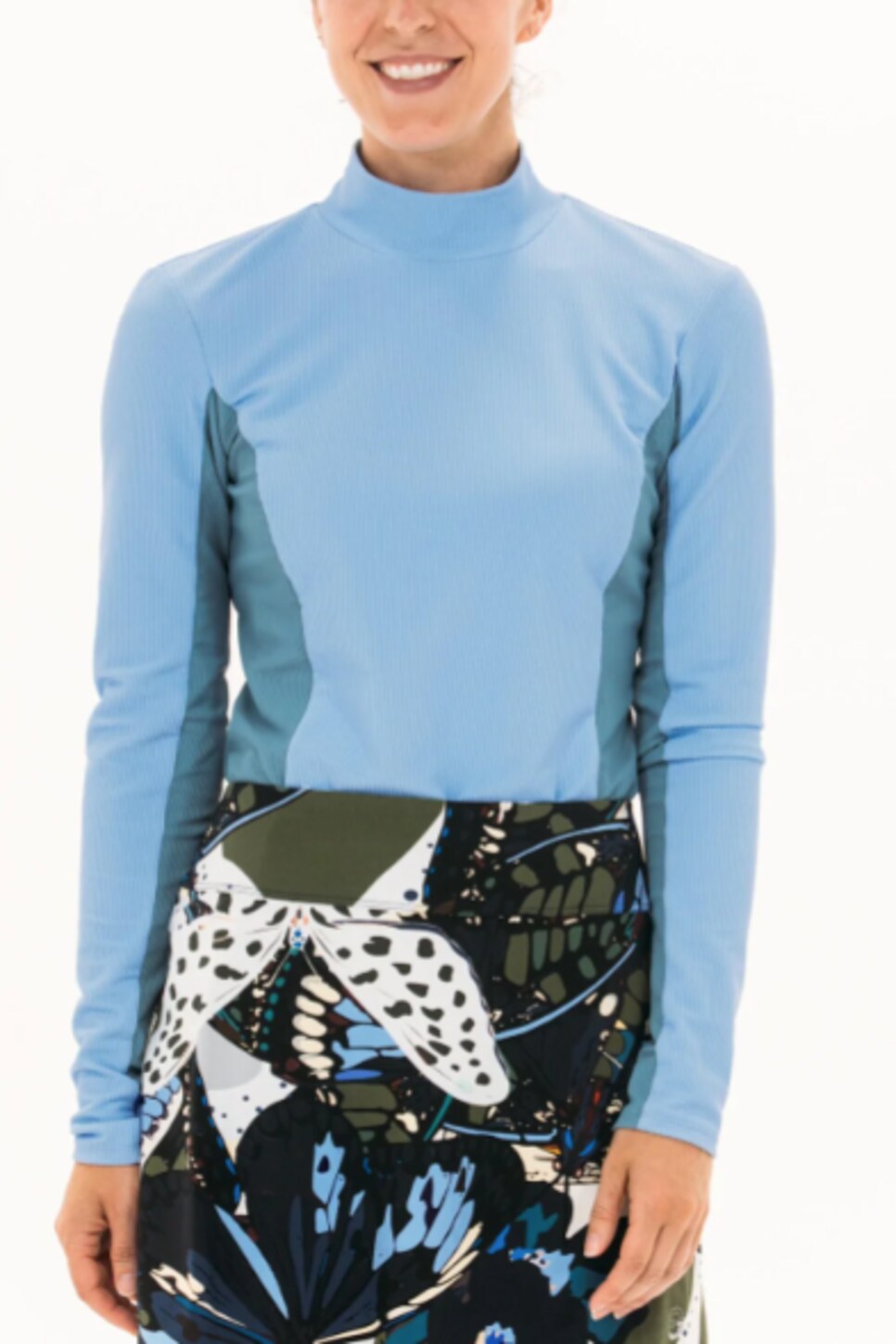 Foray Golf Long Sleeve Ribbed Mock Neck
For a slightly more prominent mock-neck, this long-sleeve option from Foray has side-paneling for a smooth body-skimming effect. Made for the same performance fabric as the Society top, this shirt is awesome for those who appreciate added sun protection.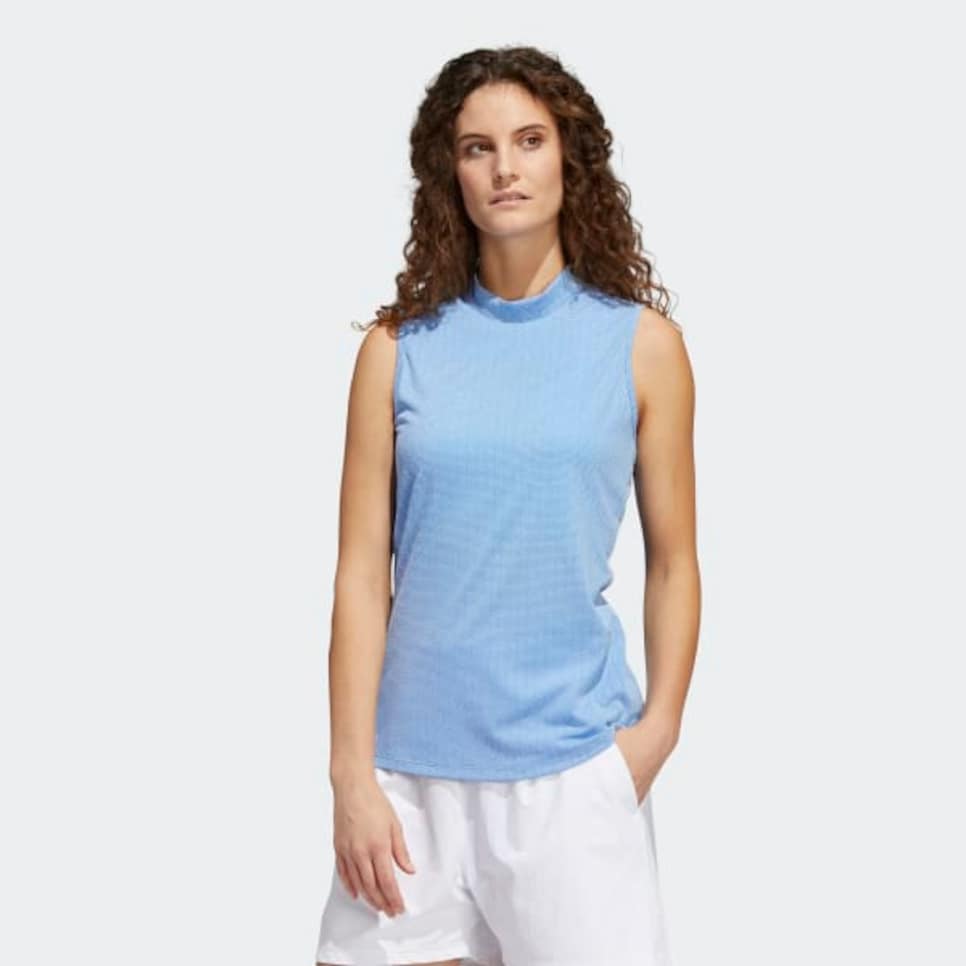 Adidas Essentials Mock Neck Sleeveless Polo Shirt
This simple Adidas golf mock neck tank top is the perfect collarless shirt for a hot day on the course. With breathable but soft fabric, you'll be comfortable all day in this top.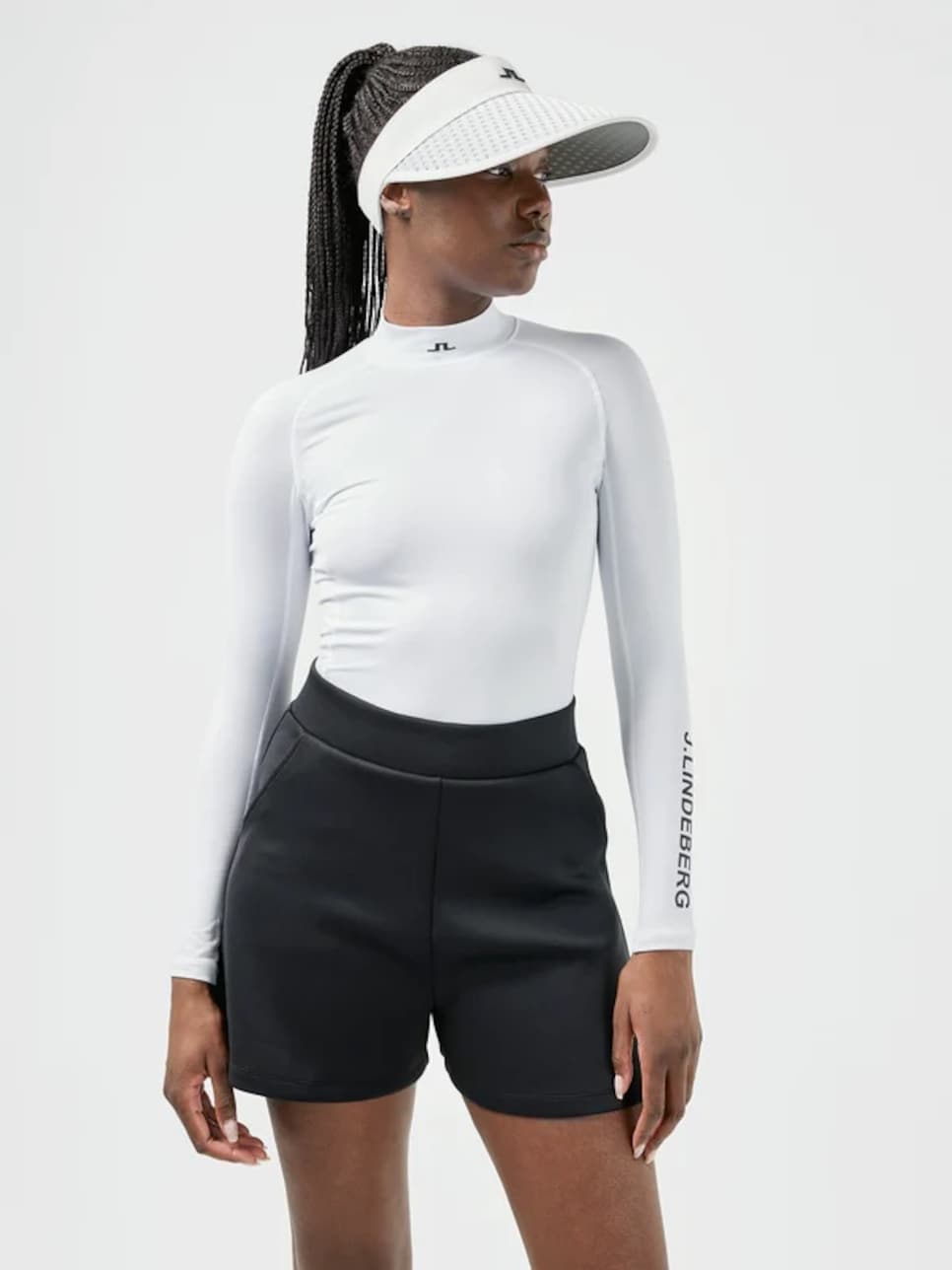 J.Lindeberg ASA COMPRESSION TOP
This J. Lindeberg long-sleeve top is warm yet lightweight for a great base layer on chillier days, but has an athletic silhouette and on-trend design that can be worn alone as well. The branding combined with an understated mock-neck finish create a modern look with a touch of sophistication that's great for any golf ensemble.