The Loop
Phil Mickelson's Oscar-deserving performance, an awe-inspiring hole-in-one, and PGA Tour WAGs reenact "The Bachelor" finale
Welcome to another edition of The Grind, where we're not sure how to feel about living in a world where Kobe Bryant has more Oscars than Ryan Gosling. Seriously, people, Ryan is a lot more than a pretty face and washboard abs. But there's already a clear-cut winner for best foreign film next year, as Phil Mickelson put on a show South of the Border the likes of which we've never seen.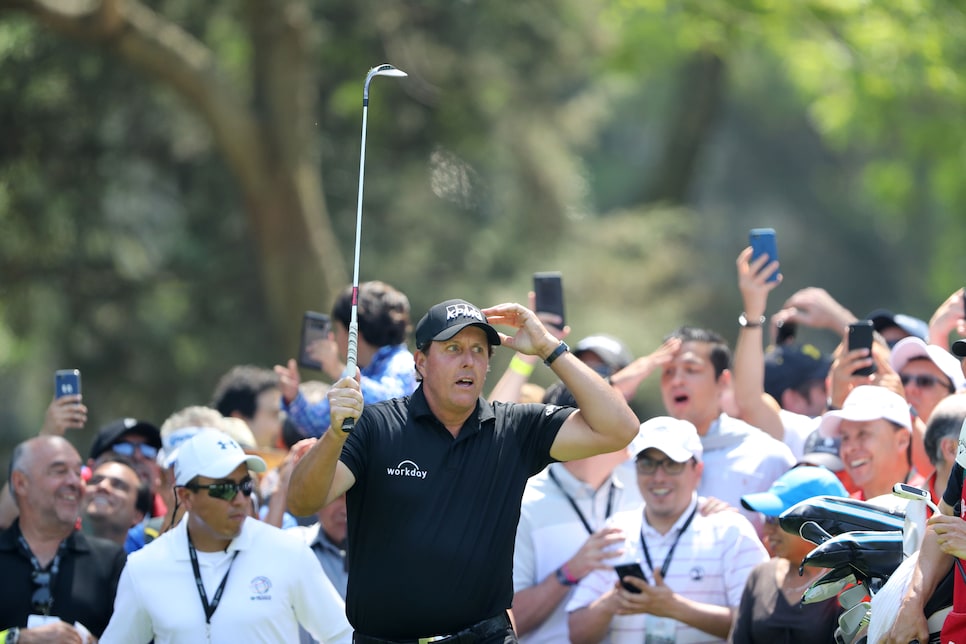 Phil also took 24-year-old Justin Thomas to school in the playoff to pick up his first win in 97 PGA Tour starts. Like another JT once sang, "Woah, Mexico, sounds so simple I just got to go low. Justin's so hot, I forgot, still took his pesos. I guess I have to go now." Sorry, James Taylor.
Phil Mickelson: The last time Phil Mickelson won a golf tournament I was standing behind the 18th green at Muirfield as he curled in a final birdie to shoot a dazzling 66 to steal the claret jug at the 2013 Open Championship. After that historic performance, can you imagine the odds you could have gotten on Phil's next PGA Tour title coming in Mexico on the same day Kobe won an Oscar during the second year of a Donald Trump Presidency?! Let's just say they'd be longer odds than any three-team parlay Mickelson has hit in his life. Anyway, take a bow, Phil.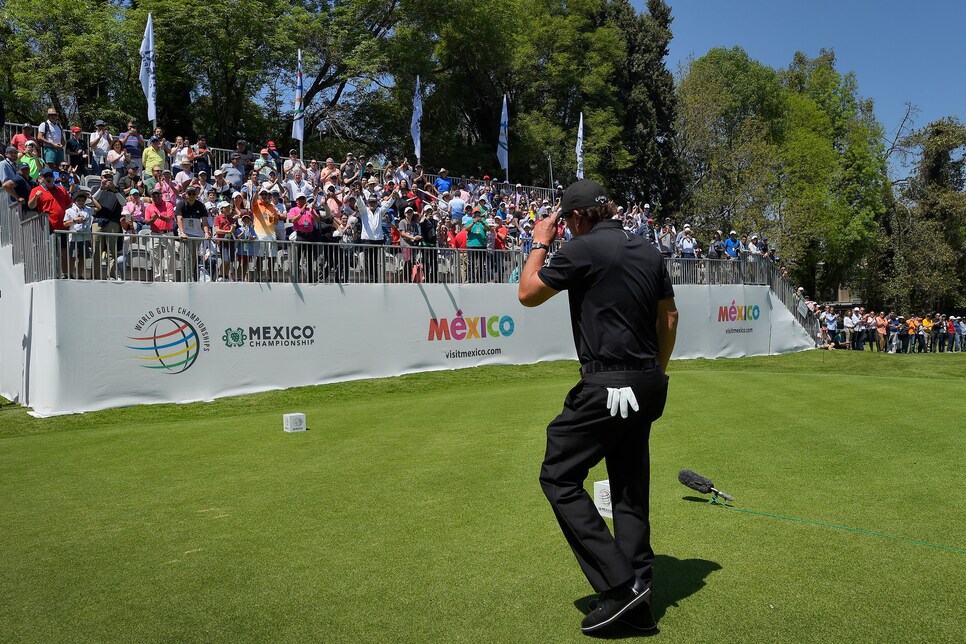 Michelle Wie: In almost any other week, Michelle Wie winning would be golf's top story. One, she remains a superstar no matter how she plays, and two, she also hadn't won since a surprising major win at the 2014 U.S. Women's Open. And unlike Mickelson, her final birdie attempt dropped for a dramatic victory in Singapore:
But don't worry, Michelle. I "wrote" a song for you too. "Don't you, forget about Wie. Don't, don't, don't, don't. Don't you, forget about Wie." OK, I'll stop now.
Steve Stricker: Another tour, another long drought ended. Stricker's first win since 2012 (albeit on the Champions Tour instead of the PGA Tour) meant this trio of big names ended a combined winless streak of nearly 15 years on the same day. Considering the Strick Show can still hang with the youngsters, his win against the seniors was the least surprising of the three. Also least surprising is the fact that he cried the most:
Justin Thomas: How good is this guy? Even in coming up just short of another victory he still provided golf fans with the highlight of the season, a hole-out from 121 yards for eagle on the final hole of regulation:
And as JT pointed out, he and caddie Jimmy Johnson even connected on a high-five, a rarity on tour these days.
Shubhankar Sharma's Sunday fate: The 21-year-old from India handled himself remarkably well in his first World Golf Championship event. And that includes Sunday. Yeah, yeah, he shot 74 playing with Phil Mickelson in the final group to tumble down the leader board, but he deserved better, burning edges all day, all while keeping his cool unlike a certain third member of his group. . . I'm gobbling up shares of Big Pharma (they're skyrocketing after he accepted a special invitation to the Masters!) and I'm all aboard the Shubmarine going forward.
Enforcing slow play: Francesco Molinari was the latest tour pro in the news regarding slow play when he expressed his displeasure at getting a rare bad time (not a penalty, just a warning):
Sixty-two seconds is too long to hit a typical shot, but Francesco raised a good point. We all watched J.B. Holmes take more than FOUR MINUTES to play a shot at Torrey Pines and no one said anything to him. The PGA Tour needs to figure out a better way to (actually) enforce this.
Phil's Spanish: Mickelson's efforts to speak in the tournament's native tongue were admirable, but Skratch dug up evidence that Phil is a 36-handicapper at best when it comes to speaking Spanish:
The PGA Tour heads to Tampa for the Valspar Championship, AKA that event with "The Snake Pit" and where they painted a mural of Arnold Palmer last year (touching, but also brilliant marketing).
Random tournament fact: Tiger Woods is playing in the event for the first time this week. You know, in case you hadn't heard.
RANDOM PROP BETS OF THE WEEK
— Phil Mickelson's updated odds to win the 2018 Masters: 18-to-1 odds
— Tiger Woods' updated odds to win the Masters: 16-to-1 odds
— Golf fans would give up blank for a late Sunday pairing of those two at Augusta National next month: LOCK
How much are people pulling for Tiger Woods in his latest comeback? Fellow PGA Tour pro Jonathan Randolph initially got bumped out of the field at the Valspar because of Tiger's late commitment—and he didn't seem to mind at all:
Of course, Randolph was in an even better mood a few hours later when he got back into the event:
And we know who he'd love to play a practice round with. . .
Introducing Brandon Canesi, who was born with no hands and spends time raising awareness and money while inspiring golfers to overcome physical limitations. Brandon is also an avid golfer who gave us the hole-in-one video to end all hole-in-one videos:
Incredible, awe-inspiring stuff, Brandon. Keep it up.
VIRAL VIDEO OF THE WEEK (TRICK SHOT DIVISION)
We're always impressed when someone comes up with a trick shot unlike anything we've seen. Kudos to Priit Jalasto, a golf pro from Estonia:
Of course, any trick shot is going to pale in comparison to someone making a hole-in-one with no hands.
THIS WEEK IN DUSTIN JOHNSON-PAULINA GRETZKY PUBLIC DISPLAYS OF AFFECTION/PGA TOUR WAGS RE-ENACTING "THE BACHELOR" FINALE
DJ sent Paulina flowers while he was in Mexico and Paulina responded by sending DJ (and everyone else on Instagram) a sweet pic/message: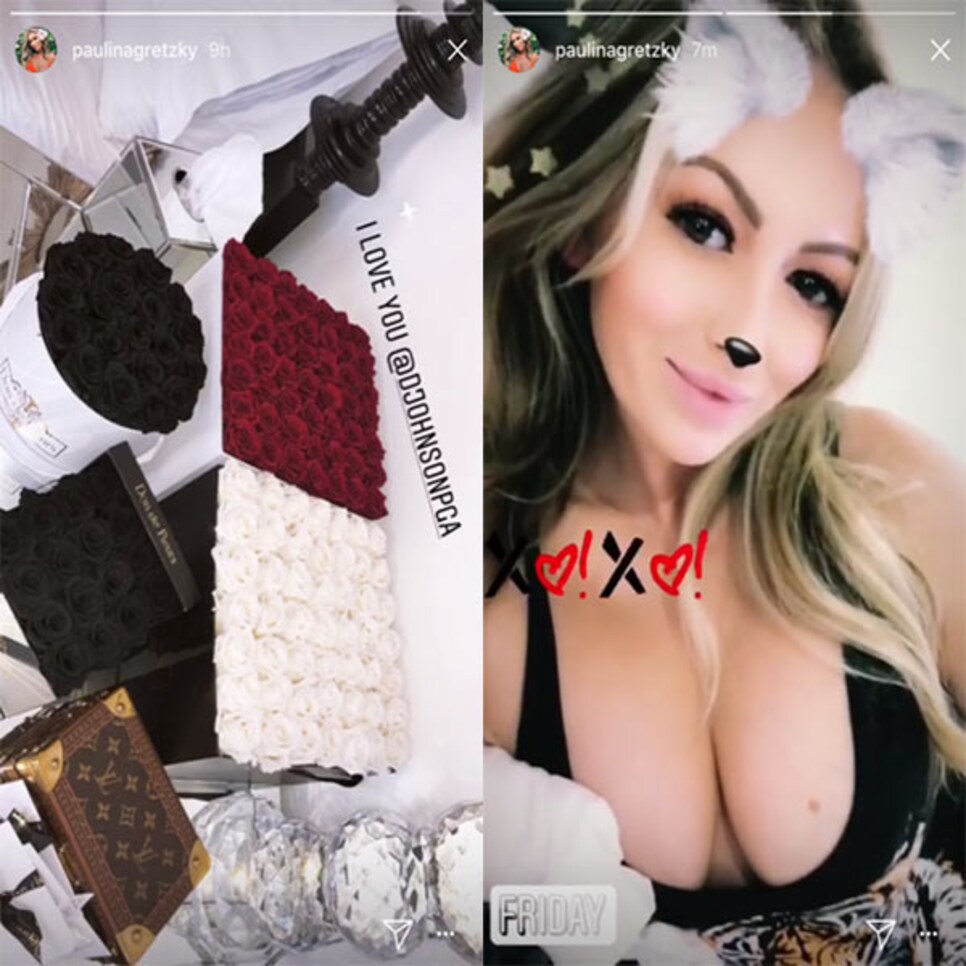 Awww. And then Paulina re-enacted something that happened on the finale of "The Bachelor," which I only know because a group of co-workers gather near my desk to discuss each episode every Tuesday morning. And Jena Sims and Brooks Koepka had their own celebration in honor of the reality show: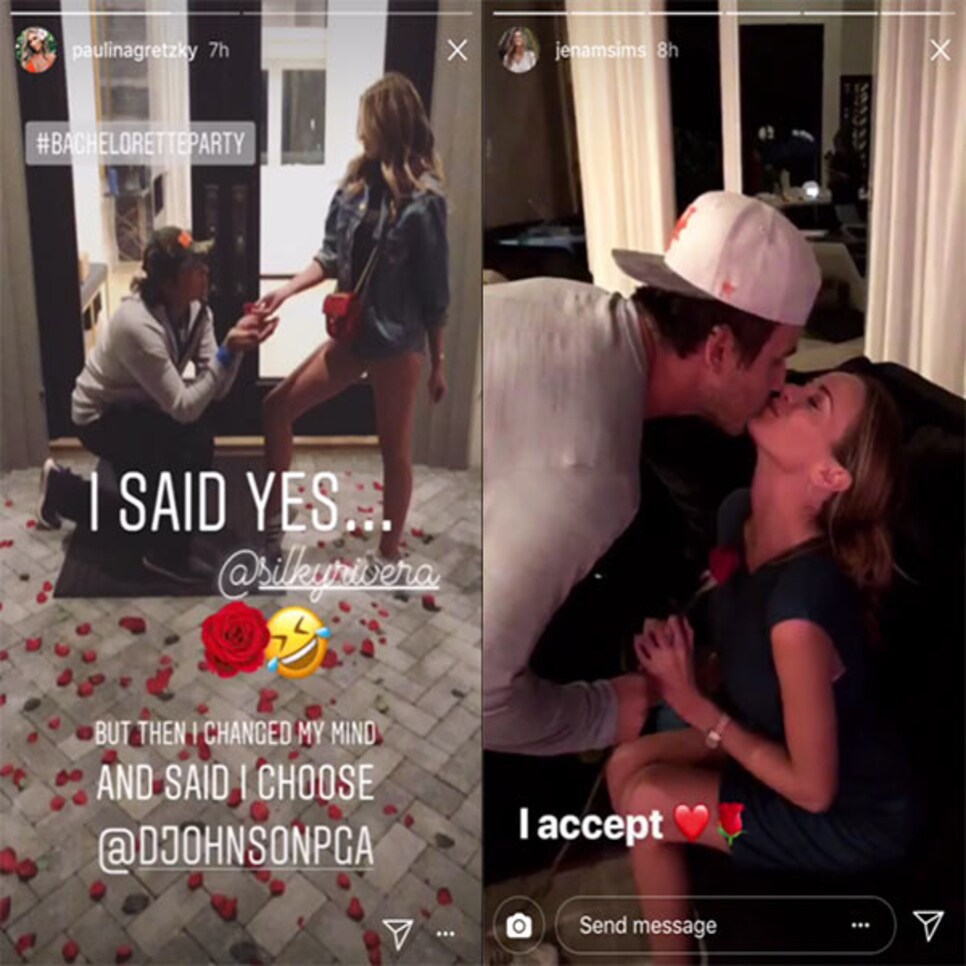 THIS WEEK IN AWESOME JASON DUFNER HATS
THIS WEEK IN CELEBRITIES PLAYING GOLF
Whoops. Of course, it makes more sense that Steph was eager to practice on the road when it came out he played Augusta National (again) the following day. But Larry Fitzgerald may have one-upped Steph by playing with Tiger Woods:
Say what you will about the dude's handicap index, he's having the greatest off-season of golf in NFL history.
The USGA acknowledged concern over how far tour pros are hitting the golf ball in its annual distance report. The PGA Tour, PGA of America and Titleist disagree. This could get ugly. . . . Dylan Frittelli said he recently bought a saxophone to help him clear his mind. To each his own, I guess. Trying to toot "Camptown Races" again would be the last thing I'd do to relax. . . . And finally, since Friday afternoon, I've been living with the in-laws because I have no power in my house. What do I have? A tree in my backyard: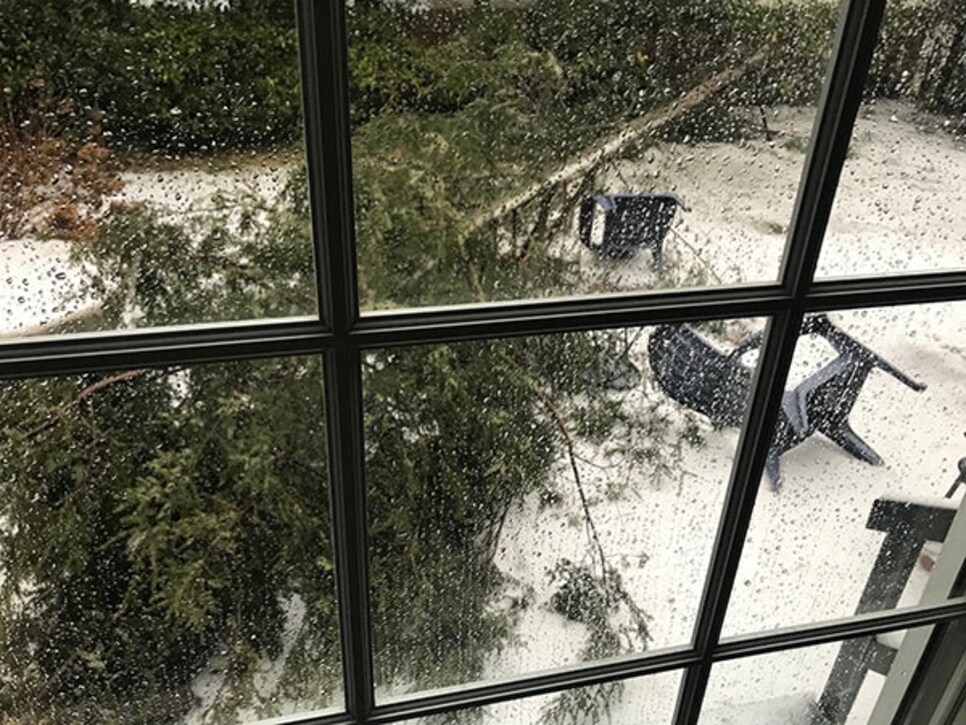 RANDOM QUESTIONS TO PONDER
How did The Shawshank Redemption not win a single Oscar?
When will we get our power back?
Does anyone want to help me with this tree?