News
Why did Phil Mickelson skip the site of his huge payday to play in senior event?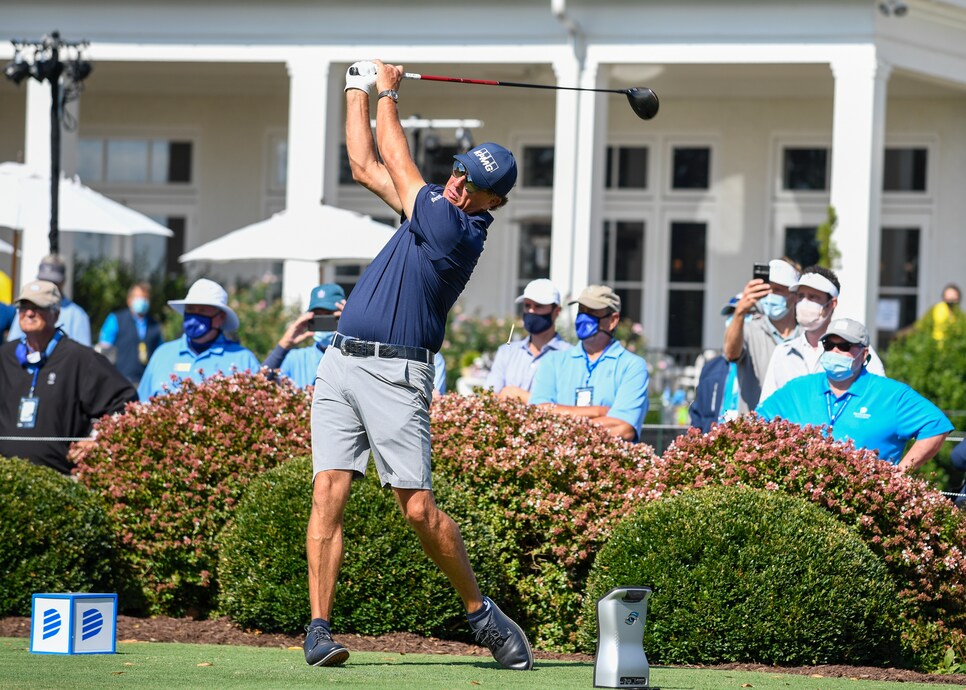 Phil Mickelson tees off on the first tee during a pro-am prior to the PGA TOUR Champions Dominion Energy Charity Classic at The Country Club of Virginia.
Tracy Wilcox
Over the course of his career Phil Mickelson has used a number of approaches in building up to major championships. None of them have ever been like this, because he never had the senior circuit as an option.
With the rescheduled and first fall Masters only a month away, Mickelson will play in his second PGA Tour Champions event this week—the Dominion Energy Charity Classic at The Country Club of Virginia in Richmond. The tournament was supposed to begin on Friday, but first-round play was pushed to Saturday because of bad weather. His inaugural senior start in late August turned out splendidly, with Mickelson capturing the Ozarks National in a wire-to-wire victory.
"I thought it would be a good place to start getting ready for the Masters," Mickelson said on Thursday. "I heard a lot of great things about the golf course. I've had friends who have grown up playing here, friends that have gotten married here, it's got a great history. I thought it would be fun to come and play my second one here."
Mickelson chose Virginia over this week's high-profile PGA Tour event in Las Vegas, the CJ Cup at Shadow Creek. The five-time major winner has a little bit of history there, too, having won $9 million against Tiger Woods in the first playing of the made-for-TV "The Match" in 2018.
"I felt like it would be better for me to play here. I think last time I played at Shadow Creek, even if I beat all 78 guys, it would still be a letdown," Mickelson said wryly. "I made so much more last time I played, that I just didn't see the benefit."
More seriously, Mickelson said, "I felt like this was a great place to kind of get things started. I'm trying to work on building up some speed and I felt that this course was a good place to do it."
Mickelson has a busy schedule going into Augusta, where he's won three green jackets, the last a decade ago. He will play next week in the Zozo Championship, which was moved from Japan to Sherwood Country Club outside Los Angeles, take a week off, and then play the Houston Open the week before the Masters, where his last four results are: Cut, T-22, T-36, T18.
In the new season that began in mid-September, Mickelson, who turned 50 in June, has made two starts, tying for 44th in the Safeway Open with only one sub-70 score, and missing the cut in the U.S. Open at Winged Foot, where he opened with a 79. In 16 starts last season, he notched only two top-10s, though one of those came fairly recently in August, where Mickelson tied for second in the WGC-FedEx St. Jude Invitational.
"So the two areas that I really needed to work on and improve the last few months has been driving and putting, and putting has really come along well," Mickelson said. "I've had some great direction of working with Derek Uyeda [at The Grand Golf Club in San Diego], who's really helped me understand launch, spin, speed off the face, what I'm looking for in the stroke. All of those things, so I have great direction.
"And I'm very close to getting the driver figured out. I've had a few great months of driving, but when I got to the U.S. Open it fell apart, so we're working on piecing that back together."