The Big Unit
This story about Phil Mickelson's attempt to become a major-league pitcher is the funniest thing you'll hear this week
Every now and then, a professional athlete in a completely different stratosphere of sport decides they can play professional baseball. They see guys with beer guts standing around chewing bubblegum. They see that succeeding a little less than half the time is considered really good. They can't get it out of their head. It gnaws at them until they can't stand it anymore, and one day they show up in Triple A with a barely-broken-in glove ready to set Binghamton ablaze. Michael Jordan is the most infamous example, but did you know that Phil Mickelson—a guy who has long believed himself to be Michael Jordan—also once tried his hand at America's Pastime?
In August 2003, eight months before he won his first major at the 2004 Masters, Phil showed up in Ohio to try out for the Detroit Tigers' Triple-A affiliate the Toledo Mud Hens. In typical Phil fashion, however, he didn't want to be stashed at first base. Phil wanted to be a pitcher, so a pitcher Phil would be. Unfortunately it didn't quite pan out that way. He threw a single BP session with the Mud Hens and left Toledo without an offer.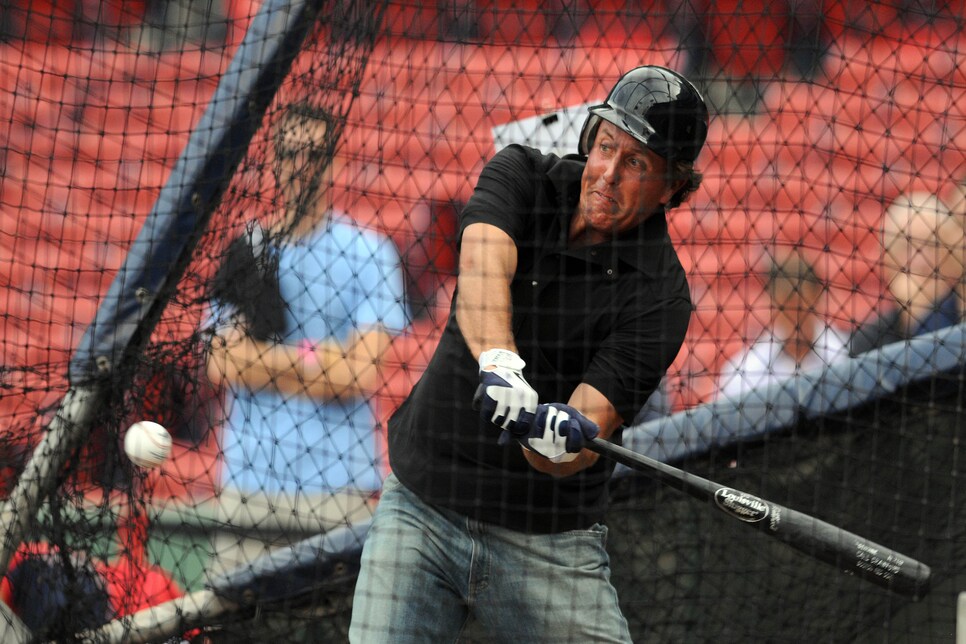 "If I can get my velocity up, we may revisit this," he told reporters at the time. "Golf is my No. 1 priority and always will be. Throwing a baseball is an important part of my workout program, so if I can get my speed to 85 mph or above consistently, I wouldn't rule out trying this again."
If that was Phil's spin, however, what was the real story? For decades we've laid awake at night, pondering the answers, and now we finally have them. This week, ESPN writer Kevin Van Valkenburg joined 'The Shotgun Start' podcast. There he told the story of current Tigers manager and former major leaguer A.J. Hinch, who was down in Toledo rehabbing his knee at the time of Phil's baseball dalliance. At the time, Hinch was asked about Phil's arm and this is what he had to say:
"Pretty soft," "a little light," "a valiant effort." Yeeeeeouch. Allegedly Phil's velocity topped out at 68 and we're not talking kilometers-an-hour here, folks. We may never know who in Phil's inner circle (perhaps Phil himself) told him he could play professional baseball, but something tells us that person was fired on the spot.
Obviously, we're all piling Phil at the moment for reasons both totally warranted and a little unfair at the moment. You might think that's what this is, but it's not It's just an absolutely hilarious anecdote from an absolutely bonkers moment in golf history. Take it for what it is. Enjoy it for what it isn't.