News
Phil Mickelson can't avoid drama no matter how hard he tries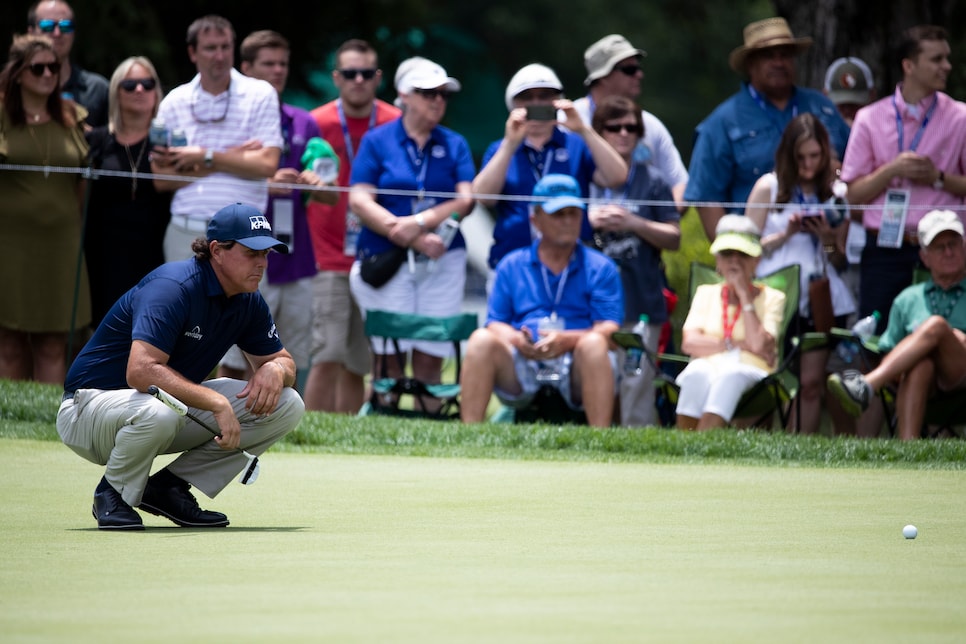 When I imagine Phil Mickelson waking up every morning, I picture someone who hops out of bed, looks in the mirror with a wink, a smile and a thumbs-up and goes immediately into being character Phil Mickelson. But when it comes to Lefty, we often don't need to use our imaginations. He gives us plenty.
Take this year, for example.
In March, Mickelson beat Justin Thomas in a playoff at the WGC-Mexico Championship for his first win in five years. It was the 43rd PGA Tour victory of his career and when asked if he thinks he can get to 50 the now-48-year-old couldn't get the dismissive response out fast enough, "Oh, I will, I'll get there."
The next month, CEO Mickelson nearly broke Twitter when he wore a button down while playing in the Masters.
Then came his slapshot of a moving ball during the U.S. Open and the preposterous claim that he was simply using the rules to his advantage, which was eventually followed by a sheepish might-not-have-been-my-finest-moment backpedal that would have made an NFL corner drool.
A few days later, Phil announced a partnership with a frozen yogurt company. I won't even bother with a punchline. Seriously, Quentin Tarantino couldn't make this stuff up.
Then came this week at The Greenbrier, where, with all due respect to winner Kevin Na, Lefty stole the show yet again.
But this is Mickelson. We were just getting started.
"I wasn't really thinking," he said. "I just had a few bonehead moves today. But you can move stuff on the tee box, but I've been working on this really low shot for the next two weeks, and there was some fescue in front that was low, and I stepped on it. Right when I did, I thought, oh, my goodness, that might be a penalty. I told my partner, and we asked Robby [Ware, a PGA Tour rules official], and sure enough it was.
"A lot of times guys just inadvertently do things, and I just wasn't thinking."
He wasn't done there, either.
After tying for 65th following a weekend of 70-74, Mickelson was asked what he took out of the week.
"I've been working on a few things you may have seen throughout the round today," he said. "This low shot, get it on the ground quick, and that's something I'll be needing the next two weeks over there in the U.K. for the links golf."
You know, the kind that pesky fescue could get in the way of. But go on.
"I actually started to feel really comfortable with it," he continued. "I hit a lot of good ones, so I'm looking forward to getting over there. I've got to get my short game a little sharper. My iron play wasn't great, but I'm looking forward to heading over."
Next up for Phil: A round at the Albatros Course at Le Golf National outside Paris, where the Ryder Cup will be played later this year, followed by a practice round at Gullane in advance of the Scottish Open and then, of course, it's off to Carnoustie for the Open Championship.
Did I mention he also blew off Shubhankar Sharma earlier this year, thinking he was a member of the media?
And just think, it's only July!
But I think Phil summed up Phil best the day after his infamous whack-a-ball meltdown at Shinnecock when asked by a trailing reporter if he'd regretted the move.
"I think the real question," Mickelson said, "is what am I going to do next?"