True crime
PGA Championship 2022: Nearly 41 years later, mob hit at Southern Hills still draws morbid curiosity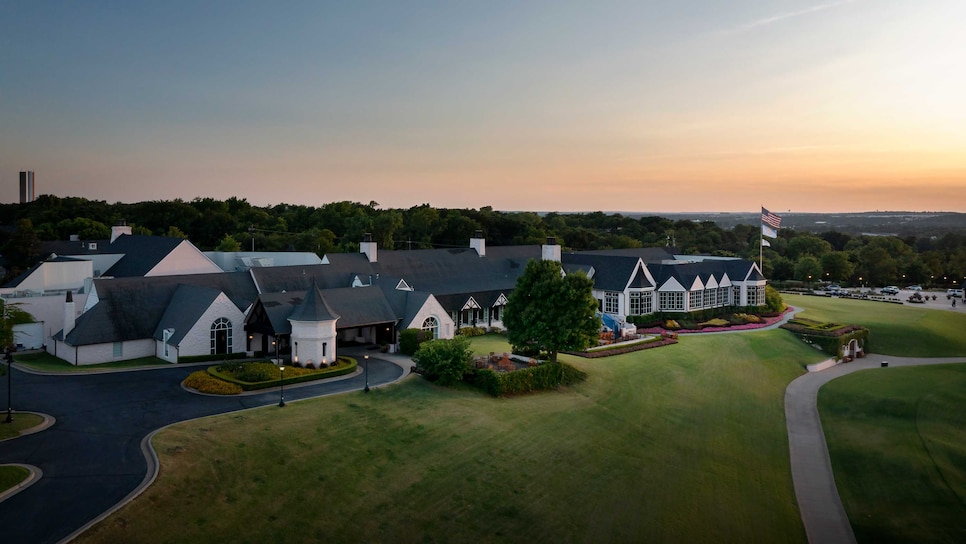 A view from the clubhouse at Southern Hills Country Club in Tulsa, Okla.
Gary Kellner
In the final moments of his life, what were the last thoughts of Boston mob boss James "Whitey" Bulger as he died in the macabre way of so many of his victims?
Early on the morning of Oct. 30, 2018, a mere four hours after he'd arrived on a transfer to the U.S. Penitentiary Hazelton in West Virginia, Bulger was found dead in his cell, his body wrapped in blankets in his bed as if he was sleeping. The 89-year-old's face was so badly bloodied and mashed that he was barely recognizable. Officials disclosed that they believed Bulger was beaten with a padlock wrapped in a sock—both of which could be purchased in the prison store.
More than three years later, no one has been charged with killing Bulger inside the walls of the penitentiary, though one suspect—a former mob hitman—has been in solitary confinement ever since. And in that, some will see a twisted form of justice. For more than 16 years, Bulger escaped punishment for his crimes after he fled Boston in 1994. It wasn't until June 2011 that a neighbor of Bulger and his girlfriend in the beach town of Santa Monica, Calif., identified him for the FBI after seeing an "America's Most Wanted" episode. Seven years later, Bulger was dead.
Bulger was convicted of numerous killings in 2013 and sentenced to back-to-back life sentences. Among the deaths for which he was punished: the May 27, 1981, murder of wealthy Tulsa businessman Roger Wheeler, who'd just played a round of golf at his beloved Southern Hills Country Club when the 55-year-old was gunned down next to his Cadillac in the course's parking lot by an assassin's single bullet to the forehead.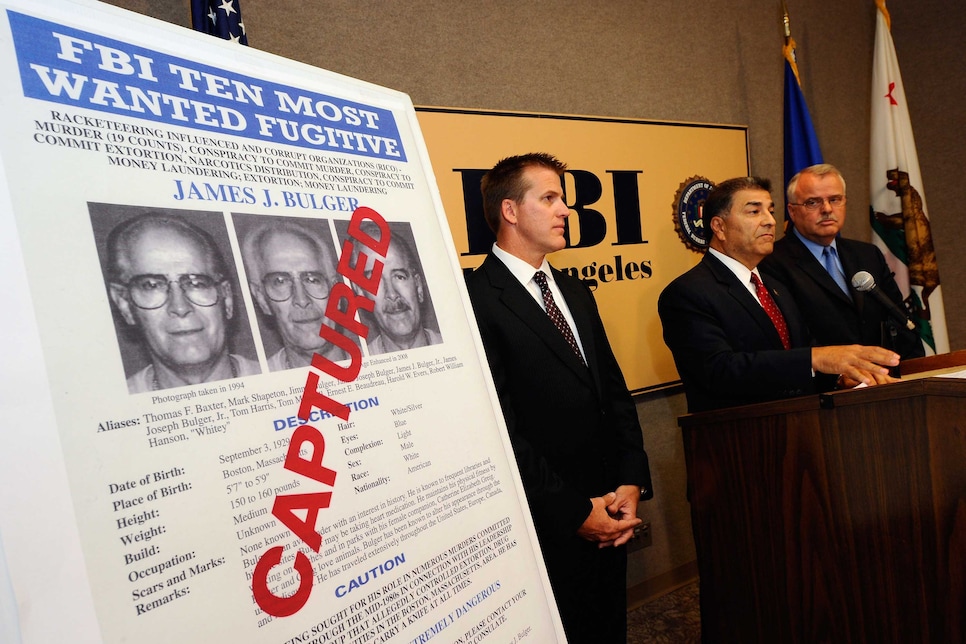 FBI agents speak at a June 2011 news conference to discuss the arrest of Boston crime boss James "Whitey'' Bulger and his companion, Catherine Greig, in California.
Kevork Djansezian
The dark moment in the quintessential American club's history has long since faded for most, though the shocking nature of the crime—there was a young girl on the diving board of Southern Hills' swimming pool who witnessed the shooting—still is recounted in the media each time the club returns to the national spotlight. It will do so again this week when the Perry Maxwell-designed layout hosts its eighth major, the 2022 PGA Championship.
Speaking on a 2015 "Voices of Oklahoma" radio program, Tulsa Police Det. Mike Huff, who worked doggedly on the case for years, said the murder "took a part of this community away. It was like a bomb in this city. The fallout continued for years, literally."
It can be argued that it never stopped.
Golf reporters again came sniffing around for fresh tidbits on the murder in 2007, before Tiger Woods seized the PGA at Southern Hills—the 13th of his 15 major titles. However, the story was last hot in 2015 with the release of the film "Black Mass," with Johnny Depp using a "Southie" Boston accent and wearing a bald cap to play Bulger. It's an infamy most in town would probably like to bury for good, but the tangled details of Wheeler's killing are as juicy a real-life mix of suspicion, betrayal, revenge and cold-blooded murder as anything concocted for "The Sopranos."
"I get why readers enjoy it. I understand why people are intrigued by it," said Cary Cozby, Southern Hills director of golf, on the phone last week.
Because he was only 12 at the time of Wheeler's death, Cozby, an Oklahoma native, recalls little of the sensational headlines that gripped the country. Four years earlier, Cozby felt a special thrill at Southern Hills when his dad, a PGA professional, took him to see his first pro tournament, the 1977 U.S. Open. It was won courageously by Hubert Green as he played on despite getting death threats during the final round.
"This is a true family country club that just happens to have a world-class golf course," said Cozby, 53, who became the club's head professional in 2015.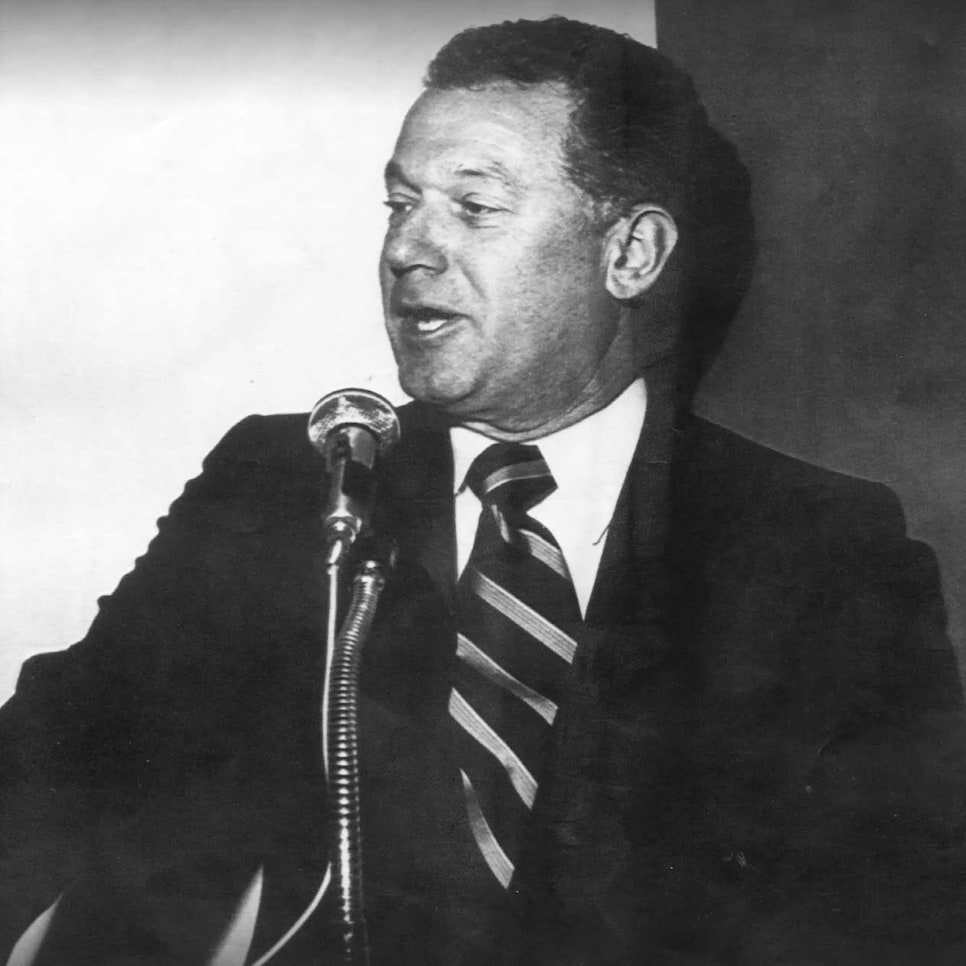 Roger Wheeler was a wealthy Tulsa businessman who became connected to Whitey Bulger through stolen money from Wheeler's ownership of the jai alai businesses in Florida and Connecticut.
It wasn't until Cozby first began working at Southern Hills as an assistant pro in 1995 that he came to understand the haunting nature of what happened to Roger Wheeler. "It was talked about by some of the gentlemen of the club from time to time," Cozby said. "George Matson was the shop manager, and he's actually the one who found [Wheeler]. He heard the gunshot."
Today, Cozby says, "I drive by the Wheeler estate at 41st and Lewis almost every day to take my son to school. We don't see any of the Wheeler family here anymore. I know they still live in Tulsa, but we don't see them."
The Wheeler killing, and other deaths that would directly result from its aftermath, were circumstances that seemed reserved for the dueling Italian and Irish crime families in Boston and New York. It was unfathomable that a mob hit could take place in the afternoon sunshine at a club with swimming pools and tennis courts and once featured horse trails that meandered around the course.
"Dad must have joined Southern Hills in about 1963," David Wheeler told writer Michael Bamberger in 2015. "I caddied for Dad two or three times—my older brother Roger Jr., was the golfer—and I went to what you'd call summer camp at the club. It was beautiful, with a swimming pool, the rolling hills of the course, these great trees. … It was so relaxed. There wasn't a guard at the gate. Who would have ever thought you'd need one?"
If Roger Wheeler had once thought the idea of needing protection was absurd, that view changed drastically over the last months of his life. Wheeler was growing increasingly concerned that the men he'd hired to run and protect the World Jai Alai business he'd purchased in 1978 were skimming from his profits. Indeed, just a couple of months before his death, Wheeler was said to have had his pilot take his Learjet up for a test flight before boarding it. "I hope they don't bomb my plane today," Wheeler had quipped.
Ironically, Wheeler, a well-respected businessman who'd been the chairman of computer giant Telex Corp., purchased the jai alai businesses in Florida and Connecticut for what he saw as easy money. He knew little about the sport, which features matchups between players wielding slim baskets (cestas) who fling a ball on a three-sided court. The sport was popular from the 1950s to late 1980s, but it gained an unsavory reputation for corruption and match-fixing. (A steady decline in jai alai came about and there are only a handful of frontons remaining in the U.S.)
Wheeler was said to feel good about the business because he had several former FBI agents working in security for him. But two of those men, H. Paul Rico and John Connelly, would ultimately betray Wheeler, along with the president of World Jai Alai, John Callahan. All were working at the ultimate behest of Bulger and his Winter Hill Gang, which was getting the bulk of the stolen jai alai money. Fearing exposure and the loss of profits because Wheeler was becoming more suspicious, Bulger and his cohorts decided that the owner must be killed. For $50,000 to cover expenses, they found a willing hit man in Johnny Martorano, who years later, in a plea deal that brought down Bulger, would admit to killing 20 people, including Wheeler.
Supplied with detailed advance information from Rico about Wheeler's daily habits and his weekly golf game, Martorano was driven to Southern Hills by accomplice Joe McDonald. This is how Martorano later described the killing in court:
We spot his Caddy, but remember, I've never seen this guy. So we park a few rows closer to the club. I'm in full disguise—we'd picked up that stuff at a theatrical store in Tulsa. Full beard, sunglasses, a baseball cap. Finally, I see a guy coming down the hill from the club to the parking lot, might be Wheeler. I let him walk past our car, then I fall in behind him. If he gets in the Caddy, I clip him. If he goes to another car, just keep walking. But it's him, he's getting in the car. He doesn't hear me; he's about to close the door but I grab it to keep it open. He jumps back in the seat, startled, and I let him have it: one shot between the eyes, .38 snub nose.
That wouldn't be the only death in this particular case. Seen as a possible "weak link" in the band of conspirators, the World Jai Alai president, Callahan, was murdered a little more than a year later—by Martorano.
Just as Bulger later did, Martorano also went on the lam for 16 years and was eventually captured in 1995—with tips provided to the FBI by Bulger and others. Feeling betrayed by his former boss and close associate Steve "The Rifleman" Flemmi, Martorano took a plea deal in 1999 for 20 killings, and that led to the indictments of Bulger and Flemmi. Martarano was sentenced to 12 years in prison, of which he served eight and got out in 2007.
In a 2008 interview with "60 Minutes," Martarano used an "honor among thieves" logic in contending he was an FBI informant and not a "rat." "One has got the courage to stand on the stand," he reasoned. "The others are doing it behind your back and dropping dimes. I'm trying to stop [Bulger] from rattin' anymore."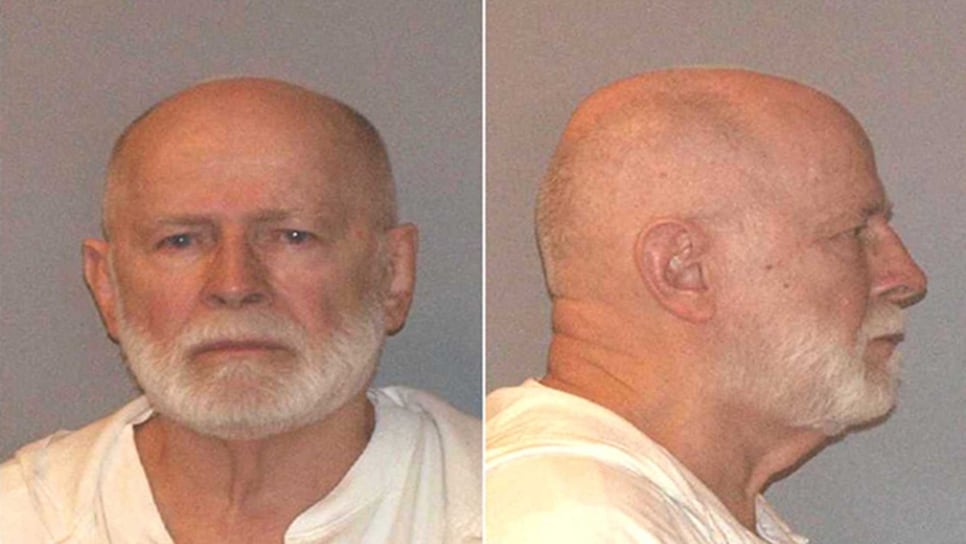 James 'Whitey' Bulger mugshot in 2011. (Photo courtesy Bureau of Prisons/Getty Images)
Donaldson Collection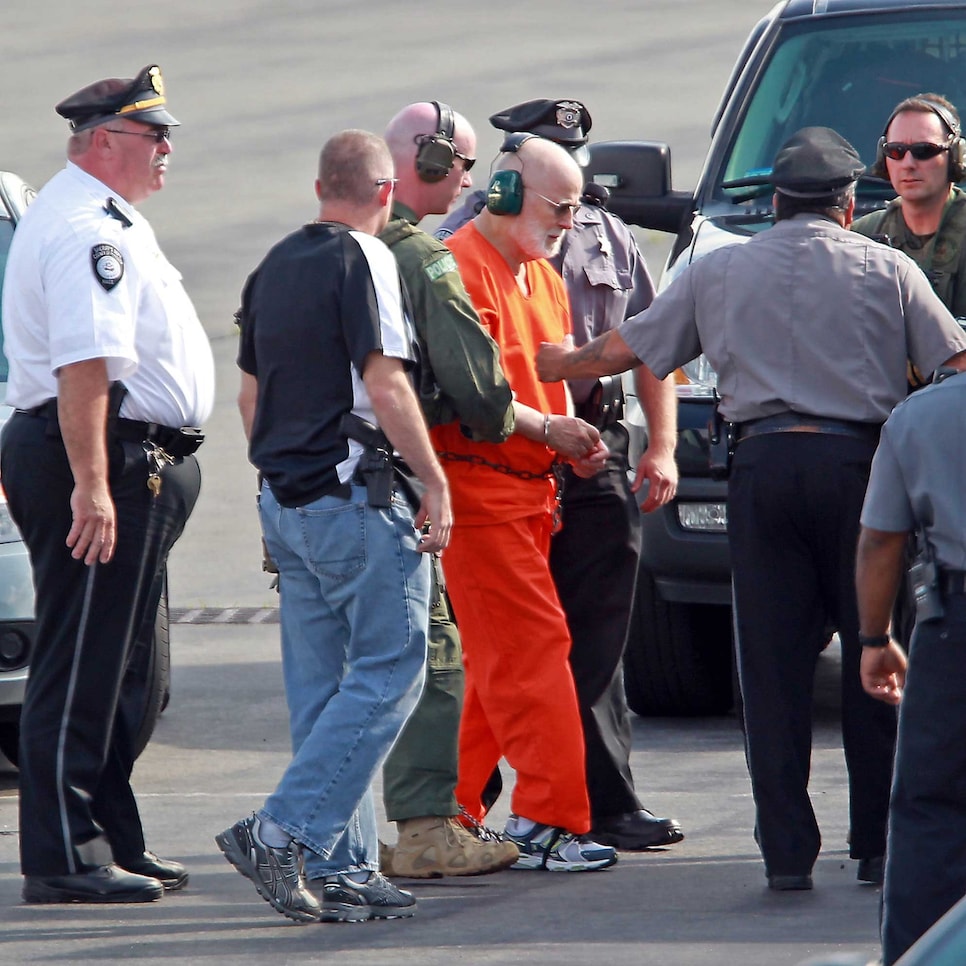 Whitey Bulger is taken from a Coast Guard helicopter to an awaiting Sherif vehicle after attending federal court in Boston in 2011.
MediaNews Group/Boston Herald via Getty Images
In one more twist to the story, one of those suspected of torturing and killing Bulger in the West Virginia penitentiary—known as "Misery Mountain" for its inmate-on-inmate violence—is a former hit man. Massachusetts gangster Fotios "Freddy" Geas and his brother are serving life sentences for killing a Genovese crime family boss, and their deeds were exposed by Mafia informants. Was there a motive for seeking revenge on a "rat," or was it something more?
Geas, who is in his mid-50s, has never been charged in Bulger's death but he's been in solitary confinement ever since. He spends 23 hours a day in a cell with no connection to the outside world. "Enough is enough," his son, Alex Geas, told NBC News in August 2021. "Two and a half years is insane. It really is inhumane. If they had the evidence, go ahead and indict him. If not, transfer him and release him out of solitary."
Obviously, the legacy and pain of Roger Wheeler's death lingers 41 years after his murder. As for Southern Hills, the fabulous life inside the gates goes on. There is another major to be hosted to show off the place. If Wheeler could magically appear, he'd no doubt be proud. And he'd notice one difference to his club: There's now a guard at the gate.