Tiger Watch
PGA Championship 2022: Tiger Woods hasn't talked to Phil Mickelson and has 'completely different' view of PGA Tour-Saudi dynamic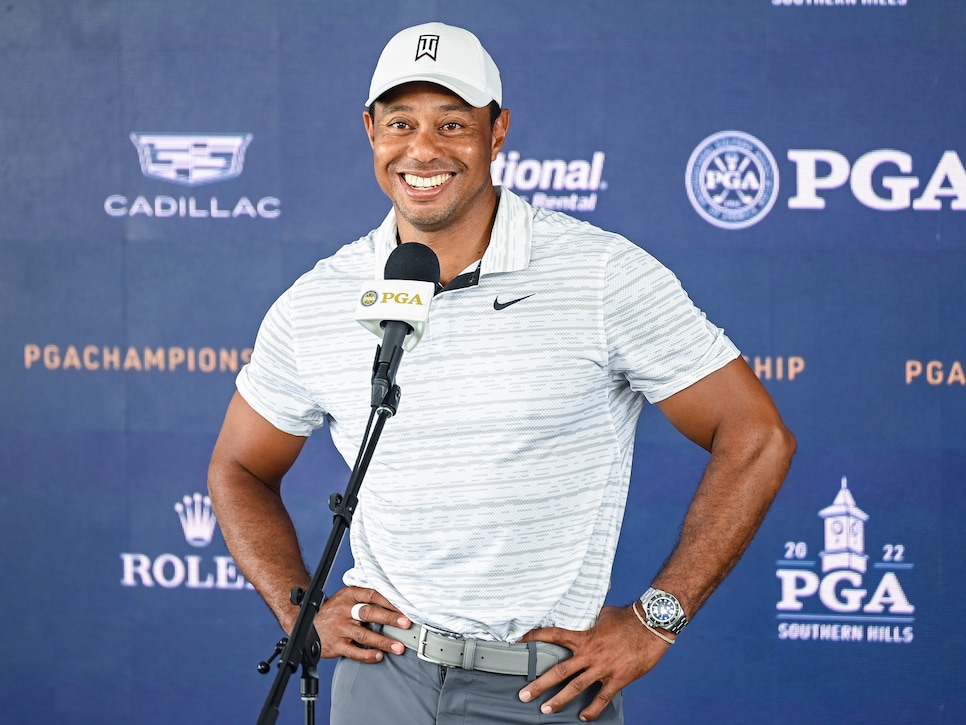 Tiger Woods smiles at a press conference during practice for the PGA Championship.
Keyur Khamar
TULSA — It's nothing personal. Tiger Woods made that abundantly clear on Tuesday morning at the PGA Championship—that his disagreement with Phil Mickelson, the defending champion whose absence is dominating chatter at Southern HIlls, is strictly a difference in opinion.
Put simply: Phil Mickelson believes the PGA Tour's current structure needs a comprehensive reimagining and has a clear vision of what that future should look like. Woods does not agree.
"Phil has said some things that I think a lot of us who are committed to the tour and committed to the legacy of the tour have pushed back against," Woods said, measured in tone and careful with his verbiage. "He's taken some personal time, and we all understand that. But I think that some of his views on how the tour could be run, should be run—been a lot of disagreement there.
"But as we all know, as a professional, we miss him being out here. He's a big draw for the game of golf. He's just taking his time and we all wish him the best when he comes back. Obviously, we're going to have difference of opinions, how he sees the tour, and we'll go from there."
Woods was asked a number of times about his game and his body, both of which, he says, have improved since a 78-78 weekend and a 47th-place finish at the Masters. He said he's built strength and endurance over the last month and that he believes he can win a 16th major championship this week, which he'll begin at 8:11 a.m. local time alongside Rory McIlroy and Jordan Spieth.
"But I feel like I'm doing better. I'm having more days which are better, more positive. Able to practice a little bit longer. So I'm able to do activities and things that I was hoping to do, and I'm finally able to do them."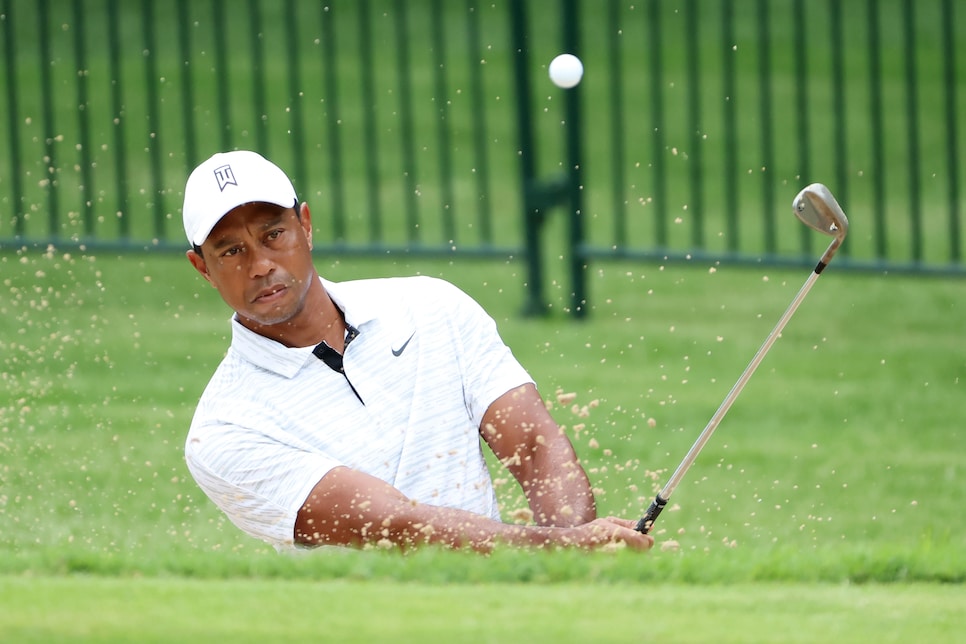 Tiger Woods warms up on the range during a practice round prior to the start of the 2022 PGA Championship.
Christian Petersen
Seven of the questions at his 20-minute press conference centered on his longtime rival, whose historic victory at last year's PGA Championship feels ages ago given the events of the last few months.
"Figured the first mountain you climbed was Everest," Woods said of Augusta National. "That's the steepest golf course you're going to play. … It's going to get flatter and better. But I still have tough days, and things aren't going to be as easy as people might think.
In February, Mickelson told Golf Digest that the PGA Tour's "obnoxious greed" when it comes to media rights had him considering playing elsewhere—namely, in events put on by the Saudi-funded LIV Golf Investments. In an explosive interview with Alan Shipnuck that also dropped in February, Mickelson claimed to have helped draft the upstart league as a leverage play against the tour. The six-time major winner also said the opportunity to re-shape the future of the professional game was the reason he was willing to do business with the Saudi Arabaian government, whom he deemed to be "scary motherf—---s."
Mickelson issued an apology shortly after the interview was published and has stayed out of the public eye since. He has not played on the PGA Tour since missing the cut at the Farmers Insurance Open in January, though there was some belief he'd defend his title this week after his management company confirmed that he had entered the tournament to keep his options open. The PGA of America announced on Friday afternoon that Mickelson had withdrawn from the tournament, becoming just the sixth player since 1960 to not defend a major championship victory.
Woods has been steadfast in his support for the PGA Tour and ended any speculation about his feelings at the Hero World Challenge in December, when he said he believes the tour is about more than money and that he was committed to its future. He reiterated that stance on Tuesday.
"You know, [Mickelson] has his opinion on where he sees the game of golf going. I have my viewpoint on how I see the game of golf, and I've supported the tour and my foundation has run events on the tour for a number of years. I just think that what Jack [Nicklaus] and Arnold [Palmer] have done in starting the tour and breaking away from the PGA of America and creating our tour in '68 or '69, somewhere in there, I just think there's a legacy to that.
"I've been playing out here for a couple of years over decades, and I think there's a legacy to it. I still think that the tour has so much to offer, so much opportunity. … I understand different viewpoints, but I believe in legacies; I believe in major championships; I believe in big events, comparisons to historical figures of the past. There's plenty of money out here. The tour is growing. But it's just like any other sport. It's like tennis. You have to go out there and earn it. You've got to go out there and play for it. We have opportunity to go ahead and do it. It's just not guaranteed up front."
That's a reference to the no-cut, everybody-gets-paid format that has been proposed by LIV Golf Investments. The Greg Norman-fronted entity initially sought to launch a breakaway league but pivoted after a number of top players pledged loyalty to the PGA Tour. In March, LIV announced an eight-event invitational series and will host its first event on June 9-11 at Centurion Golf Club outside London. Mickelson has applied for a conflicting-event release to play in that event, but the PGA Tour denied all such requests last week. It is not clear when or where Mickelson would play next.
Woods and Mickelson have had plenty of differences throughout their more-or-less concurrent careers, but the two appeared to be softening toward each other in recent years. As such, Woods was asked if he had reached out to Mickelson recently.
"I have not reached out to him. I have not spoken to him," Woods said. "A lot of it has not to do with I think personal issues. It was our viewpoints of how the tour should be run and could be run, and what players are playing for and how we are playing for it. I have a completely different stance on, and so no, I have not."