College Golf
Prairie View, Texas A&M-Corpus Christi are big winners at the PGA Works Championship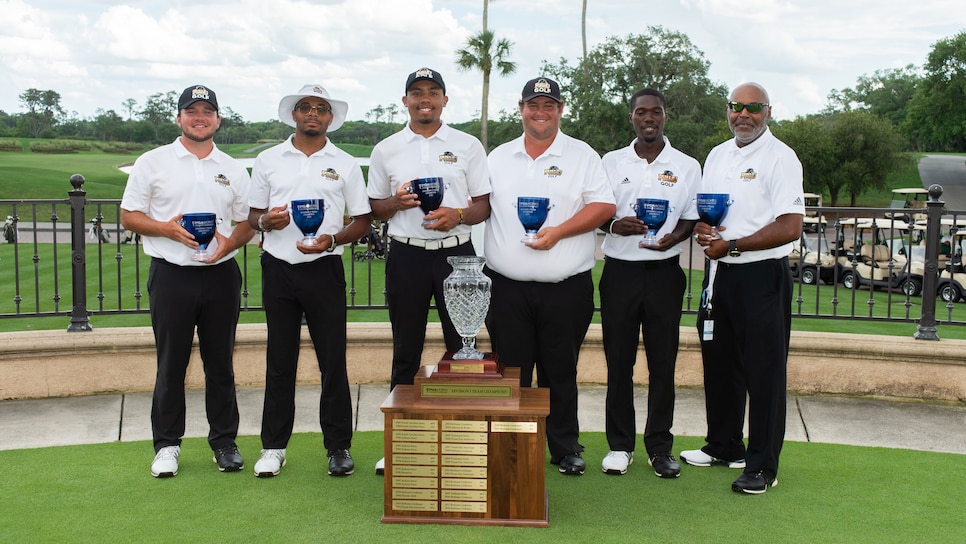 Prairie View walked away with the D-I team title as it preps for the NCAA postseason.
Montana Pritchard/PGA of America
PONTE VEDRA BEACH — The 34th PGA WORKS Collegiate Championship was always going to have special meaning. The tournament formerly known as the National Minority Championship had been canceled in 2020 due to the COVID-19 pandemic, so its return was a welcome sight for the 180-plus men and women competing in the various divisions. Adding to the moment was the fact that it was being held for the first time at TPC Sawgrass, increasing the prestige of what PGA of America officials dub "the most culturally significant championship in collegiate golf."
"It's huge," said tournament director Scooter Clark. "We've never been able to host an event on this stage before. All the staff hope that the student-athletes had a memorable week and one they'll never forget."
The championship consisted of five divisions (Men's D-I, Men's D-II, Men's Individual, Women's Individual and Women's teams) with competitors playing the first two rounds on the Stadium and Dye Valley courses before everyone played the final round on the Stadium Course, facing the traditional Sunday hole locations for the Players.
"This is the catalyst to elevate the event," said Derek Sprague, past president of the PGA of America and general manager of TPC Sawgrass. "We can't be more thrilled to roll out the red carpet and be hosting this event. We are helping to revive this event: These student-athletes from these under-represented institutions deserve to be seen. It's just the beginning."
Prairie View A&M earned the team title in the men's D-I competition with a team score of 57-over 921, outpacing Alabama State by four shots. The Panthers were coming off a victory at the SWAC Championship this spring, which earned them a spot into the 2021 NCAA postseason.
Howard University's Gregory Odom Jr. took medalist honors with a four-over 220 total. "Gregory played fantastic," said Howard coach Sam Puryear, who revealed that Odom was playing with a heavy heart, his father having passed away the previous Saturday. "Greg played inspiring golf, he overcame more than anyone else in the field could overcome. To do what he did I'm just not sure many people could've done that."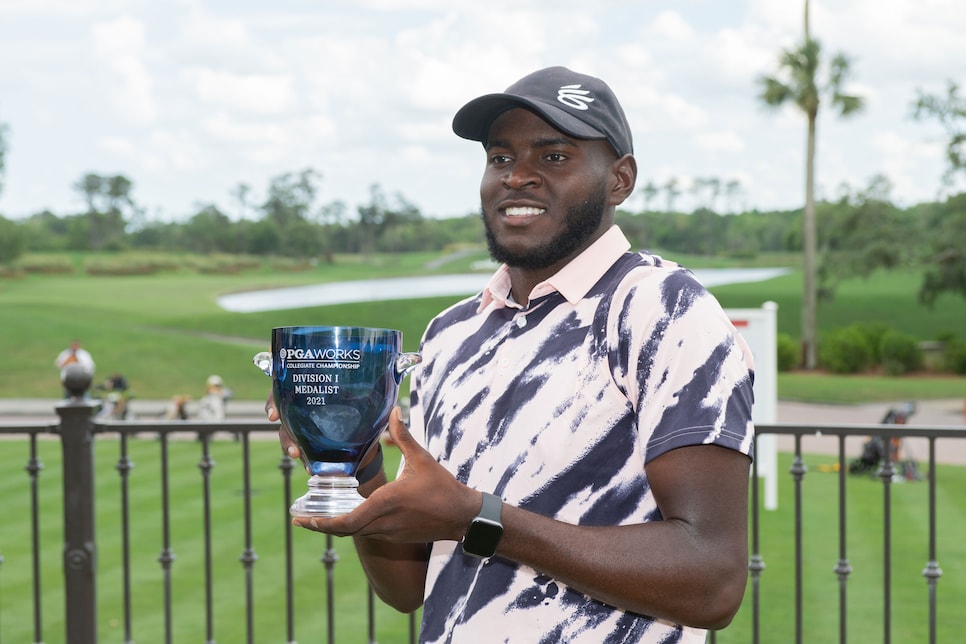 Howard's Gregory Odom Jr. took medalist honors in the D-I men's team division just days after his father passed away.
Montana Pritchard/PGA of America
Puryear added: "Gregory did all the things necessary to be successful amid the circumstances. ... His life will be forever changed. And for Howard, overall to have this start it's incredible for us in this short amount of time."
In the Men's D-II division, Miles College shot a 83-over 947, 21 shots better than Livingstone College.
In the Men's Individual division, Khavish Varadan of UAB was the only player to break par for the tournament, shooting a two-under 214.
"Winning at TPC Sawgrass means a lot to me," Varadan said. "You have to play well with what this golf course demands ... It feels good to win out here."
In the Women's Individual division, UNC Wilmington's Phu Kline took the title with a four-over 218. "I was super nervous this week actually, but my driving off the tee helped me get the win," Kline said. "It's my fourth win, so it still doesn't get any easier but this one means a lot especially at this venue TPC Sawgrass."
Texas A&M Corpus-Christi won the women's team title, shooting a 928 to outpace Delaware State by 28 strokes. The medalist was Baipor Khursri of Delaware State with a five-over 221. It was the school's first individual win and first second-place team finish in program history.
"Baipor was steady all week long, nothing phased her," said Delaware State coach Rick McCall. "We struggled this spring, but this is a great way to cap off the season."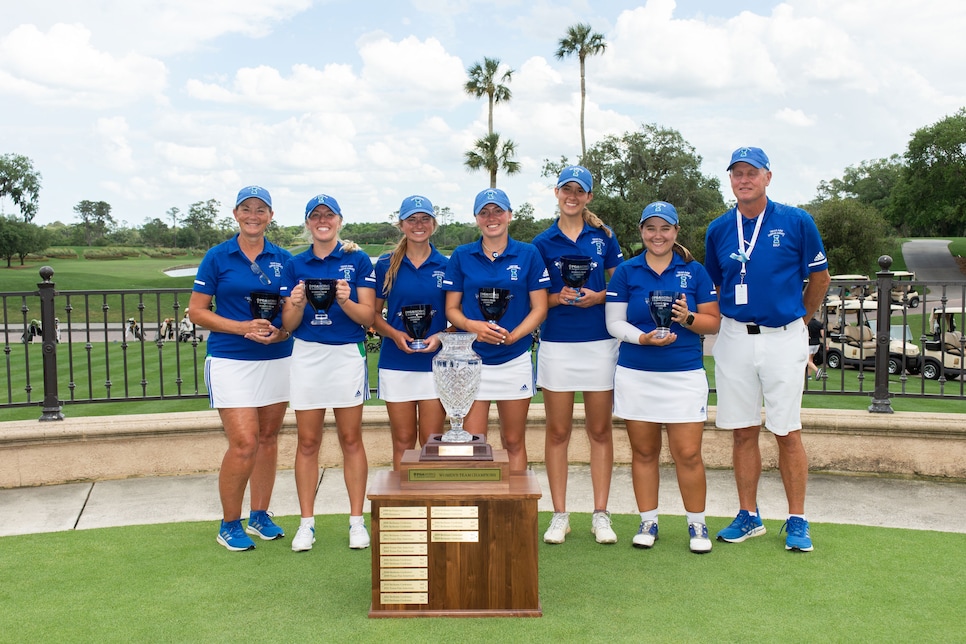 Texas A&M Corpus Christi women held on to grab the women's team title.
Montana Pritchard/PGA of America
"It's been an awesome week, but we have to keep getting bigger," said PGA of America president Jim Richerson. "It's all about growing the game and the industry." On the Sunday prior to the tournament, all the student-athletes took part in the PGA WORKS career expo at the PGA Tour's newly unveiled headquarters. Additionally, everyone playing who is trying to break into the golf industry as a PGA of America professional after college had the opportunity to count the first two rounds as a PGA Playing Ability Test, all told, 74 participants passed.
"It felt good to play at home, it was a great overall experience for all of the players. The [Sunday night job] expo especially was eye-opening and showed me a lot of non-traditional jobs in the industry," said Jayden Williams of the University of Maryland Eastern Shore, a member at TPC Sawgrass. "The industry is so vast and ever-changing. It fuels me to be better and help make a difference."