College golf
The son of a legendary QB, two golfers with famous family members begin bid for an NCAA golf title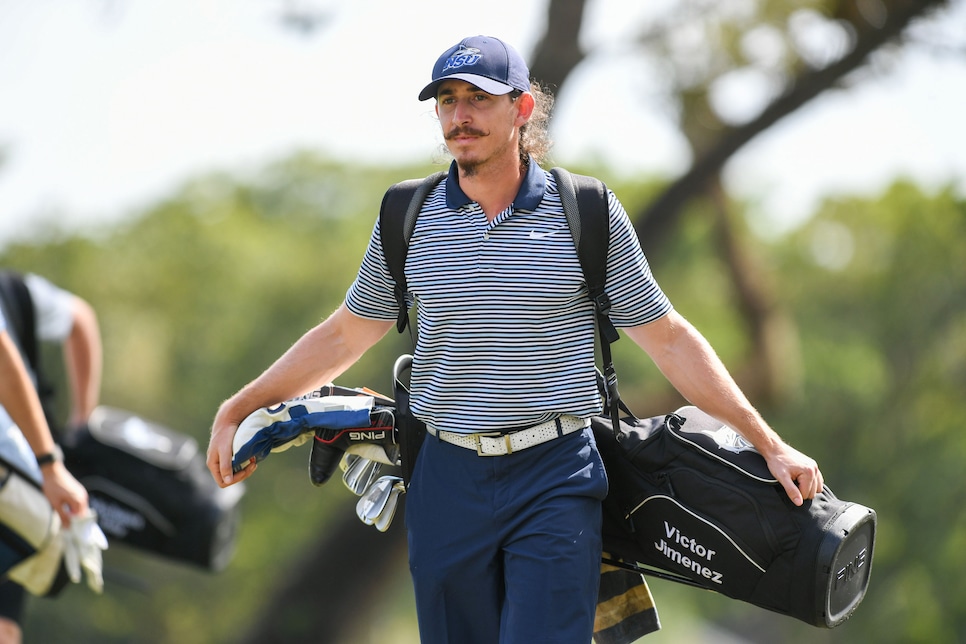 Nova Southeastern senior Victor Jimenez has the look and mannerism of his famous father, Miguel Angel Jimenez. (Photo courtesy of Nova Southeastern sports information department)
Nova Southeastern University in Fort Lauderdale, Fla., has been something of a powerhouse in Division II men's golf in recent years, with the Sharks winning the national championship in 2012 and 2015 and finishing runner-up in 2014. Almost as notable? The lineage surrounding this year's group as it makes a bid for another title beginning on Thursday.
If Victor Jimenez's long, curly hair and wild mustache—not to mention his surname—looks familiar, it should. He's the son of 21-time European Tour and 10-time PGA Tour Champions winner Miguel Angel Jimenez. This spring, the college senior whose persona and looks mirror that of his father's has finished no worse than 22nd in five starts. Then there's freshman Joseba Torres. His uncle is two-time Masters champion Jose Maria Olazabal.
Yet, when it comes to famous relatives, both players have some catching up to do to touch Nova Southeastern's head coach, Joey Marino. He's the son of Miami Dolphins legend and NFL Hall-of-Fame quarterback Dan Marino.
Though most of the roster wasn't even born by the time Marino retired from the Dolphins in 2000, it of course didn't take long to realize how big a star he remains in South Florida.
No one knows that more than 31-year-old Joey Marino, one of six kids the former Dolphin has with his wife Claire. Unlike his dad, though, Joey chose to pursue golf instead of football.
"I'm the only one in my family besides my dad that plays golf," Joey Marino told Golf Digest. "So, I've had the opportunity to go on a lot of golf trips, play in a lot of pretty cool foursomes with other celebrities and stuff. There's been a lot of memories over the years and that brought us that much closer together, having those experiences. So it's pretty special."
Joey has made a pretty good name for himself along the way, too.
After playing four years at Nova Southeastern, Joey turned to coaching and eventually landed back at the South Florida school as an assistant in 2016. The following year, he added duties for the women's program and over the next few years both teams were consistently ranked in the top five in the country, with the women ranked No. 1 for most of 2018.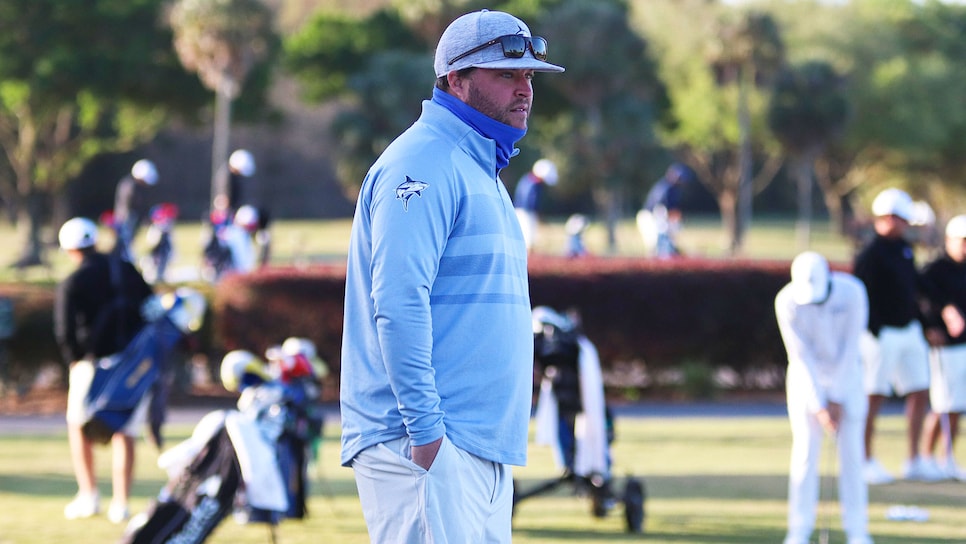 Joey Marino, in his third year as Nova Southeastern men's golf coach, is trying to bring the school a third NCAA D-II golf title. (Photo courtesy of Nova Southeastern sports information department)
That spring, Marino was promoted to head coach of the men's team after serving as interim coach, and the following season (2018-19) he guided the Sharks to a win at the Miami Intercollegiate and three runner-up finishes. They also reached Super Regionals but finished 15th and failed to advance to NCAA nationals.
And now he has a chance to do something that not even his famous father did: win a national championship. Jimenez (whose older brother Miguel Angel Jr. played at the school from 2013-17), Torres, Javier Calles, who was named Sunshine State Conference freshman of the year last week, sophomore Emanuel Olofsson and senior Tomas Millet figure to give the Sharks, who finished second in the SSC Championship, a good chance to advance out of this year's Super Regional.
"Victor is definitely just like his dad, very laid-back about the way he goes about his business," Marino said. "They got the facial hair and the matching hair, and Victor has a somewhat similar warm-up. Joseba, I'm still getting to know a little bit. This has been a super-fast season and we've only played this spring [due to COVID] and all of a sudden we're at regionals."
The South/Southeast SuperRegionals will be held at Streamsong Resort, beginning on Thursday and ending Saturday, with the Division II NCAA Championship scheduled for May 17-21 at PGA National.
"I think this group is firing on all cylinders at the right time," Marino said. "Our two best finishes came in our last two events, so we're super excited."