PGA Tour
Cameron Smith is nipping at Ernie Els' heels, Brooks will not lay up and Rahm pitches a perfect game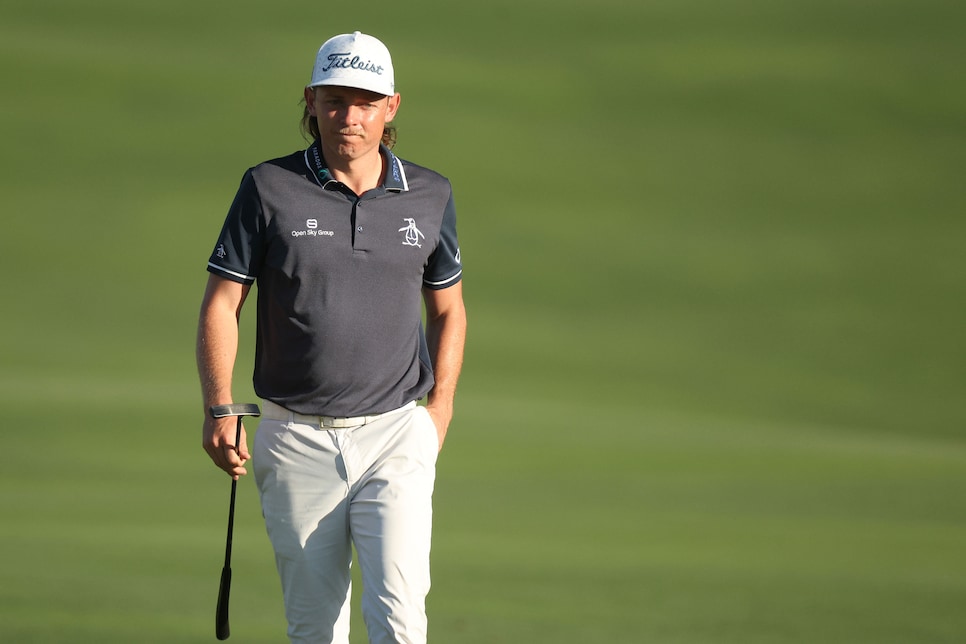 Cameron Smith walks up the 18th hole during the second round of the 2021 Sentry Tournament of Champions, where he takes a three-shot lead into the weekend.
Gregory Shamus
Kapalua's Plantation Course needs wind. Begs for it. The Coore/Crenshaw layout on Maui's north shore features the widest fairways on the PGA Tour—the 17th is more than 100 yards wide, though Phil Mickelson still managed to hit it into the junk—and can present a stern test if and only if the wind is blowing. On calm, sun-soaked days like Friday, she simply has no defense.
Of the 38 players in this Sentry Tournament of Champions field, all but one managed to shoot at least two under par on Friday. (Lucas Herbert shot even, for those curious). The 67.816 stroke average on Friday (on the par 73 course) was a record since the event moved to Kapalua in 1999. This is an elite field, comprised only of guys who have won PGA Tour events in the past 12 months, but it's still jarring to see not a single + anywhere on that leader board. Here are four takeaways from Friday at Kapalua.
Ernie Els' record is in danger
Cameron Smith, whose eight-under 65 led after 18 holes, bogeyed his first two but played the final 16 in 11 under to post nine-under 64 and take a three-shot lead into the weekend. At 17 under, he equals Ernie Els' 2003 tournament record for lowest score through two days. Els finished at 31 under that week, the lowest score to par for a 72-hole event in PGA Tour history. Smith's more than halfway there, and with similarly calm conditions expected for the weekend, he absolutely has a chance to equal the 18-year-old scoring mark.
"Yeah, if you hadn't have told me that, I would have had no idea," Smith said of the record. "I'm just trying to do the best I can, to be honest. I'm worried about one shot at a time. Those records are cool and stuff, but, yeah, I'm just trying to do my best I can every shot."
There'd be a half-asterisk, however, as the tour opted to go with preferred lies on both Thursday and Friday despite a perfectly clear forecast. Smart money says they'll have the guys play it down on Saturday and Sunday, and that the continued sunshine should dry out the greens and make them play a bit firmer. That could make things trickier, but as we discussed earlier, absent wind, no pin is safe.
Daniel Berger in contention despite an equipment rollercoaster
Berger arrived on Maui on Sunday, but his clubs didn't make it until Tuesday evening. But he wanted to hit balls on Monday, so he took the sticks from K.H. Lee's caddie Brett Waldman for a range session. But he didn't just borrow them, he changed the lies and lofts on all them … and then didn't change them back once his clubs arrived. I wouldn't be pleased, but we'll leave that to them. Either way, Berger is firmly in contention after a second-straight 66 and will enter the weekend three back of Smith.
Jon Rahm is playing like the World No. 1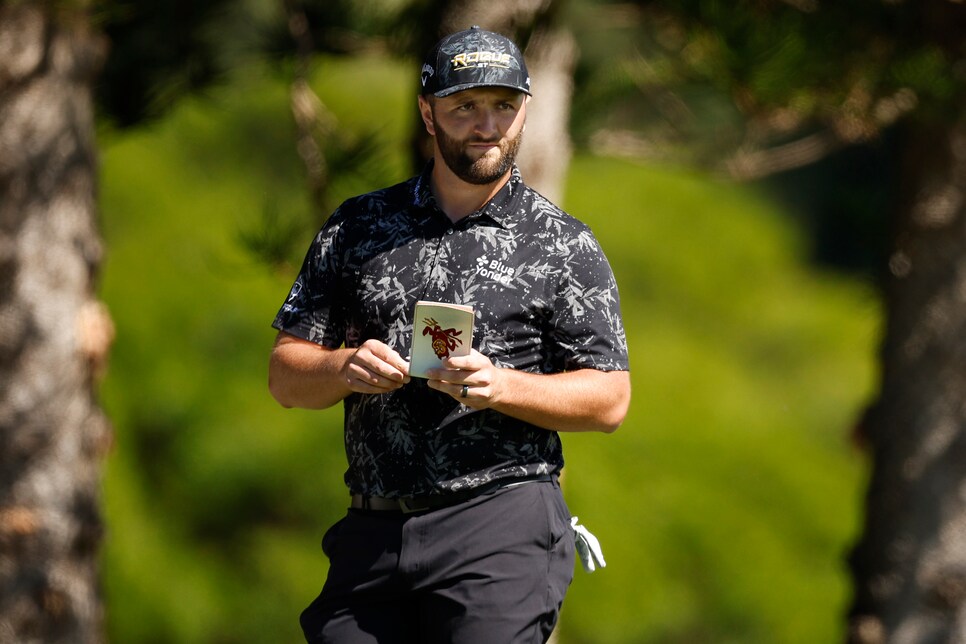 Jon Rahm prepares to play a shot from the second tee during the second round of the Sentry Tournament of Champions.
Cliff Hawkins
Rahm is atop the World Ranking, but only barely. Collin Morikawa entered the week with a chance to supplant the Spaniard, a plausible scenario given this was Rahm's first tournament in over two months. But the 27-year-old looks in full control of his game. It would be difficult to make shooting 14 under for two days look as disappointing as Rahm has this week. He struggled to get putts to the hole all day and yet he's right there, with a chance to equal his win total from 2021—not including Memorial, that is—in his very first event of 2022.
As far as ball striking goes, it was a perfect game. He hit 15 of 15 fairways and 18 of 18 greens, and he is bogey-free through 36 holes. Per stats oracle Justin Ray, it's just the fifth time in 2,977 rounds at Kapalua that anyone has done that, and Rahm has hit 34 greens in a row—just 29 behind Yuka Saso's record on the LPGA.
"Pretty much everything," Rahm said when asked what went well on Friday. "Can't say much. It was really good tee to green. If there's anything to put an asterisk on, it's maybe putting. More than anything the speed, right? I feel like the greens were a little bit slower today. Me and Patrick [Cantlay] talked about it a little bit. It could have just been us, but it felt like they were a little bit slower, and I just felt like I left a lot of putts out there on line that with the right speed might have had a chance of going in. But either way, still a solid round of golf."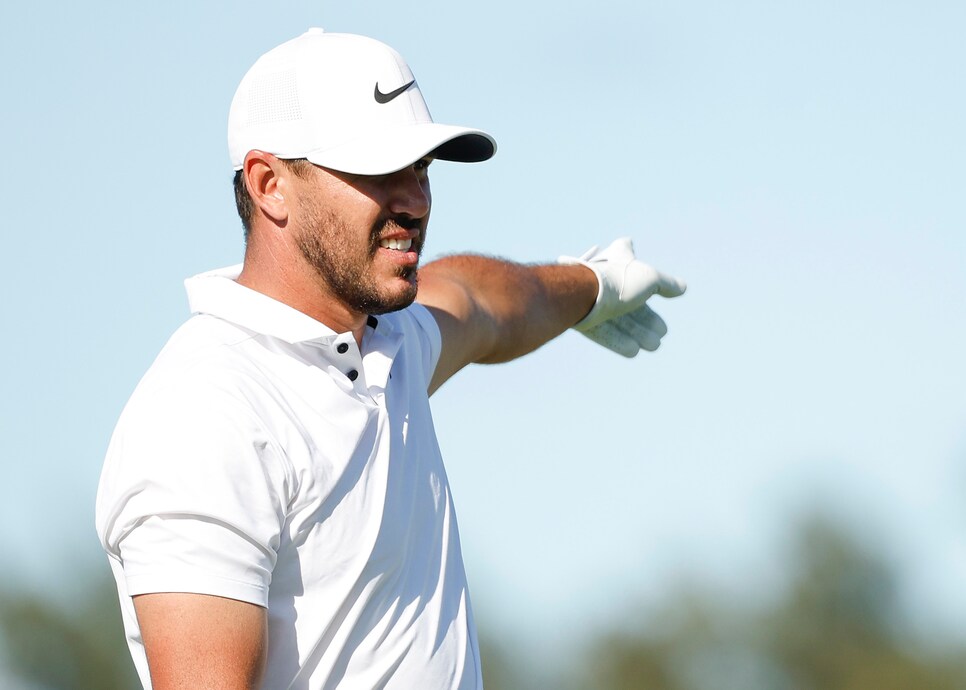 Brooks Koepka reacts to his shot on the 14th tee during the second round of the Sentry Tournament of Champions.
Cliff Hawkins
Brooks Koepka refuses to learn his lesson on 14, and we love it
Koepka seems rather keen on putting a disappointing 2021 behind him—granted, he won the Waste Management Phoenix Open, which is why he's in the field, but he's dropped outside the world's top 15. With his knee issues now mostly over, he's been able to grind away on the range and familiarize himself with his new Srixon clubs. The early returns are positive; he was in contention after three rounds at the Hero and stands at 10 under through two days at the Sentry … despite playing the 294-yard par-4 14th in three over par thus far.
On Thursday, he sailed a foul ball right and had to re-tee. Double. On Friday, he pulled one left and had to hack it out of the cabbage. Bogey. After the round, he told Golf Channel that he's disappointed by his play on the drivable hole … but still, "I'm not going to lay-up on that hole." We love the honesty, and we love the stubbornness. It's a sub-300-yard hole that favors a cut, which is Koepka's preferred shot shape. It's driver all day, Brooksy. Keep doing you.