Whoops
Daniel Berger using another caddie's clubs, changing the lies and lofts and not changing them back seems messed up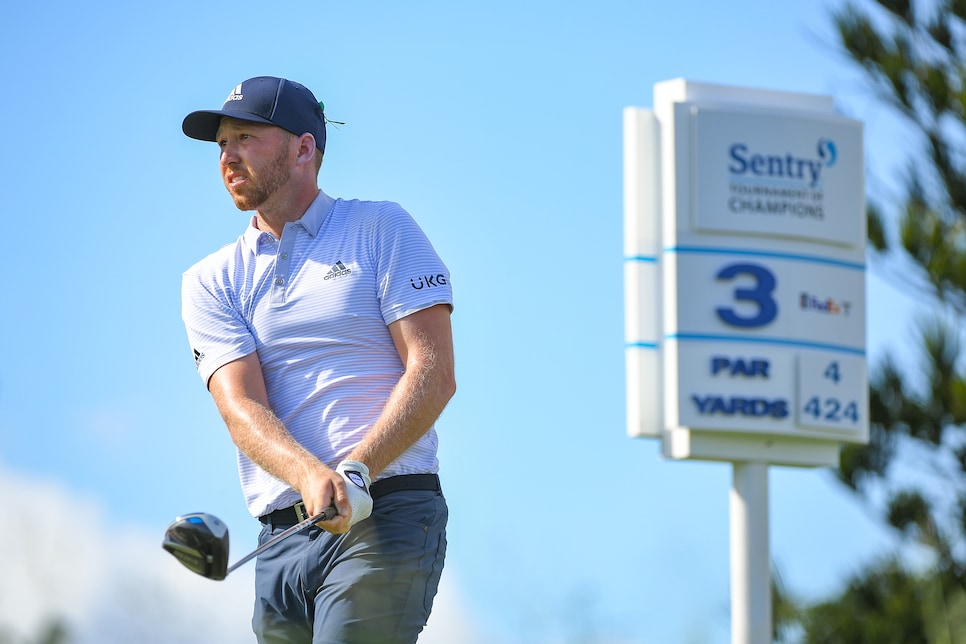 Daniel Berger watches his shot on the third tee box during the first round of the Sentry Tournament of Champions.
Ben Jared
Earlier this week, much was made about Viktor Hovland's golf clubs fiasco, which was understandable given the young Norwegian was providing live updates on social media. But another player, fellow multi-time tour winner Daniel Berger, was having similar club issues.
After a number of calls with American Airlines, Berger's clubs did arrive in Maui late on Tuesday, and, unlike Hovland's, they got there in one piece. The problem? Berger got to Hawaii on Sunday, and he was hoping to get some much-needed practice in after a long layoff between the Hero World Challenge and the Sentry Tournament of Champions.
Enter Brett Waldman, a longtime tour caddie who was on-site at Kapalua this week and just so happened to have his clubs with him. Waldman was kind enough to loan his sticks to Berger for a few days, though he likely didn't know what Berger was going to do to them.
"Borrowed, one of the other caddie's [clubs], Brett Waldman was here," said Berger, who opened with a seven-under 66 on Thursday. "So used his clubs and changed all the lies and lofts, so I got to hit balls on Monday, which was nice. Especially after a long flight of coming across the world to get here, I just had to get the body moving, so whatever I had was going to work."
Surely, Berger changed the lies and lofts back before returning them, following the old adage of "if you borrow something, you should return it in the same or better condition." You'd be wrong in making that assumption.
"I did not put them back and, I don't know, I think I stole his driver," Berger said. "I still have his driver, so ... "
Ummm... kind of messed up! That said, Waldman is a former tour pro himself (he played a few seasons on the Korn Ferry Tour), so we're sure he'll have no issues getting his clubs back to his exact specifications. Hopefully, Berger eventually returns his driver, too.