Happy Endings
PGA Tour rookie shares funny Friday night message that helped him make the cut on Saturday morning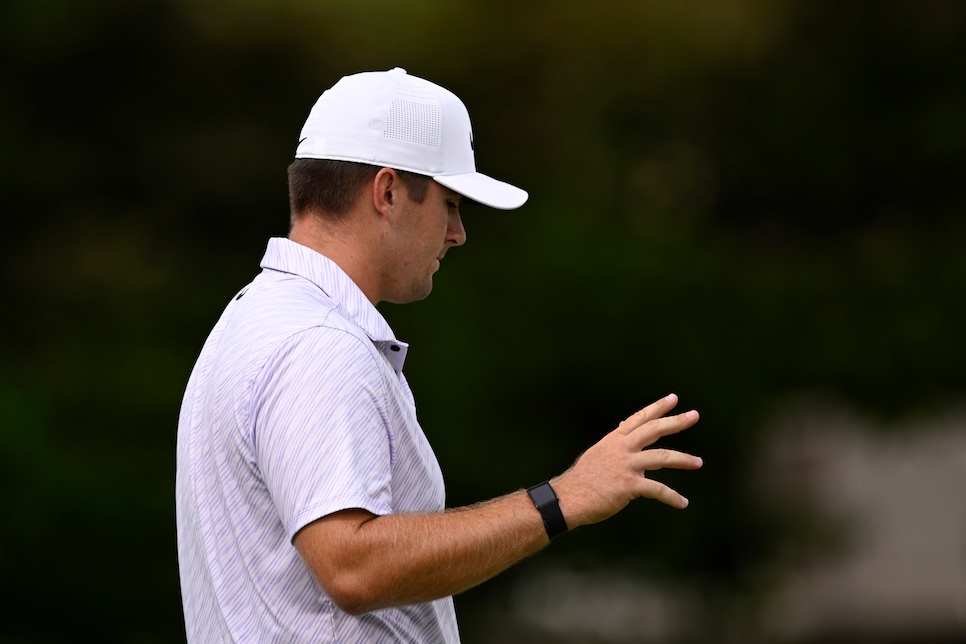 With play suspended due to darkness on Friday at the 2022 Wyndham Championship, the focus of the golf world—well, really the fantasy golf world—fell on two players early Saturday morning: Austin Smotherman and Chris Gotterup.
Smotherman held the week's fate of about a couple dozen golfers in his hands as he faced a 12-foot birdie putt on his penultimate hole of the second round. Gotterup, was one of those pros needing help from Smotherman, but first, he had to return to Sedgefield Country Club to sink a four-foot bogey putt on No. 18. Well, the PGA Tour rookie took care of business, and after, revealed he had a little help for the putt he had to think about—and dream about—all night:
We're not sure who sent him that encouraging message. Or how much money they had riding on Gotterup. Or if Gotterup really needed any help with the read. But regardless, it makes for a good story.
We also weren't sure if this was some sort of stupid rules violation. But the PGA Tour just tweeted this so we think our guy Gotterup is in the clear:
Phew. Unfortunately, Smotherman didn't have as happy of an ending on Saturday morning. He missed that birdie putt on No. 8 then double bogeyed the ninth hole to miss the cut while allowing the 87 players at one under or better, including Gotterup, to make it to the weekend.
Even worse for Smotherman is that as the PGA Tour playoffs bubble boy entering the week at No. 125 in the FedEx Cup standings, he's now projected to miss the postseason. And lose his PGA Tour card. Ouch.
Back to Gotterup, though, that early wakeup call turned out to be worth it for the recent Haskins Award winner out of Oklahoma. After making the cut, the 23-year-old will cross the $500,000 mark in season earnings in eight starts since turning pro. Pretty impressive.
Now go back to sleep, young man. You've got another weekend tee time later today.