Highlights
'Oh God, what a disaster': PGA Tour pro falls into creek, still makes par of the year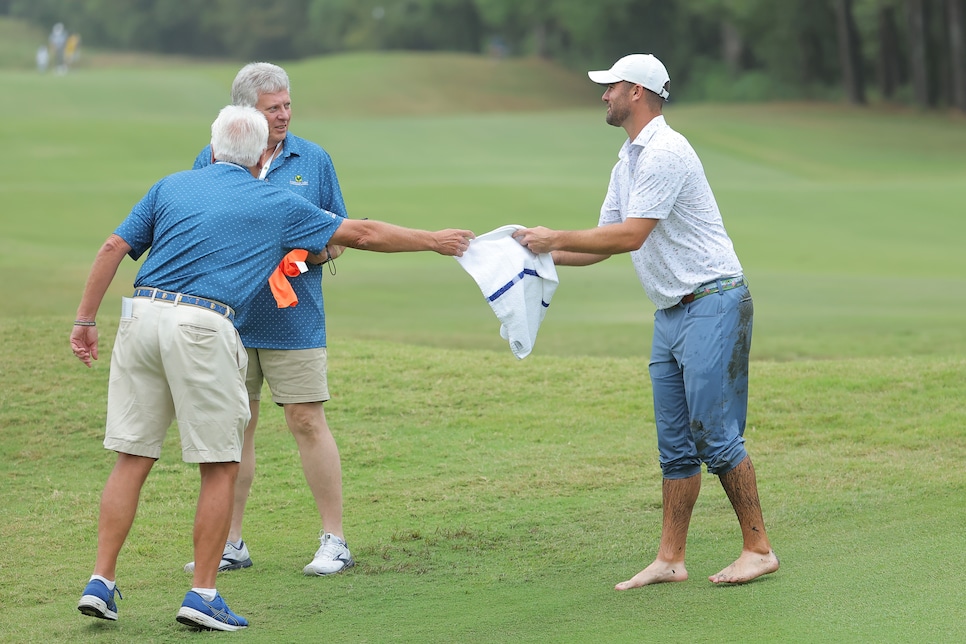 Wesley Bryan managed to keep a clean card on Thursday at the Sanderson Farms Championship. He can't say the same thing about his pants.
The past PGA Tour winner had a splendid opening round, if you don't count the fact that he fell into a creek. But he still managed to make one of the best pars of the year. These guys are good.
The former trick-shot artist's adventure—fortunately, the PGA Tour had extra cameras rolling because Bryan is part of a behind-the-scenes show called "The Turn"—began with his second shot on the par-5 14th hole at the Country Club of Jackson. Going for the green in two, Bryan pulled a fairway wood wayyy left (possibly due to a Bubba Watson MUD BALL) to wind up in a tricky spot.
But Bryan showed off some impressive athleticism by leaping over the water and then hitting a remarkable, blind recovery shot to the back fringe. "I heard one 'great.' Oh, I hear claps, now what?" Bryan says in the video before being informed where his golf ball wound up. However, this saga was just getting started.
Deciding he couldn't leap back over the creek, Bryan removed his shoes and began to wade into the water. But then he fell on his butt. "Oh God," he said. "What a disaster." With some assistance from his caddie, Bryan made his way back to the hole and two-putted for a wild par with his mud-stained pants rolled up to his knees (apparently that's allowed on tour even if shorts still aren't). Have a look for yourself:
Good stuff, Wes. And, hey, at least he didn't ruin those white shoes.
What's no laughing matter is the position Bryan finds himself in as he battles to try to keep his PGA Tour card. The 33-year-old enters this week 189th on the FedEx fall list, meaning he only has a few more events to finish inside the top 125. So every shot matters a lot for him. Whether he's wearing dry pants or not.