Follow the money
You'll be surprised how many PGA Tour players earned $1 million last season, and the number will only rise
Tiger Woods poses with his winner's check after his victory at the 2008 Arnold Palmer Invitational.
David Cannon
The story was buried deep in the New York Times sports section on Nov. 15, 1988. Jammed into the bottom corner of the page next to the college football scores, the short piece carried the headline, "Strange Wins Playoff." With due respect, the editor whiffed on the headline. Yes, Strange beat Tom Kite with a birdie on the second extra playoff hole at Pebble Beach to capture the Tour Championship. But it was the check that came with that victory that was most notable. It was history in the making.
In winning the first prize of $360,000, plus a bonus of $175,000 for being the top money earner in the season, the then-33-year-old Strange eclipsed $1 million in earnings for the year. Let's repeat: $1 million for the year!
It was a big deal in golf at the time because Strange was the first to achieve that heady milestone. ''I guess the first one to do it is the one everybody will talk about,'' Strange said that day. ''But in a couple of years four or five guys will be doing it. It's kind of like Arnold Palmer becoming the first player to win $1 million in a career. Now there are 40 or 50 who've done it.''
Actually, that number was 98 at the time, with Palmer being the first career million-dollar man in 1967—in his 14th season on the PGA Tour.
Those numbers all seem laughably quaint in 2021, considering most tour events now award at least $1 million to that week's champion.
In the PGA Tour season that wrapped up with the Tour Championship in September—where Patrick Cantlay won the FedEx Cup and $15 million—a record 124 players earned at least $1 million in tournament prize money payouts. So, basically, if you held a full-time PGA Tour card, you made seven figures. No. 124 was Tyler McCumber, who played in 25 events and made only 10 cuts but had two top-six finishes in the longer "super season" that was needed because of the COVID-19 pandemic. At this rate, the purses are so big that a player can post only a couple of top-10s and have a few other solid finishes to assure himself of $1 million.
We can expect the number of single-season millionaires to climb again in the 2021-22 campaign. Facing potential competition from the Greg Norman-led and Saudi-funded schedule on the Asian Tour, PGA Tour commissioner Jay Monahan notified players in November that there would be a huge jump in purses for 2022. Total prize money will go from $367 million to $427 million, with the average tournament purse going up by $1 million. The trickle-down effect for even those on the middle of the leader board on weekends should be significant. And the rich will get richer—the top prize for winning the FedEx Cup will be $18 million.
Over the last decade, the top season earner (not including bonuses) has made between $7 million and $9 million, with Jordan Spieth topping that group when his five wins in 2015 pushed him to $12 million.
According to research by Golf Digest's Jamie Kennedy (see accompanying graphic), at least 100 players have earned at least $1 million in six of the last seven seasons (the one blip being 2020 when fewer events were played due to the pandemic). Interestingly, the first year in which more than 100 players earned seven figures in a single season (104 to be exact) was 2008—the year the Great Recession began. It would take seven more years to get back to the century mark, with 2013 seeing a low of 82. (That year happened to be the last that Tiger Woods led the money list at $8.5 million.)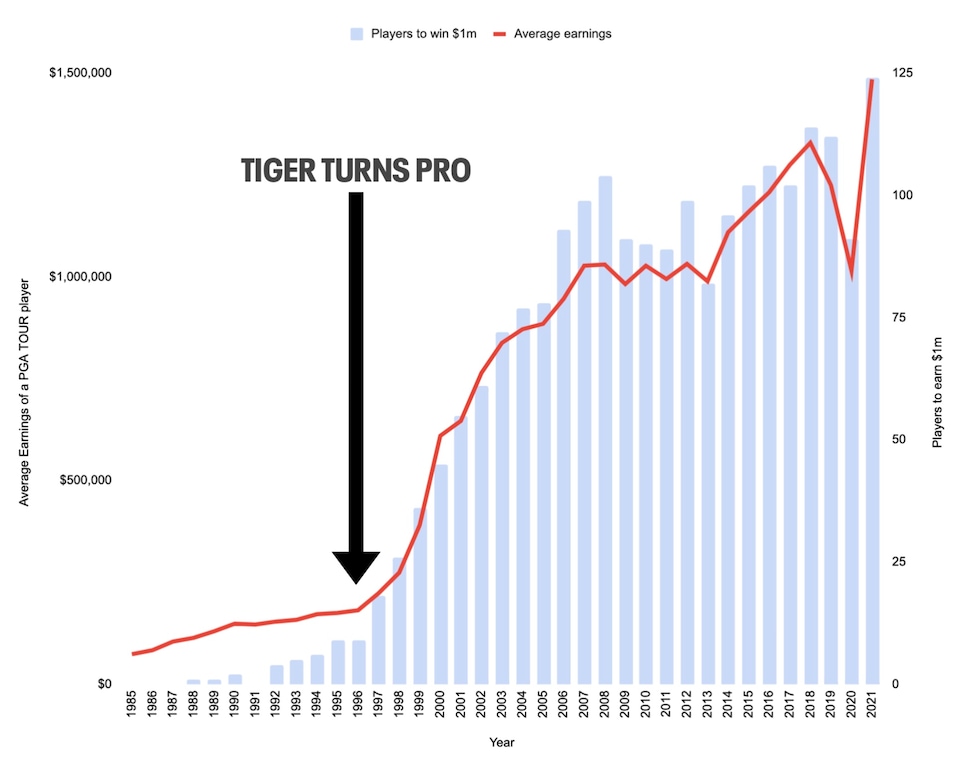 Of course, the rise in purses can be directly tied to the rise of Woods. In his first full season on tour in 1997, when he captured his first Masters, the 18 million-dollar winners doubled those in the previous year. The number rose by about eight to 10 every year, reaching 45 in 2000 and 93 in 2006.
Five years before Woods turned pro, players earned an average of $146,000 for the season. Five years after he arrived, they averaged $650,000, and 55 players made at least $1 million.
Before the 2014 Masters, which Woods missed because of back surgery, Phil Mickelson reflected on what he'd meant to the earning power of every player.
"Look at what he's doing for the game the last 17 years he's played as a professional. It's been incredible," Mickelson said. "I've told him, and I've said this before, nobody has benefited more from having Tiger in the game than myself.
"I remember when I was an amateur and I won my first tournament in Tucson in 1991, the entire purse was $1 million, first place was $180,000 and Steve [Loy, his agent] and I would sit down and say, 'I wonder if in my lifetime, probably not in my career, we would have play for a $1 million first-place check.' [Now] it's every week. It's unbelievable the growth of this game.
"And Tiger has been the instigator. He's been the one that's really propelled and driven the bus because he's brought increased ratings, increased sponsors, increased interest and we have all benefited; but nobody has benefited more than I have, and we're all appreciative. That's why we miss him so much; we all know what he's meant to the game."
Mickelson has officially earned $94 million in his career—second only to Woods' $120 million.
Meantime, 34-year-old Brian Harman owns two career wins in 10 full seasons and has won $20 million. Yes, they should all be thankful.