PGA Tour-Saudi deal
PGA Tour and LIV Golf drop key part of framework agreement over poaching players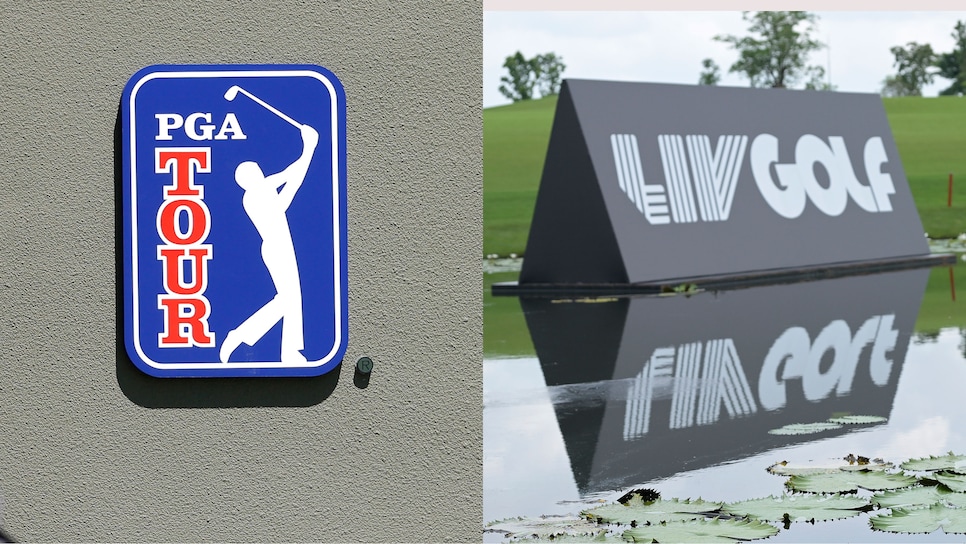 A key provision that neither the PGA Tour nor LIV Golf would recruit players from the other circuit as officials from the tour and Saudi Arabia's Public Investment Fund attempt to create a new for-profit entity has been scrapped.
One of the few details outlined in the framework agreement signed by the PGA Tour and the PIF (financial backers for LIV) stated that neither side would "enter into any contract, agreement or understanding with" any "players who are members of the other's tour or organization." The thought was that this would allow the two sides to work out a deal without the specter of players potentially jumping from the tour to LIV inhibiting the negotiations.
However, after a review of the framework agreement by the Department of Justice, concerns over the antitrust implications of that provision—and the potential for the DOJ to use it as reason to block a deal—caused the two sides to remove it. The decision was first reported by the New York Times and confirmed by Golf Digest.
"The Framework Agreement sets the stage for an exciting future for professional golf that re-establishes competition at the highest levels of the sport and creates the biggest stage for everyone—players, sponsors, and fans," the PGA Tour said in a statement released to Golf Digest. "Based on discussions with staff at the Department of Justice, we chose to remove specific language from the Framework Agreement. While we believe the language is lawful, we also consider it unnecessary in the spirit of cooperation and because all parties are negotiating in good faith."
The New York Times quoted William E. Kovacic, a former Federal Trade Commission chairman, as stating that the language of the provision appeared "to be right in the field of vision that the Department of Justice has staked out for its no-poaching enforcement program." According to the report, the PGA Tour informed its PGA Tour Policy Board members of the decision on Thursday.
The immediate implications of this reversal are unclear. The LIV Golf circuit has its set roster of players for 2023. However, if LIV officials think that a deal won't be reached with the PGA Tour to create the joint entity (along with the DP World Tour), they could potentially begin to reach out to top PGA Tour players about competing on LIV teams in 2024 and beyond. In the process, they could once again offer seven- and eight-figure contracts to current PGA Tour players much the same way they managed to sign major champions Brooks Koepka, Dustin Johnson, Cameron Smith, Bryson DeChambeau and Patrick Reed when the league launched in 2022.
This possibility is a concern that Jimmy Dunne, a member of the PGA Tour Policy Board, in part spoke to during his testimony at the U.S. Senate hearing about the PGA Tour-PIF deal on Tuesday.
"My fear is if we don't get to an agreement, they [the PIF] were already putting billions of dollars into golf," Dunne said. "They have a management team wanting to destroy the tour. Even though you can say take five or six players a year, they have an unlimited horizon and an unlimited amount of money."