Viral Videos
PGA Tour caddie jumps off a cliff to save his boss' hat, is clear front-runner for employee of the year
Slow pace of play and poor golf turned he final of the WGC-Dell Technologies Match Play into a bit of a snoozefest. The PGA Tour's opposite-field event in the Dominican Republic, however, provided plenty of entertainment. Even after the tournament was over.
The 72nd hole provided a brutal finish for Rafael Campos, who was so confident his 15-foot birdie to tie was in that he began to fist pump. But it lipped out to set up a much less dramatic two-foot winning par putt from Joel Dahmen at the Puntacana Resort & Club Championship. Turns out, though, the drama was just starting.
As Dahmen collected his first PGA Tour trophy and posed for photos, his trusty bucket hat flew off in the stiff Dominican Republic breeze. That's when his even trustier caddie, Geno Bonnalie, literally sprung into action.
The looper chased after the hat and jumped off an oceanside cliff in an attempt to retrieve it. OK, so the cliff didn't turn out to be such a cliff, but still, what an effort as he snagged the headpiece and triumphantly held it high. Even more impressive was he did all this while holding a celebratory beverage! Check it out:
And look at the relief and joy in Joel's face: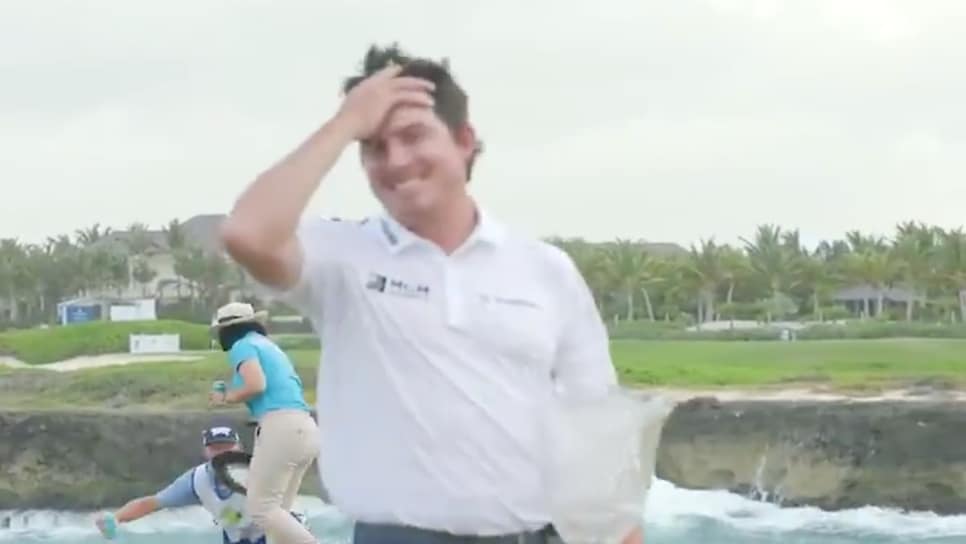 Dahmen is known for wearing a bucket hat, but it actually has special meaning for the cancer survivor. From our Dave Shedloski's story on Dahmen's win: "The bucket hat he wears bears the MD Anderson logo and is adorned on the front with the word "cancer" crossed out. It is both a message of support to those battling the affliction and a symbol of his much bigger triumph."
Makes a little more sense why his caddie would risk life and limb to save it. In any event, this player-caddie combo had a couple unforgettable highlights on Sunday.