Puntacana Resort & Club Championship
Joel Dahmen's nightmare, dream and a first PGA Tour victory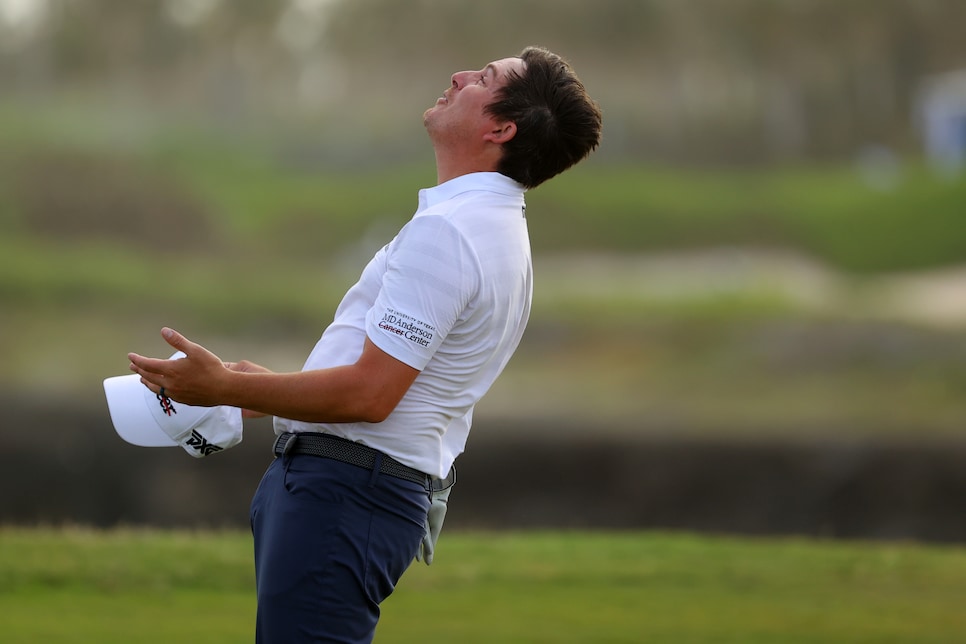 Joel Dahmen, cancer survivor, once said, "I have seen life and death, and golf is not it – as much as we can portray it that way at times."
Joel Dahmen, pro golf survivor, said on Sunday in the Dominican Republic after winning the Puntacana Resort & Club Championship, "That's what we dream of, right?"
From the nightmare of testicular cancer and all that goes into that battle – the fear, the chemotherapy, the doubts about your future – to a dream of being a winner on the PGA Tour after an 11-year grind of mini-tours and the stepladder advances on the lower tour levels, is genuine fairy tale stuff. It's easily in the feel-good category of outcomes. It reverberates through the chambers of destiny.
"I don't know how I'm here. It's crazy," Dahmen said with genuine wonder after negotiating a wind-swept golf course, out-dueled a determined opponent, and won his first tour title in his 111th try. With clutch pars on the final three holes, Dahmen carded a final-round 70 and posted 12-under 276, good enough to eke out a one-stroke victory over Rafael Campos.
The triumph – a word that has several meanings for the 33-year-old native of Clarkson, Wash. – was worth so much more than the $540,000 and the two-year tour exemption. The man who once intimated that a steady income was an acceptable trade for being a career also ran executed a giddy hop when his two-foot par putt on the 18th hole on the Corales Course found its way into the cup.
He then hugged his caddie, Geno Bonnalie, as tightly as a toddler hugs a teddy bear. Dahmen's wife, Lona, then jumped in and the three of them soaked in the sensation of success. Then Lona, who worked two jobs while Joel was grinding out his game on the mini-tours, hugged her husband some more and kissed his cheek and shrieked joyous shrieks that can only come from knowing all the obstacles, some distant and some immediate, he had overcome to reach that moment.
"Yeah, this is just a lot of validation … this is just really special," Dahmen said, getting to the crux of what his breakthrough truly represented. "There's a whole part of that, you just kind of have to kind of put it all on the line, put yourself out there. And if you're not good enough, you're not good enough, but if you put yourself out there, at least you're going to find out."
Dahmen, who held a share of the first-round lead, and was tied with Campos after 54 holes, found out he was good enough. He's known for a much longer time how tough he was, beating testicular cancer in 2011, the year after he turned pro. His brother also beat the disease in 2009. Meanwhile, they lost their mom to pancreatic cancer in 2005 when Joel was in high school. He tried college, but it wasn't for him.
"I was a pretty lost kid there for a couple years. Even when I turned pro, I didn't know what I was doing, so the first couple years were bad."
The bucket hat he wears bears the MD Anderson logo and is adorned on the front with the word "cancer" crossed out. It is both a message of support to those battling the affliction and a symbol of his much bigger triumph.
Played opposite a World Golf Championship event, the Puntacana Resort & Club Championship is the sort of event that offers an opportunity for a breakthrough. That doesn't mean Dahmen, one of the higher ranked players in the field at No. 81 in the world, didn't have to contend with stiff competition. Masters champion Danny Willett was in the mix. Graeme McDowell, a U.S. Open winner and past champion in the Dominican, clawed within a stroke of Dahmen at one point. Presidents Cup player Emiliano Grillo also was on the board.
That it came down to Campos, who entered the week 156th in the FedEx Cup standings, and Dahmen didn't make it any less challenging, particularly with gusting winds strafing the Corales layout. But at least Campos had some recent mojo fueling his bid, having finished third in his native Puerto Rico two weeks earlier.
Dahmen, meanwhile, who last season ended up a career-high 38th in the FedEx Cup, was mired in a mystifying funk in which he had missed the cut in six of his last seven starts. He was flummoxed, but not stressed. Not life and death.
"The start of this year was pretty bleak for me, for a guy who prides himself on making a bunch of cuts," he said. "I never had a spurt where I've missed this many cuts before. So I was not panicking, but thankfully I have a great team around me … [swing] coach Rob Rashell, Jon Reehoorn [golf coach at Oregon State] helps me out a ton. We didn't change anything; we didn't go looking for solutions. We just kind of stuck to the plan, and they told me to be patient and it worked out."
Bonnalie has been a huge part of the equation, too, though Dahmen almost lost the services of his friend for the final hole when he threw his wedge in the air after nearly chipping in on the 17th hole. The club missed his caddie by inches. Good thing, because Dahmen would have missed Bonnalie's tears of joy pouring forth.
"I mean, two dudes growing up together who were golf dorks like somehow winning on the PGA Tour," Dahmen said with genuine wonder. "I planned the celebration so many times in my head, it didn't quite go as I expected. I couldn't believe he was crying, I thought he'd be the tough guy, but he's put in a lot of time and effort and he's believed in me when no one else did."
Well, no one else but Lona, who sacrificed plenty along the way, Dahmen said. "She gave up her dreams to fulfill my dreams. There were some lean times, for sure, but she believed in me. I don't know if our dreams were ever this big, per se. Making it five years on tour, getting a first win … just, it's pretty special."
Special indeed. A first victory on the PGA Tour can be life changing, too. This was more like life affirming.