Caddie confessions
This Twitter thread from a PGA Tour caddie will make you think twice about becoming a PGA Tour caddie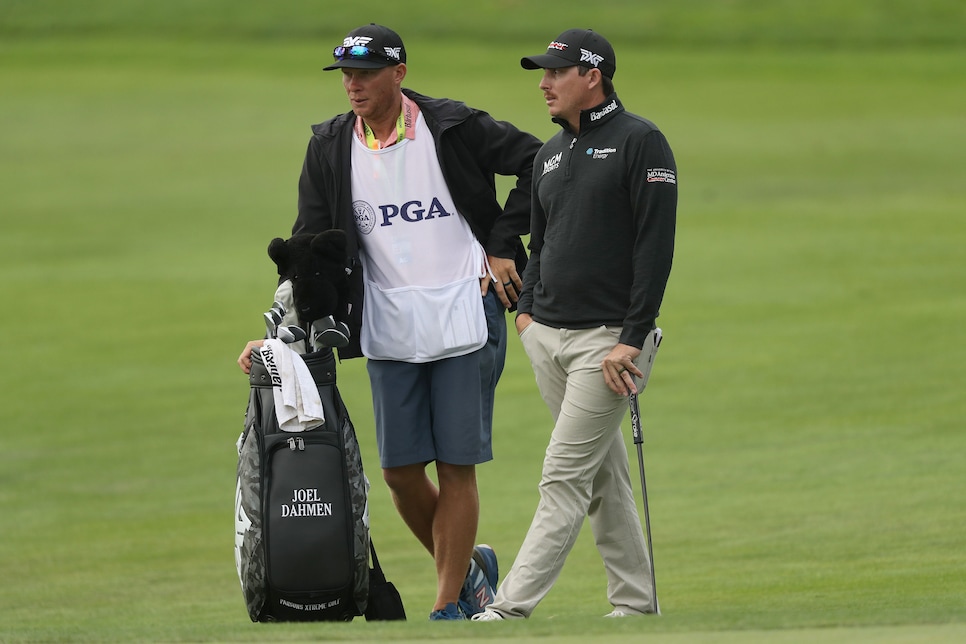 Geno Bonnalie has been caddieing for Joel Dahmen since 2015, first on the Korn Ferry Tour and then eventually the PGA Tour.
Jamie Squire
When Justin Thomas won the Players Championship in 2021, he cashed at the time the biggest single-tournamnet payday on the PGA Tour, a whopping $2.7 million. By extension, his longtime caddie, Jimmy Johnson, was also well-compensated.
Typically, the going rate for a caddie on tour is a base salary of roughly $2,000 a week, plus 5 percent of the player's earnings for a finish outside the top 25, 7 percent for a top-10 and 10 percent for a win.
If the math sounds appealing, it should. Total prize money on tour this season will top $500 million with the rise of the PGA Tour's "designated" events and their $20 million purses.
But most caddies don't start out at the highest and most lucrative level of the game, far from it. How far?
Geno Bonnalie first landed on the bag of Joel Dahmen after Dahmen earned Korn Ferry Tour status for the 2015 season—the two have been friends since they won a two-man best-ball tournament as teens in Lewiston, Idaho, where Bonnalie's mom called Dahmen's mom to help arrange the pairing. With Dahmen's playing status secure, Bonnalie pecked out an email to his friend officially applying for the job as "Joel Dahmen's caddie" and the rest was history.
That's not to suggest the road has been easy or profitable. Quite the contrary, particularly early on.
"The #1 question I get asked when people find out I caddie for a job: 'How much money do you make?'" Bonnalie tweeted back in 2021.
And thus began the insightful if not entertaining thread.
"I was working a desk job making just over 50k a year, when Joel won the money list on the Mackenzie Tour and got KFT status," Bonnalie said.
That job, by the way? An "export coordinator" for a company called Vista Outdoor, Bonnalie explained via text. "I shipped ammo to foreign countries," he said.
More daunting was the money he was about to make, or not make.
Bonnalie's starting salary that first year on Dahmen's bag: $850 a week and 7 percent of Dahmen's earnings, he explained. Their first event together was in Leon, Mexico. Bonnalie said the flight cost a little more than $800, then there was accommodation and food. Dahmen shot 77-74 to miss the cut.
"The first few events were one week on, one week off, which meant flights back to Idaho after each event [very cheap]," Bonnalie continued. "Our first made cut came at our 3rd event in South Carolina. Not sure what place we finished in [T-64], but my additional income was $118. I remember being SO happy. It was the first time in 3 weeks that I didn't order the cheapest thing on the menu at dinner (cause I was so rich).
"Joel and I both were very conscientious of our spending throughout the year (because you had to be), but I never remember thinking that we were absolutely destitute."
Still, along the way Bonnalie mowed lawns and did other odd jobs on his off weeks. He also did what he could to save as much as possible on the road, whether it was traveling with a frying pan and hot plate and buying a rotisserie chicken, pack of tortillas and cheese at Walmart, or crashing at seedy hotels.
"Any Knights Inn or Red Roof Inn are all pretty bad," he told Golf Digest when asked about the worst of his accommodations. "I never really minded, though. As long as there was a shower and a spot to sleep, I didn't really care what it was like. I never felt unsafe, though I probably should have."
By year's end, Bonnalie had worked 19 events for Dahmen, whose best finish was a tie for 10th at the Price Cutter Charity Championship. Dahmen's payday: $14,962, which equated to a little more than $1,000, plus the weekly base rate, for Bonnalie. For the year, Bonnalie earned $20,635.53, though he said he's sure that he ended up in the red.
"I'm positive I lost money for the year, but it was the best decision I've ever made," the now 37-year-old said on Twitter. "I'm thankful to have a boss who is really freaking talented, and a wife who is the most patient person I know."
Things also have improved significantly since.
In 2017, Dahmen made it to the PGA Tour and earned a little more than $300,000. The years since have been even better. In each of the last six seasons, Dahmen has racked up at least $1.2 million in earnings, including a career-best $2.1 million in 2020 when he tallied five top-10s and missed the cut just four times in 22 starts.
And with that, Bonnalie had one, final parting thought: "Now please stop asking me how much I make, unless you tell me what you make first."