Bermuda Championship
In Bermuda, one rookie riding high while his friend suffers brutal rules setback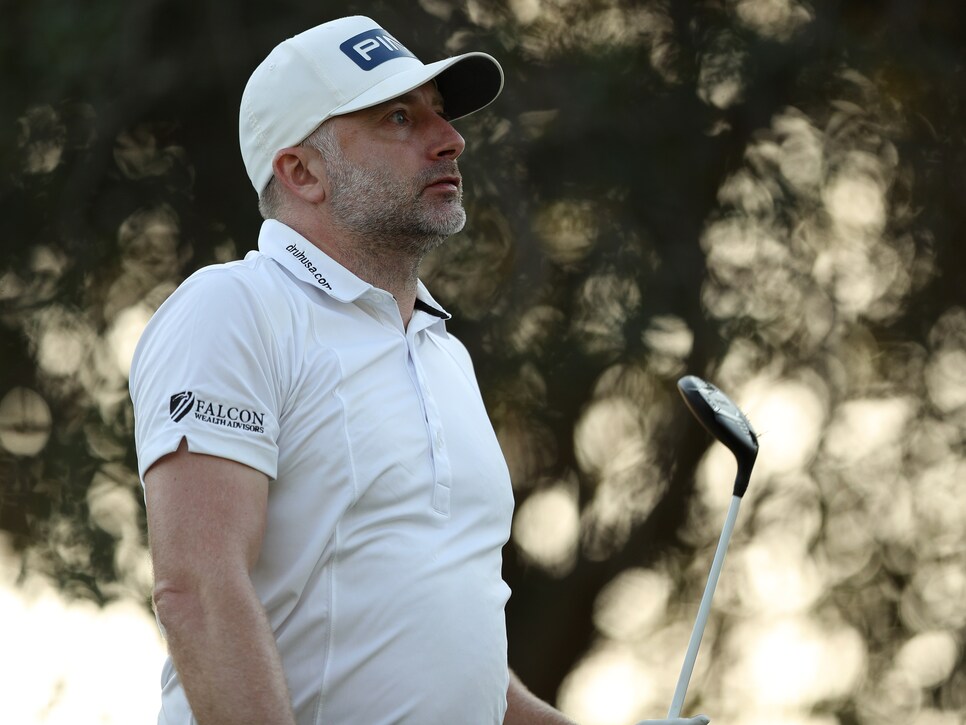 David Skinns hits his tee shot on the fourth hole during round two of the Fortinet Championship in September.
Meg Oliphant
David Skinns and Callum Tarren are roommates this week at the Butterfield Bermuda Championship, and that should tell you where the Englishmen are on the PGA Tour's food chain. Skinns is 39 and Tarren is 30, and they're both rookies after spending much of their pro careers on the Korn Ferry Tour.
Watching how they spend their hard-earned money—like sharing accommodations—comes with the territory. So do the highs and lows the game dishes out, and they've already experienced both in just the span of this week.
On Friday, while Skinns was shooting a second straight 67at Port Royal to be strongly in the weekend mix, Tarren suffered through a brutal lesson; the PGA Tour reported that he signed an incorrect scorecard after shooting 71 in the second round. At six over for the tournament, Tarren was on his way to missing his third straight cut to start the season.
Skinns spoke to the media on Friday before Tarren's DQ was known, and he was, of course, happy about his chances for the weekend. At eight under, he was only three shots off the lead of Taylor Pendrith.
"My good friend Callum Tarren and I are rooming together this week, so yeah, it's nice to have familiar faces," Skinns said when asked about seeing other KFT graduates on the big tour. "That kind of helps with that normality feeling. Yeah, it's good to see some friendly faces and that's kind of the groups we get paired with each week, so, not that it feels like Korn Ferry Tour, but it's kind of a bridge in between almost."
After four straight full seasons on the Korn Ferry, where he won two events, Skinns is facing one of the biggest challenges for anyone new to the PGA Tour: learning the golf courses and the new routines that come with traveling to different cities. Maybe because of his age and experience, he's perhaps adapting quicker than most.
"I'm feeling pretty comfortable," he said. "That's half the battle is having out here feel ordinary. I played so many Korn Ferry Tour events that it feels ordinary out there for me. … I'm sure Tiger Woods felt every single movement was ordinary to him because he's seen everything. That's kind of where we all want to get to. We want to be in those moments, but have them feel like you've been there before."
In a profile of Skinns by PGATour.com, the native of Lincoln in the English East Midlands, said he never doubted his ability. He was, after all, talented enough to be the SEC Championship winner (he beat J.B. Holmes) and win seven times on the Hooters Tour. But Skinns couldn't produce the big breakthrough, and in one admirable instance, he gave up a chance to earn his card. At the 2017 Albertsons Open, Skinns was tied for ninth, but withdrew to join his wife Kirstin for the birth of the second of their three sons.
"Obviously there were points in my career when I had to take a good, hard look at things," he told PGATour.com. "But everyone who has a dream has to follow some hard roads and I'm able to stand here and say I'm ready to keep the process going."