Clear Your Schedule
PGA Championship 2021: Our 9 favorite pairings for the first and second rounds at Kiawah Island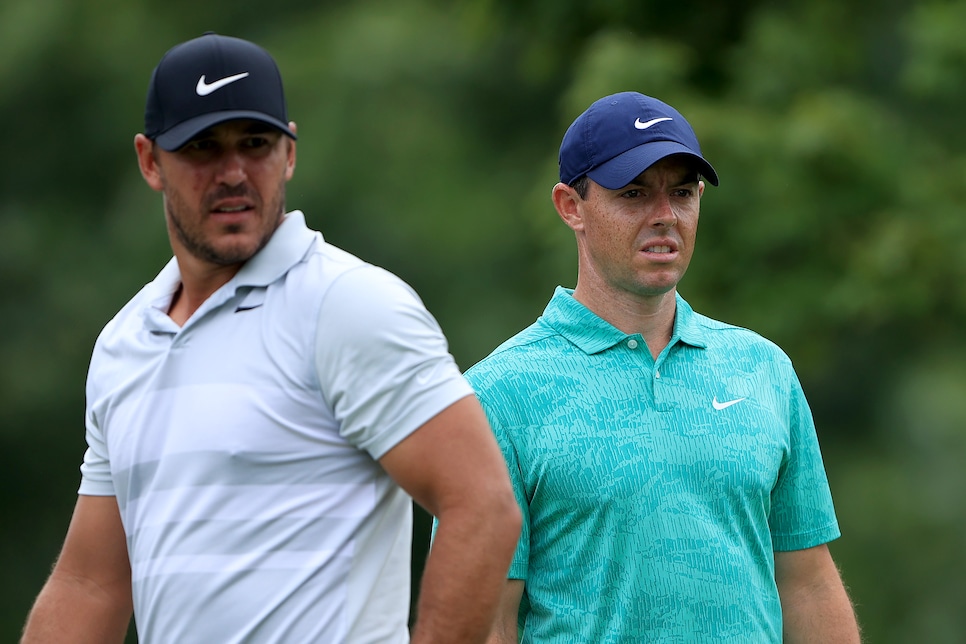 Brooks Koepka and Rory McIlroy, along with Justin Thomas, are grouped together in the first two rounds of the 2021 PGA Championship.
Sam Greenwood
It's a major championship week, which means there are plenty of marquee "supergroups" for the first and second rounds at Kiawah Island. Clear your schedules now, because Thursday and Friday are officially must-watch affairs.
Eight of the announced threesomes feature three major winners, and a few of those trios didn't even make the cut on our favorite pairings list. That tells you all you need to know about the quality of some of the other groupings.
Let's dive right in. Here are our nine favorite threesomes for the first and second rounds of the 2021 PGA Championship, in order of tee times (all times ET).
(Grouping - Thursday tee time, starting hole/Friday tee time, starting hole)

Adam Scott, Tyrrell Hatton, Rickie Fowler - 7:38 a.m., No. 10/1:03 p.m., No. 1

We can feel eyes rolling in the back of many heads as they see Fowler in another marquee grouping, and us pumping up said grouping. Golf Twitter was a bit heated when they saw Fowler receive a special exemption in the midst of his largest career slump. All that is understood, but it's undeniable that he's still a draw, even when he's playing bad. This week could seriously expose him, and on top of that in this group you have Hatton, who might blow a fuse before he makes the turn on Thursday morning. The steady Scott rounds out the group, though if the other two are struggling, it could be hard for the Aussie to generate any momentum. All of those factors make this a threesome worth setting the alarm for Thursday morning just to see what the hell happens. Then, Friday evening, this trio could also provide some healthy cut-line drama.
Lee Westwood, Xander Schauffele, Viktor Hovland - 8:22 a.m., No. 10/1:47 p.m., No. 1
Between the two of them, Westwood and Schauffele have built up an inordinate amount of major championship scar tissue, the former in a very long period of time and the latter in a very short period of time. Then there's Hovland, who hasn't yet had any real major championship drama in his life but has shown a propensity for the big number, but also the ability to grab birdies in bunches to negate the big number. Together, we can see these three feeding off each other Thursday and Friday and all three of them factoring in late on Sunday. There are some great groupings, but you'd have a tough time arguing that threesome in the field is collectively playing better than this trio of late.
Rory McIlroy, Brooks Koepka, Justin Thomas - 8:33 a.m., No. 10/1:58 p.m., No. 1
Right after Westy-X-Hov tee off, World No. 2 JT, Rory off his Wells Fargo win, and a hobbled but seemingly ready to roll Brooks will follow suit. Not sure this one needs much selling. Fire up the coffee maker and strap in until lunchtime.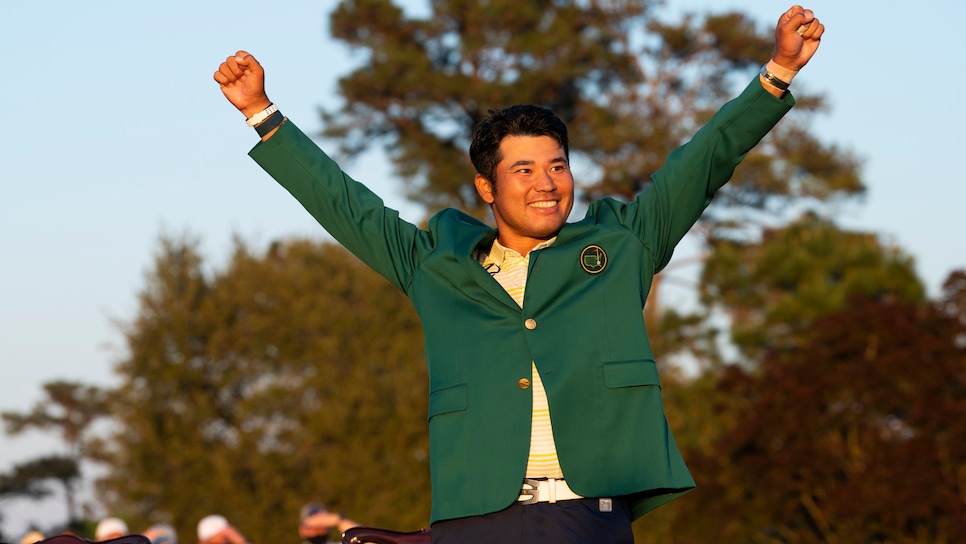 Reigning Masters champ Hideki Matsuyama is in a major winners grouping.
JD Cuban
Hideki Matsuyama, Bryson DeChambeau, Collin Morikawa - 8:44 a.m., No. 10/2:09 p.m., No. 1
As you can see, No. 10 tee on Thursday morning is kinda stacked. Pray for everyone who has a "real job" in an "office" and "can't watch golf all morning." Tough scene.
Tony Finau, Matt Fitzpatrick, Corey Conners - 1:03 p.m., No. 1/7:38 a.m., No. 10
Corey Conners may have thought he made it when we won Valero or made a hole-in-one at Augusta National or posted consecutive top-10s in the Masters, but one does not truly make it until you're in a Golf Digest "favorite pairings" list during a major week. Hey, it's a testament to just how good he's been over the last year-plus, and of course it helps that he's paired up with "Top-10 Tony" and Fitzpatrick, who has been something of a top-10 machine himself in 2020-'21. Can a member of this threesome take a major leap this week? If you're in to betting on such an outcome, you can get all three guys north of 40-1 odds, depending on where you look.
Patrick Reed, Jon Rahm, Tommy Fleetwood - 1:25 p.m., No. 1/8 a.m., No. 10
If short-game wizardry is your thing, then this is your must-see group at Kiawah, a course that will demand plenty of wedge magic. These three can get up and down with the best of them, which will be key in keeping rounds alive on this Pete Dye masterpiece. Very intrigued to see what we get out of Fleetwood, who has become the forgotten Englishman while the likes of Westwood, Hatton, Fitzpatrick and Matt Wallace have become leader board staples. Fleetwood, however, has two more top-5 finishes in majors than those four combined since 2017.
Gary Woodland, Cameron Smith, Justin Rose - 1:36 p.m., No. 1/8:11 a.m., No. 10
Despite lingering injury issues for both, Woodland and Rose have each shown plenty of life the last few times they've teed it up. Hard not to bet on both guys to make a run for career major No. 2, but to win they'll have to go through a guy many folks are high on this week in Smith. The young Aussie has been one of the most consistent players on the planet this season, finishing T-17 or better in six consecutive starts, including his Zurich Classic victory alongside teammate Marc Leishman.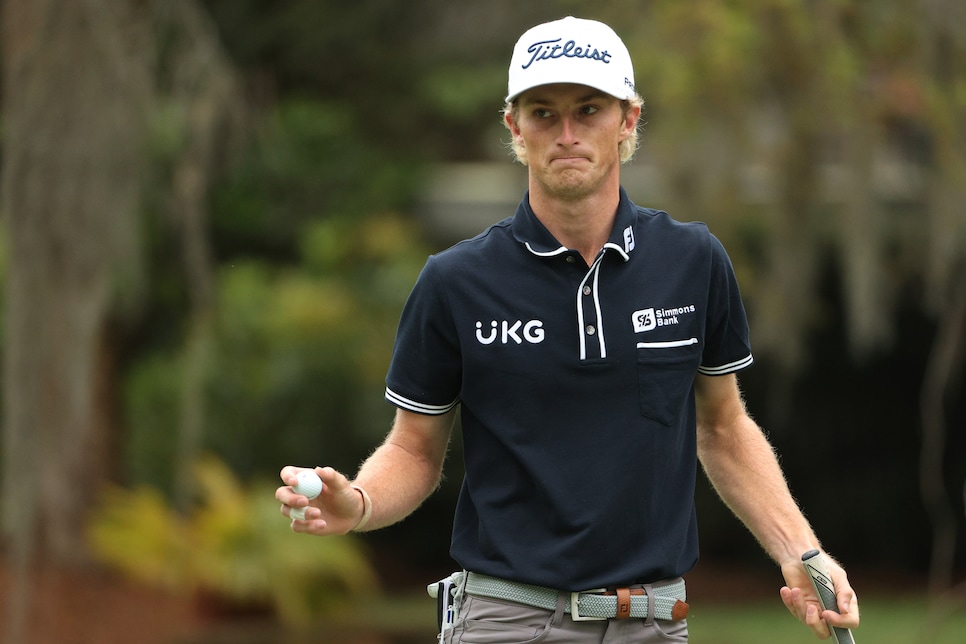 Will Zalatoris gets to start a major with his boyhood buddy Jordan Spieth.
Patrick Smith
Webb Simpson, Jordan Spieth, Will Zalatoris - 1:58 p.m., No. 1/8:33 a.m., No. 10
Without a doubt, the main event of the afternoon wave on Thursday. We've heard so much about the Zalatoris-Spieth dynamic, how they crossed paths growing up in Texas, how Willy Z looked up to Jordy, etc. But we've not yet seen them grouped together on such a massive stage. Will be a fun one to watch. Oh, yeah, that Simpson guy is pretty good, too.
Shane Lowry, Dustin Johnson, Sergio Garcia - 2:09 p.m., No. 1/8:44 a.m., No. 10
No disrespect to Lowry and Garcia, two major winners still playing very good golf, but it feels like Johnson is a bit hidden in this late-afternoon wave. Hobbled Brooks gets paired with Rory and JT, Bryson DeChambeau gets paired with the Masters and PGA champs, and Willy Z and Spieth figure to be the apple of Golf Twitter's eye. DJ must be boiling inside ... NOT. He could care less, which could play right into his hands. Not a single soul will be surprised to see him completely flip the switch this week.