It's a major week, which means DFS players have the possibility of winning $1 million this weekend in the DraftKings Millionaire Maker contests. When competing against 177,000 others, there are a few things you'll need to consider to give yourself an edge.
First off, you want to be the only entry with that lineup—otherwise you'll split the main prize. An easy way to do this is leaving part of your salary unused. The majority of users will spend the full $50,000 and almost all lineups will spend $49,800 or more. Leaving $500 on the table doesn't decrease your chances of making the best lineup but drastically increases your ability to be unique.
It's human nature to spend all the money allotted to your lineup but most optimal lineups come nowhere near spending the $50,000. Look at last week's AT&T Byron Nelson: The best possible lineup on DraftKings last week scored $49,200 and scored 786.50 points. Nobody entered that lineup, and it would have won the biggest DraftKings contest by over 70 points. The previous weeks, the optimal lineups cost $49,400 (Wells Fargo) and $49,100 (Valspar). Even more drastically, the best possible lineup that you could have created for the RBC Heritage cost only $46,100. Golf DFS is weird, embrace it.
The best way to gain an advantage on the field is to know how many of your peers will choose each player. Find a premium website that tracks ownership, such as RickRunGood.com. For someone like Jordan Spieth, he might check in around 25-30 percent ownership this week, and Viktor Hovland will be close to that. You would be best suited to stay away from rostering six very popular players and look to keep your "total ownership" under 80 percent. As you'll read below, I really like Spieth this week—so I'm willing to "eat that chalk." But that means I'll need to make some pivots elsewhere within my player pool to differentiate my lineups.
We're all here to make some money—hopefully utilizing the strategy above will help you cash big this week. Then it comes down to picking your player pool: Here are my favorite plays and strongest fades in each price range for the 2021 PGA Championship.
Price range: $9,000 and above
High Upside: Viktor Hovland ($9,300 DraftKings | $11,000 FanDuel)
Hovland has the raw talent to compete every week, regardless of the field or course. He's one of the few golfers on tour to rank inside the top 25 in strokes gained/off the tee and SG/approach this season. As he gets closer to the green, things worsen but his two wins have come on paspalum greens, which he will see at the Ocean Course this week.
Safest Option: Collin Morikawa ($9,800 DraftKings | $10,900 FanDuel)
The defending champion appears to be rounding into form, notching a T-18 and T-7 in his past two starts. He has made 13 consecutive cuts and has seven top-20s, including a win, in that stretch. His approach play is best on tour, which will be critical at Kiawah.
Most Likely To Disappoint: Brooks Koepka ($9,500 DraftKings | $11,200 FanDuel)
I simply have more questions than answers when it comes to the state of Koepka's game. He returned to action last week for the first time since the Masters, still dealing with a knee injury. Koepka missed the cut and offered little optimism. Per the RickRunGood.com golf database, he lost 2.13 strokes on approach and lost a staggering 4.54 strokes/putting.
Pick To Win: Jordan Spieth ($10,100 DraftKings | $11,400 FanDuel)
Last week was his sixth top-10 of the year. Since the start of 2021, Spieth has been the best player on tour—gaining more than two strokes per round on the field—significantly more than anyone else on tour, per the RickRunGood.com database. Better yet, he's been a huge gainer with his approaches, gaining 1.22 on approach per round. The secret about the Ocean Course is that you will miss greens no matter how great you are hitting it. Spieth's short-game magic will help him complete the Career Grand Slam.
High Upside: Louis Oosthuizen ($8,000 DraftKings | $9,600 FanDuel)
Oosthuizen has played only eight times this year, but he's taken advantage of each start—boasting a T-11 in Scottsdale, a T-7 at the WGC-Workday, a T-8 at the Valspar and a runner-up at the Zurich with his partner Charl Schwartzel. He's a seasoned veteran making his 49th major start this week, and he has finished inside the top 25 in 21 of 48 of those starts.
Safest Option: Cameron Smith ($8,900 DraftKings | $9,900 FanDuel)
The past seven starts for Smith have been sublime. He has six top-20 finishes, including a victory at the Zurich with Marc Leishman. That stretch is highlighted by a T-10 at the Masters and a fourth-place finish at Riviera. He's routinely contending at difficult courses with deep fields, and that's exactly what we'll have this week.
Most Likely To Disappoint: Justin Rose ($8,100 DraftKings |$9,700 FanDuel)
Outside of his scorching opening round at the Masters, Rose has struggled more often than not recently. Since the PGA Championship last year, he has just one top 10 on the PGA Tour, his seventh at the Masters. He ranks outside the top 125 in three of the four major strokes-gained categories, which means everything must go right for him to contend.
Pick To Win: Daniel Berger ($8,700 DraftKings | $10,300 FanDuel)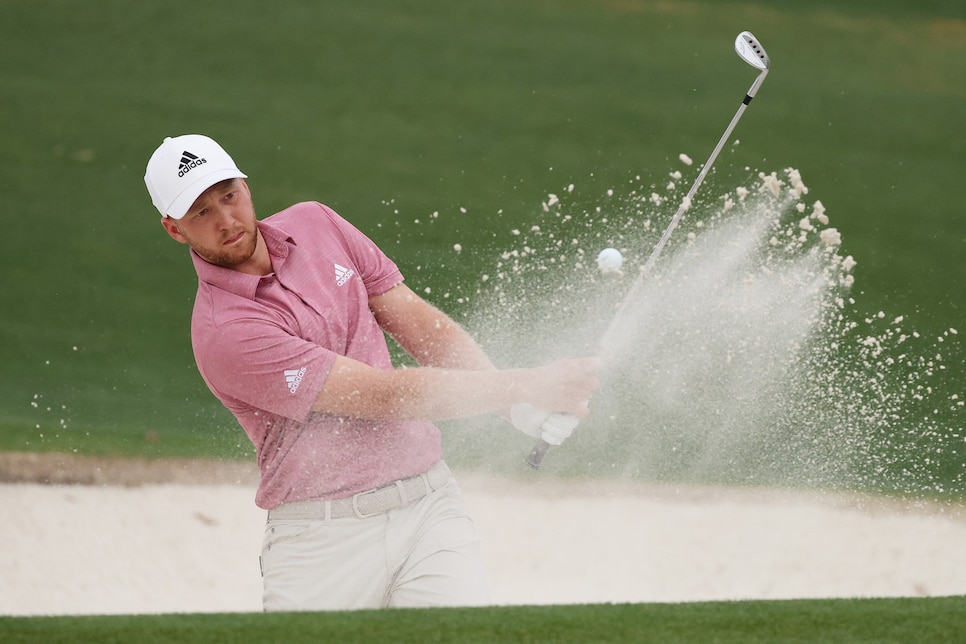 Berger quietly flew up the leader board last week and earned a top-five finish. That's his 19th top-25 finish in his past 25 starts. The Ocean Course will certainly require you to be in complete control of your game, and Berger has few flaws. He's a top-30 golfer in three of the four major strokes-gained categories, which allows him to contend on nearly any course.
High Upside: Sam Burns ($7,500 DraftKings | $9,400 FanDuel)
When DFS salaries come out for majors, it tends to be soft, and since they comes out early, they're susceptible to becoming inefficient. It creates golfers like Sam Burns, who seems to be completely mis-priced. Burns now has a win and a runner-up finish in his last two starts. He's clearly one of the hottest players on tour and he's not being priced accordingly. He will be popular, so differentiate your lineups accordingly.
Safest Option: Charley Hoffman ($7,300 DraftKings | $8,600 FanDuel)
Hoffman is having one of the best years on tour, and there's not much reason to think it'll stop. Over his past eight events, Hoffman has six top-20 finishes including three top 10s. His stat profile is splendid, gaining strokes in all four major categories, including +1.01 per round on approach. Per the RickRunGood.com golf database, only four golfers have been better on approach during that stretch.
Most Likely To Disappoint: Joaquin Niemann ($7,800 DraftKings | $9,600 FanDuel)
I'm very bullish on Niemann in general, but his results have been volatile in his young career. There's also something about majors that he hasn't cracked yet. In his eight major starts, he's missed the cut five times and doesn't have a top 20. I hope he proves me wrong, but I have concerns compared to his peers in the same price range.
Pick To Win: Paul Casey ($7,700 DraftKings | $9,800 FanDuel)
This year has been excellent for Casey, who has notched a win on the European Tour and five other top-15 finishes. He's been one of the better ball-strikers for years, and he's much improved in the short-game categories. Last season he lost a total of 0.75 strokes per round both around and on the greens. This season he is +0.26 in those categories—a full stroke improvement. If he can unlock the short game this week, he can certainly contend.
High Upside: Dean Burmester ($6,300 DraftKings | $7,300 FanDuel)
This is a name you might not be familiar with. The South African has been rolling, winning the Tenerife Open a few weeks ago and following that up with a T-4 and a T-6 in the last two weeks, helping him slip inside the top 100 in the world. This will be his first PGA Tour start since the 2019 U.S. Open, but few golfers in this range can boast a lead-in form quite like Burmester.
Safest Option: Ryan Palmer ($6,900 DraftKings | $8,700 FanDuel)
"Safety" might as well be Palmer's middle name. He's made 15 consecutive cuts and has six top-20s during that stretch. He was popular last week but failed to crack the top 40—now he gets a significant price decrease and will hopefully go overlooked in this range.
Most Likely To Disappoint: Maverick McNealy ($6,500 DraftKings |$7,100 FanDuel)
McNealy can offer an appealing option for his ability to "pop." He has two top-five finishes in his past seven starts, but I'm more focused on his other results—four missed cuts and a T-49 finish in lesser fields. Even more concerning, he's ranked 191st in SG/approach this season, which is a recipe for disaster.
Pick To Win: Alex Noren ($6,600 DraftKings | $7,800 FanDuel)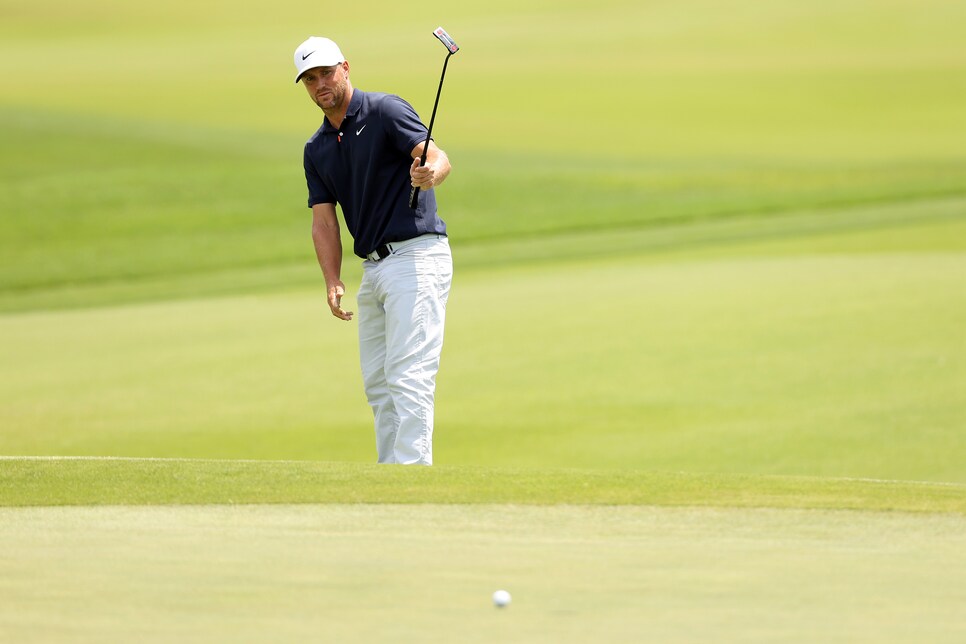 Noren had a disappointing weekend in Dallas last week, but he still played well. His game has been trending in the right direction, and he's earned three consecutive top-25 finishes.