+1 please
PGA Championship 2023: Justin Thomas Champions Dinner to be catered by iconic (and exclusive) 10-table Italian restaurant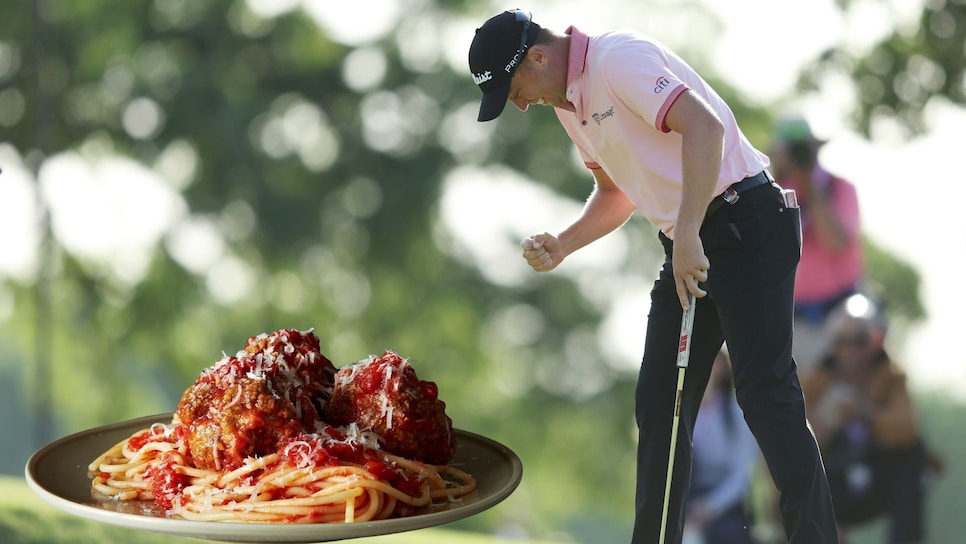 Photo by Richard Heathcote/Getty Images, Edit by Greg Gottfried
The PGA Championship's Champions Dinner may not have the reverence and history that the famed Masters feast does, but does that really matter when some of the most exclusive food in the world is about to be served at Oak Hill?
Beginning in 1965 with a Bobby Nichols-approved spread, the PGA Championship has hosted an upscale dinner of its own every year, hosted by the previous year's champ and chockful of past winners. This year, Justin Thomas asked one of his favorite restaurants to pitch in, and he seems thrilled with what's set to be served.
"I'll get into specifics here," JT said with a grin. "Rao's is doing my Champions Dinner. And I am so pumped. So, this is all stuff straight off their menu so it's gonna be legit.
"We got seafood salad, baked clams and a house salad. For the main course, as a massive chicken parm fan, as you are, I didn't want to have three chicken dishes, so I'm doing a penne vodka, the Rao's meatballs, of course, the pork chop with the hot and sweet cherry peppers. Just incredible. Uncle Vincent's lemon chicken. Just unbelievable. Naturally, some steak, sauteed broccoli. And then for dessert, we have Rao's NY-style cheesecake and some mixed berries."
Last year at Southern Hills, the Associated Press reported that only 11 players attended the annual dinner, with former winners like Tiger Woods, Jason Day, Brooks Koepka and eventual champ Thomas skipping the event, but that certainly won't be the case this year.
JT is doing his best to entice his fellow golfers with a dream meal, and, damn, that's quite the alluring banquet.