'I'll never forget that'
'Just put me in the f'ing fairway': Justin Thomas shares unreal Tiger Woods Presidents Cup story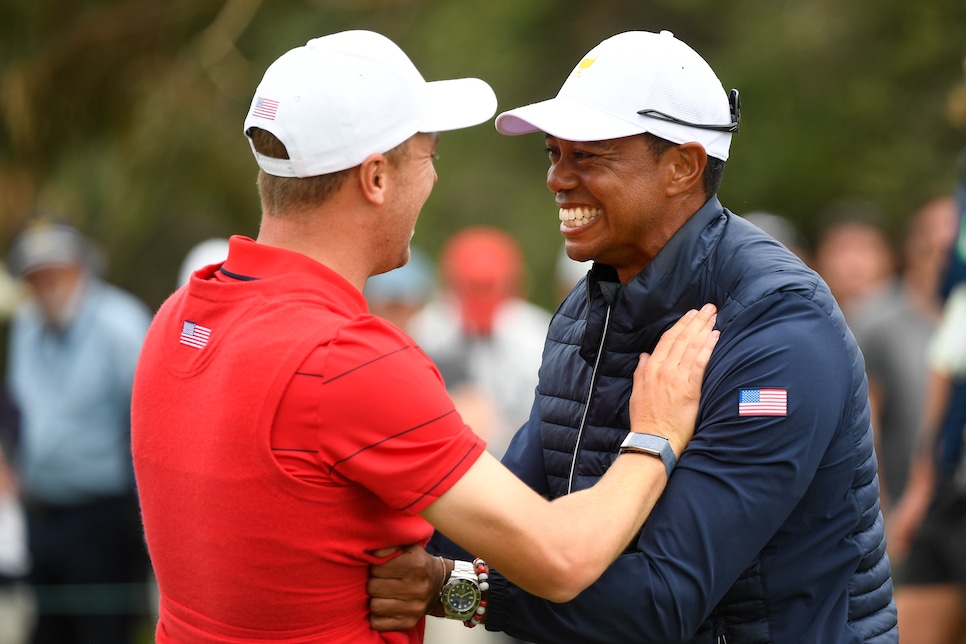 Here's a shocking update for you: Tiger Woods was, is, and will continue to be very good at golf. He's won 15 majors, more events than most of us have even thought about playing, and every anecdote about his talents sounds almost scripted in its absurdity.
Well, here's a new one for you. This one is from Justin Thomas, another guy who's pretty good at golf. With a chance to defend his 2022 PGA Championship on deck, JT joined former PGA Tour pro Smylie Kaufman on the latter's new podcast, appropriately named "The Smylie Show."
Thomas answered questions about this year's champions dinner menu and spring break stories, but most importantly he gave us a new Tiger tale for the ages. Paired together with Woods at the 2019 Presidents Cup, JT found himself with a conundrum. Well … let's just let Thomas tell the story.
"It was in the alternate shot and I just made like an eight-footer for birdie to stay tied in the match. We were in a really good match. … So I had 16 tee shot and it's this brutal hole. It's this very narrow dog leg left, and it just gradually dog legs the whole way. And I like to fade the ball off the tee and there's this damn tree that's like right off of the tee on the left that's just right in my window. … It's a big point in the match. I need to get this ball in play.
"I have the greatest iron player on Planet Earth on my team, but it's such a long hole I can't hit like an iron because it's like a driver-five iron kind of par four. And I never really ask Tiger anything in terms of layups or whatever it is, and that's what makes him such a great partner. He's just like, 'Look, you go play, I'll go play, I'll let you know if I need anything.'
"So I'm up on the tee and I call Tiger over. He's like, 'What?' I'm like, 'I mean, is there anything, like, this tee shot's not very comfortable for me. Like, do you care if you're further back or…"' And he just goes, 'I don't care what I have in, just put me in the f'ing fairway.' (laughs) And I was like, okay, that doesn't make it any easier but I appreciate it, partner. (laughs)
"So I just teed down a low driver and I hit like a little junior draw and somehow hit the fairway ... I'll never forget that."
"Just put me in the f'ing fairway" is a perfect Tiger quote. No need to beat around the bush there. Woods and Thomas have become great friends over the years and such a direct line could only be uttered by real chums.
Oh, and the two went on to win, because of course they did.