PGA Championship
PGA Championship 2023: Jordan Spieth's opening tee shot finds porta potty. Cue the dad jokes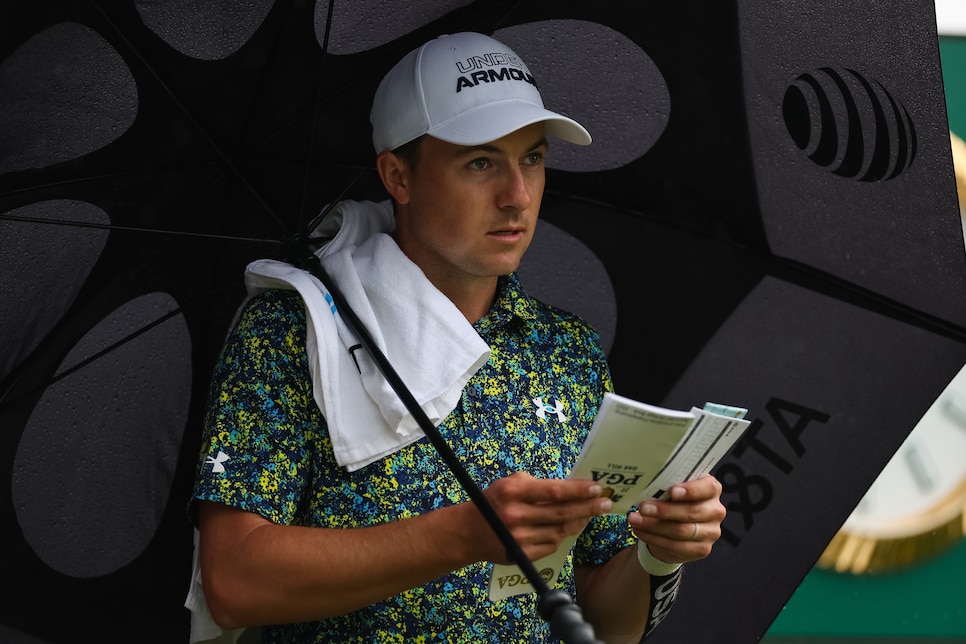 Scott Taetsch/PGA of America
Needing a sand save at the 18th to make the cut on the number late Friday evening, Jordan Spieth came up predictably clutch at Oak Hill. Not long after striking his first tee shot in Saturday's third round, however, he had to wonder if it was even worth it.
It is, of course, always worth it, especially in a major championship. But with rain forecasted throughout the day it certainly won't be a fun third round, and Spieth's opening drive featured a nasty bit of foreshadowing of what's to come the rest of the day.
This picture couldn't sum it up any better:
That's right, folks. Spieth's first stroke of the third round of the 2023 PGA Championship went directly into the fenced-in porta potties. If that ain't a bad sign, we're not sure what is.
Insert your favorite bathroom-related joke here:
Spieth was granted TIO relief from here, though he still 251 yards left to the hole on the monster par 4. His second was headed for even more danger, but it clipped a tree and dropped short of the creek. He was able to salvage bogey from there, then got the shot right back with a birdie at No. 2.
Spieth promptly gave it back at the par-3 third, though, hitting such a poor tee shot that even the golden child himself could not avoid getting caught on a scorching-hot mic. "DAMMIT, hit one good f---ing iron shot," Spieth could be heard saying.
Boy, these mics are working overtime this week. As fans, we love to see it. As for the players ... yeah, not so much.
Spieth has since settled in, making three straight pars after an eventful start that included a trip to the porta potty, a birdie and some NSFW language. We thank the golf gods for allowing him to make the cut and giving us two more days of the Spieth-coaster.