Throwback
PGA Championship 2023: Brooks Koepka and Bryson DeChambeau are finally paired together in a major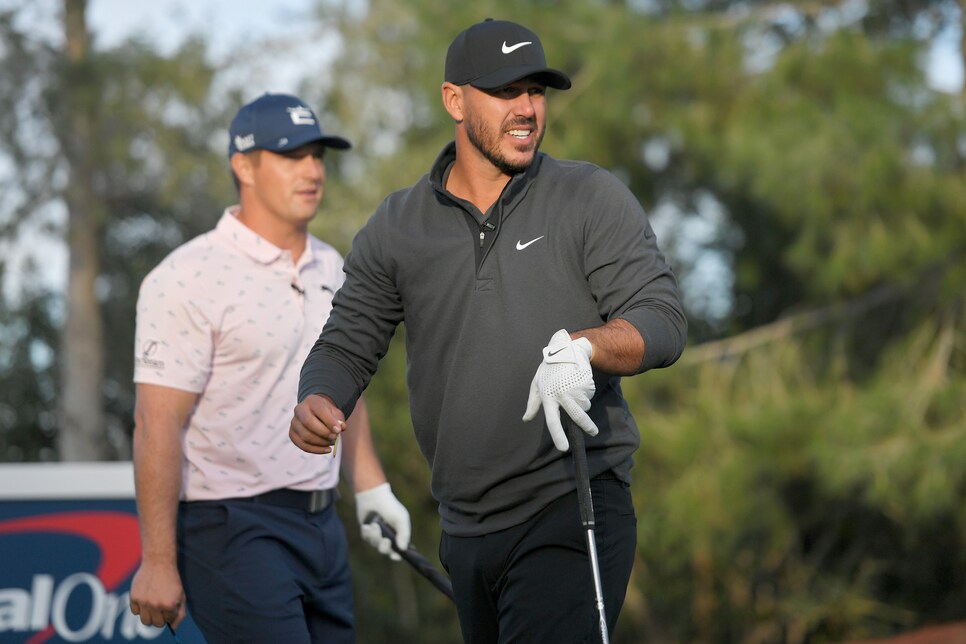 It wasn't too long ago when a Brooks Koepka/Bryson DeChambeau pairing in a major would've fired up the golf world. But it's 2023 and a lot has happened in golf since the peak of their rivalry/feud.
It seems like yesterday when Koepka and DeChambeau were at the height of their games, rattling off majors, and frequently butting heads—sometimes in hilariously petty ways. Some clamored for the two to be paired together in a big-time event. The televised match between the two at Wynn Golf Club didn't really deliver on the promise, coming a year after the height of their tension and right after a Ryder Cup at Whistling Straits where they seemed to get along fine.
We'll finally get a high-profile pairing at Oak Hill … again, a little late.
"Believe it or not we squashed it," Koepka said on Instagram earlier this year, alluding to the beef with Bryson. "We're good. I actually talk to him quite frequently because of what's going on here at LIV. Pretty much on an every other day basis. We've got a good open line of communication, we've figured it all out and we're good."
Koepka and DeChambeau were among some of the high-profile former U.S. Ryder Cuppers to sign on the LIV Golf Tour last year. Injuries have plagued both players over the past few years, but both former major champions have started their 2023 PGA off in stellar fashion.
DeChambeau held the lead after 18 holes after an opening-round 66 that seemed like peak Bryson—bombing drives despite dropping a ton of weight recently and chopping irons and wedges out of Oak Hill's thick rough. He backed up a bit on Friday with a second-round 71.
Koepka, on the other hand, had the round of the day, making five birdies on his final nine holes to shoot a 4-under 66 to vault him up to T-6. The four-time major champion is following up his close call at the Masters with another chance at a major heading into the weekend.
First thing's first: Navigate a jazzed-up arena in Western New York on Saturday to play another solid round—next to a very familiar foe.
MORE FROM GOLF DIGEST @ THE PGA CHAMPIONSHIP