Changing things up
PGA Championship 2023: Cameron Young ditched his beard (for now). Will it put an end to close shaves in majors?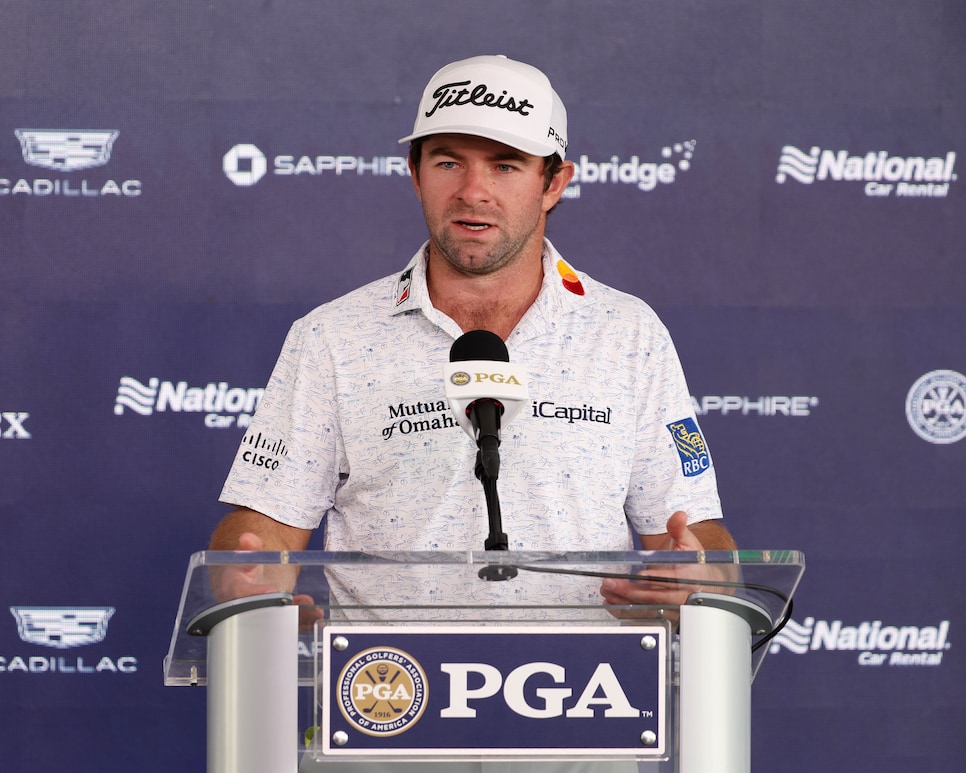 Maddie Meyer/PGA of America
ROCHESTER, N.Y. — Until a few days ago, the thickness of Cameron Young's beard was in a dead heat with the rough at Oak Hill Country Club.
"Pretty close," Young said with a grin.
If it was a contest, then you have to say that the New York native capitulated—but only at the suggestion of his wife Kelsey, taking a mower to his familiar facial cover over the weekend.
"Honestly, my wife just kind of said, why don't you shave. It wasn't like … I don't think I looked terrible. I don't know," Young said Tuesday at Oak Hill, where he is preparing for his second appearance in the PGA Championship. "Yeah, I haven't been clean-shaven probably since our first son was born [last July]."
Young, who turned 26 earlier this month, certainly looks different. And maybe that's the point. This guy knocks on the door more than an Amazon deliveryman, coming close to victory in more than a handful of events but still seeking that first win on the PGA Tour. Changing up the mojo couldn't hurt, though he claims there was no golf-related purpose intended. "No real reason," he said. "Just kind of a random occurrence."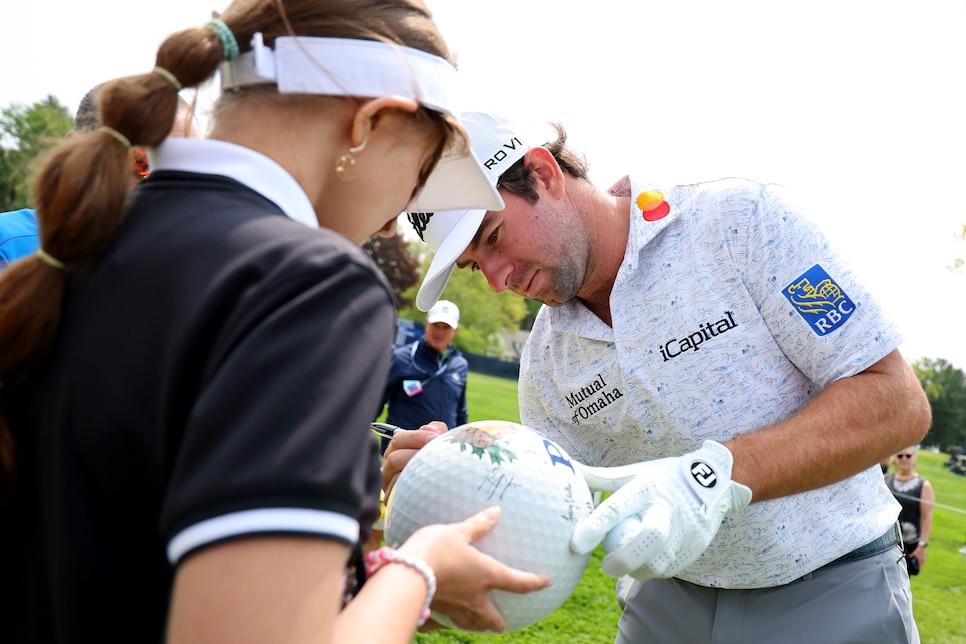 Cameron Young signs autographs during his practice round at Oak Hill on Tuesday.
Michael Reaves
Dating to the start of 2021-22 season, Young has posted six runner-up finishes and a pair of thirds, one of which came in last year's PGA Championship at Southern Hills in Tulsa, when he missed out on a playoff between Will Zalatoris and eventual winner Justin Thomas by one stroke. Disappointed at another near miss, Young left Southern Hills vowing to shoot five under on the back nine at a future event and get over the hump.
Two months later he shot five-under 31 at the Old Course at St. Andrews. He finished runner-up to Cam Smith.
"I'm just trying to keep giving myself those opportunities," Young said. "I've said it a bunch of times; one of these times I'll shoot five under on the back and it'll be good enough, and I did it at the British Open and I still lost. But one of these times it will work out. Obviously, it would be nice for it to be this week … or any week on the PGA Tour is a good one for me."
If Young looks unfamiliar clean-shaven, Oak Hill looks familiar to him, even though he has played the East Course just once, in the New York State Amateur at least a decade ago. He grew up at Sleepy Hollow Country Club in Briarcliff Manor, N.Y., where his father David was the head professional, and there's just something about playing in his home state that has him stoked.
"It feels like home. Obviously, I didn't live that close to here, but it's the same style of golf," he said. "I think even walking down the first hole today, there's something familiar about just the grasses and kind of the weather that I feel like is unique to this part of the country."
Come Sunday, it might not be surprising to see Young in contention yet again. It certainly won't be surprising to see him with increasing amounts of facial hair. It tends to grow fast. And he isn't inclined to break out the razor again.
"It probably won't stay this way," he said. "It's too much work."
Right. He'll be busy enough with Oak Hill. And trying to end his streak of close shaves.