Viral Videos
PGA Championship 2022: Somehow the most-viewed PGA Championship clip on YouTube does NOT involve Tiger Woods (or bunkergate)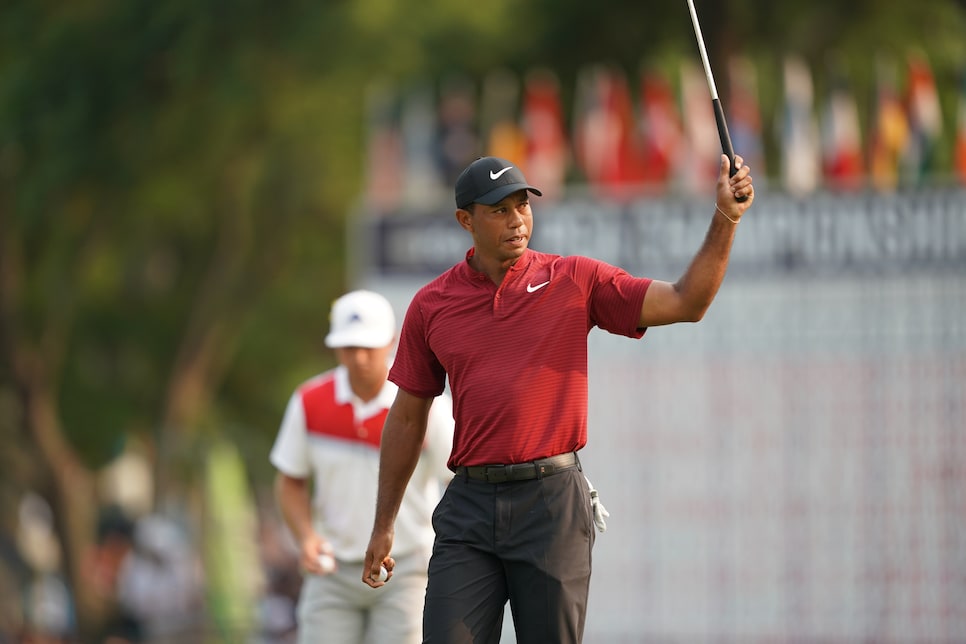 Montana Pritchard/PGA of America
Monday, Tuesday and Wednesday of major championship weeks are all about setting the mood. For our money, there's no better way to do that by going back and watching some of the best moments from PGA Championships past, even if it his the so-called yellow Starburst of major season.
As most avid golf fans would attest, though, the PGA has been anything but the yellow Starburst over the last decade. It's been stacking up memorable moment after memorable moment, seemingly none as memorable as two recent moments involving the game's two biggest stars: Tiger Woods, who made an incredible run that came up just short in 2018 at Bellerive, and Phil Mickelson, who became the oldest major champion a year ago in the 2021 PGA Championship at Kiawah Island.
And yet, at least according to the YouTube numbers, neither Tiger nor Phil's thrilling Sundays at the 2018 and 2021 PGAs ranked No. 1 as the most-viewed PGA Championship moment. That designation, surprisingly, belongs to Rory McIlroy's win in the darkness at Valhalla in 2014, as first pointed out by the Online Betting Guide, a sports betting community website that went back and ranked the most-viewed PGA moments on YouTube.
McIlroy's race to the finish eight years ago has racked up well over five million views, 1.6 million more than the No. 2 most-viewed PGA clip, which also does not involve Tiger or Phil, or Dustin Johnson's "bunkergate" moment at the 2010 PGA Championship at Whistling Straits (more on this in a second):
In addition to the fact that people LOVE any sort of "race-to-beat-the-darkness" content (SEE: Poulter, Ian. Players Championship), the other reason this moment may have exploded on YouTube is because it featured, at the time (and possibly still now), three of the most-recognizable faces in the sport - McIlroy, Mickelson and Rickie Fowler, all of whom had a legitimate shot to win the PGA Championship on the 72nd hole. The fact this was happening in a major was extremely rare, too, as some players might not want to rush through an opportunity to win such a big event. But McIlroy was locked in, and these guys will do anything to not have to come back on a Monday, even if it means possibly hurrying through one of the biggest wins of your life. CBS also did a great job of capturing all the sights and sounds and reactions of everyone involved in this moment (Mickelson was clearly miffed), which added to its magnitude. When you break it all down like that, it starts to make sense as to why this has been viewed over five million times. As one YouTube commenter put it, "I'm not even into golf, I just clicked because the title sounded epic."
The No. 2 most-viewed PGA clip stars ... Jack Nicklaus? That's right. You know the clip because you've likely added 20-to-30 views to the 3.4 million view count yourself, and, technically, it's not actually a PGA Championship moment, which is a bit unfair to the rest of the list. Nicklaus' famous 102-foot putt in Miller's grill came during the opening event at Habor Shores in Michigan, a Nicklaus design that is set to host its fifth Senior PGA Championship at the end of May, hence the PGA tie-in:
Again, hardly a PGA Championship moment, but the rest of the top 10 most-viewed PGA moments are strictly PGA Championship moments. Tiger Woods' final round highlights at Bellerive in 2018 checks in at No. 3 on the list with 3.1 million views, and, somewhat surprisingly, the entire final round of the muddy 2016 PGA Championship at Baltusrol ranks fourth with 2.2 million views. DJ's bunkergate is way down at No. 9 with just 743,000 views, while Mickelson's walk up the 72nd hole at Kiawah Island last year is seventh with just over a million views. God-willing, whatever happens down the stretch on Sunday at Southern Hills this week will rise the ranks of this list soon.