Good fortune
PGA Championship 2022: The sneaky Southern Hills stat Rory McIlroy will want to hear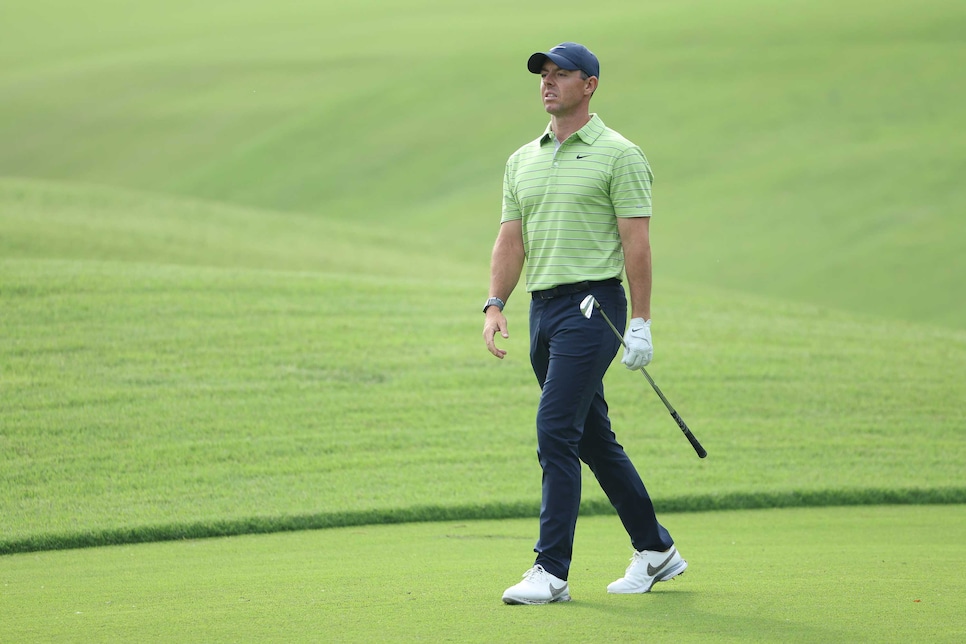 TULSA — Here we are on Thursday afternoon of PGA Championship week, and there's more intrigue than we had any right to expect thanks to Rory McIlroy. He's at the top of the leaderboard, a shot clear of his nearest rivals, and while we're used to seeing his late charges that come up agonizingly short of late at majors—the latest coming a month ago at Augusta National—we're not quite used to seeing him seize the lead this early.
What does it mean, exactly? With 54 holes left to play, it's impossible to say, but we can look at the fates of the last few first-round leaders at the PGA Championship to potential provide an indication of what's still in store. This isn't to throw cold water on our collective Rory Fever, but simply to seek a little context in the madness. Let's go backwards, starting at Kiawah.
First-round leader: Corey Conners (-5)
Eventual finish: T-17
Conners led the field by two shots a year ago at Kiawah Island, and all of Canada rejoiced. The joy was short-lived, however, when he shot 75 on Friday. His fade continued, and it was Phil Mickelson, who was two under after the opening round, who captured the famous win.
First-round leader: Jason Day (-5), Brendon Todd (-5)
Eventual finish: Day, T-4; Todd, T-17
Collin Morikawa started relatively slow at TPC Harding Park, with a 69-69 to make the weekend, then turned things up with a 65-64 finish, pulling away from Day, Todd and everyone else.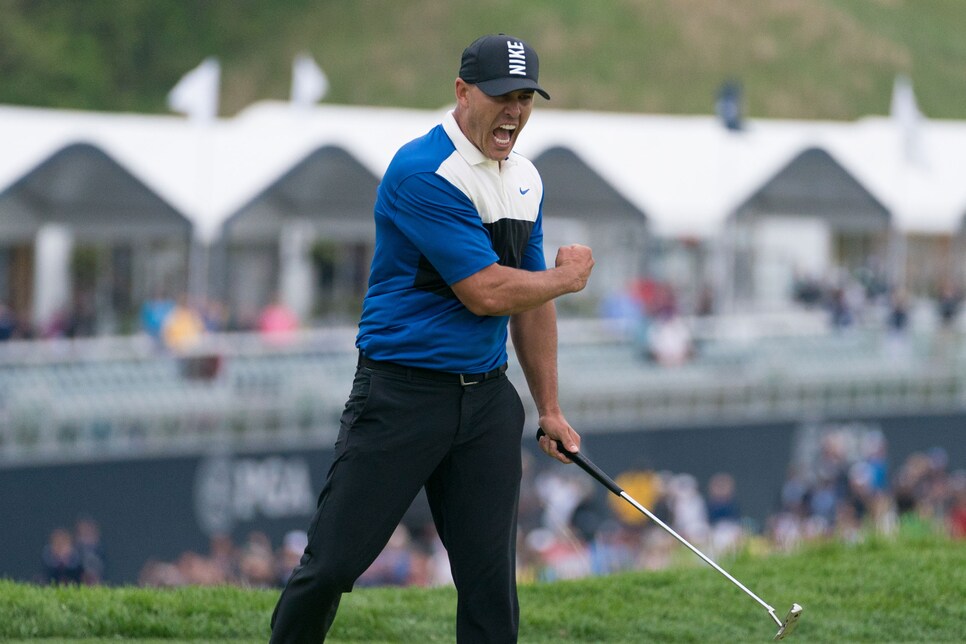 Hailey Garrett/PGA of America
First-round leader: Brooks Koepka (-7)
Eventual finish: Winner
What began as a one-shot lead over Danny Lee on Thursday turned into an apparent rout, until a disastrous back nine on Sunday nearly cost Koepka the championship. In the end, despite going as low as 13 under, he only improved his Thursday score by a single shot. That eight-under total was just enough to nip Dustin Johnson, who bogeyed two of the last three holes.
First-round leader: Gary Woodland (-6)
Eventual finish: T-3
Woodland held onto his lead for three days and had wire-to-wire potential heading into Sunday, but a 71 wasn't enough to hold off a hard-charging Tiger Woods or the winner, Brooks Koepka, at the Bellerive. A year later, Woodland atoned for his major failure with a U.S. Open win.
First-round leader: Kevin Kisner and Thorbjorn Olesen (-4)
Eventual finish: Kisner, T-7; Olesen, T-44
Olesen's fall at Quail Hollow was swift and sudden, with a Friday 78 permanently ending his chances, but Kisner held his lead almost until the back nine on Sunday until the wheels came off. He finished with a double bogey, and Justin Thomas raced to the win.
First-round leader: Jimmy Walker (-6)
Eventual finish: Winner
Walker never held a lead of more than a single shot at the completion of any day at Baltusrol, and was tied with Robert Streb for much of the event, but his final round 67 was just enough to stave off the late charge of Jason Day and net him his only major title.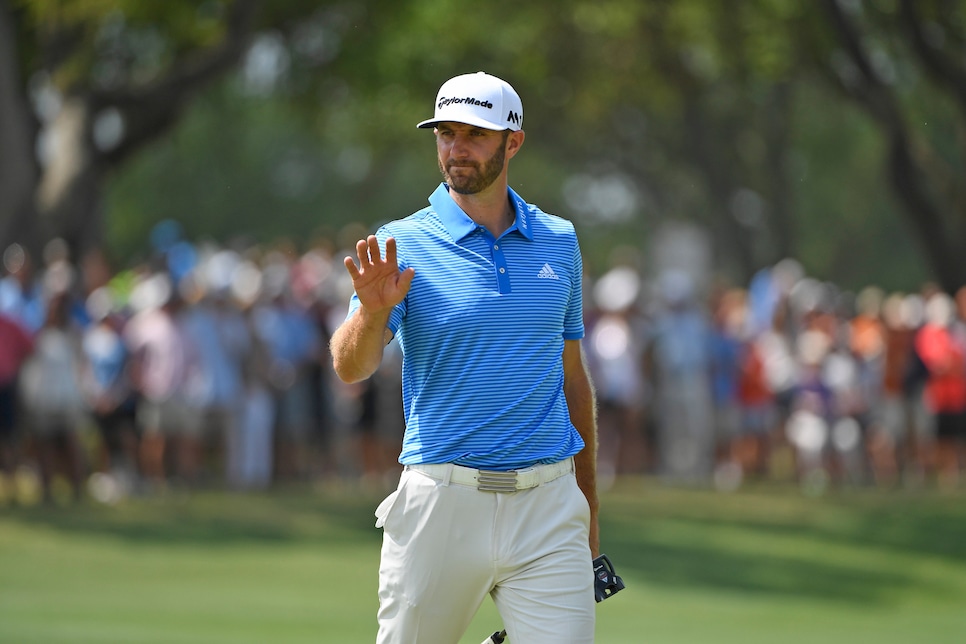 First-round leader: Dustin Johnson (-7)
Eventual finish: T-7
It's hard to hold this one against DJ, since Whistling Straits was so gettable that year and the tournament played out like one of the PGA Tour's easiest events. You needed four days of firepower to emerge with the Wanamaker here, and Jason Day was the best man for the job, winning with the first ever -20 at a major.
First-round leader: Kevin Chappell, Ryan Palmer, Lee Westwood (-6)
Eventual finish: Chappell, T-13; Palmer, T-5: Westwood, T-15
After Thursday at Valhalla, Rory McIlroy was only a shot back, and by Friday he had seized the lead for good, culminating in the wild finish in near-darkness on Sunday.
First-round leader: Jim Furyk, Adam Scott (-5)
Eventual finish: Furyk, second; Scott, T-5
Scott faded over the weekend, but Furyk had a shot until the very end, when Jason Dufner closed him out with a nerve wracking but ultimately effective display of putting at Oak Hill.
First-round leader: Carl Pettersson (-6),
Eventual finish: T-3
In one of the tougher PGA Championships in recent memory, the relatively low scores on Thursday at Kiawah Island bore no resemblance to what happened from Friday through Sunday. Case in point is Pettersson himself, who lost two strokes over the next three days but still finished in a tie for third. It was Rory McIlroy, though, who blew everyone away, finishing at 12 under when the next best score was five under.
So, what conclusions can we draw? In the simplest terms, two out of 10 first-round leaders went on to win in the past decade. The average finishing position for the first-round leader was 9.67, which is … underwhelming. At the same time, that's skewed by some very low finishes, and who wouldn't take a 20 percent chance of winning a major championship? Especially considering the fact that in the last decade on the PGA Tour, only 10.8 percent of first-round leaders have gone on to win the tournament.
Then there's this: in seven men's majors played at Southern Hills, the 36-hole leader has won all seven, and five of those seven winners also led after 18 holes (only Dave Stockton at the 1970 PGA and Tiger Woods at the 2007 PGA weren't ahead after the opening round). Which essentially means that for McIlroy or whoever else holds the lead at the conclusion of today's play, there's really just 18 holes to play until we crown a champion. Hold the lead heading into Saturday, and history says that you simply can't lose.
Or, at least, that's a nice thing to tell yourself when the real pressure hits on the weekend.