TULSA — In the fall of 2021, when Ted Scott told Bubba Watson that he'd like a guarantee of 10 more years as his caddie, it was a promise Bubba couldn't make … not because of Scott, but because of himself.
"I said, look, man, I'm 43 years old," Bubba recalled earlier this year. "I don't know what I'm going to do. My wrist is killing me. He's like, he needs 10 more years. ... I can't tell him what I'm going to do in 10 years. I can't tell you what I'm going to do in six months."
So they split, and Ted Scott had the world's softest landing when he became Scottie Scheffler's caddie. As for Bubba, he's still 43, it's been four years since his last victory at the 2018 Travelers Championship, and though he remains a dangerous weapon, he's also in a place in his career where the next time he contends at a major might be the last.
Which is relevant this week at Southern Hills, because Bubba Watson is officially contending at the PGA Championship. (Or was. Or is. To be determined.)
He came out of nowhere with a Friday 63 that could have been lower, and on Saturday, in fourth place and chasing down two leaders who have never won on the PGA Tour, much less at a major, opportunity seemed ripe for the plucking. On a gray, windy and, most of all, cold day, Watson showed up on the first tee in a gray sweater, khaki pants (no pleat) and white Ping visor atop the quasi-page boy haircut, greeted by the usual array of rogue "Bubba!" shouts from the gallery. He's always more angular in person than you expect, thinner and taller, and he holds himself ramrod straight. With a quick wave to the crowd, he pulled out the trademark pink driver, raised both hands in a quick touchdown motion to shake loose his sleeves and blasted his first shot 285 yards into the left side of the fairway, finishing with the open helicopter pose—Ichiro Suzuki lacing one to the opposite field gap.
It all started promisingly enough. Ahead of him, Will Zalatoris was clearly feeling the pressure of leading a major, and Watson's playing partner Justin Thomas was massively out of sorts from the start on his way to a disappointing 74. Nobody was making a massive charge from below, and only Mito Pereira, with birdies on Nos. 2 and 5, was holding up his end of the bargain at the top. A bogey at the third momentarily set Bubba back, but on the short par-4 fourth, he unleashed a 318-yard bomb, pitched 60 yards onto the green and buried the five-footer for birdie. Things went a bit calm on the course at that point as the wind picked up, but when things seemed to have settled into the same low key that predominated on Thursday and Friday, Watson sparked a massive roar on the seventh with a 21-foot birdie to take solo second, six under for the tournament. For a very brief moment, if you blurred your eyes just a little and forgot the vast expanse of time and fate between now and Sunday night, you could see your way into believing the 2022 PGA Championship had become a two-horse race.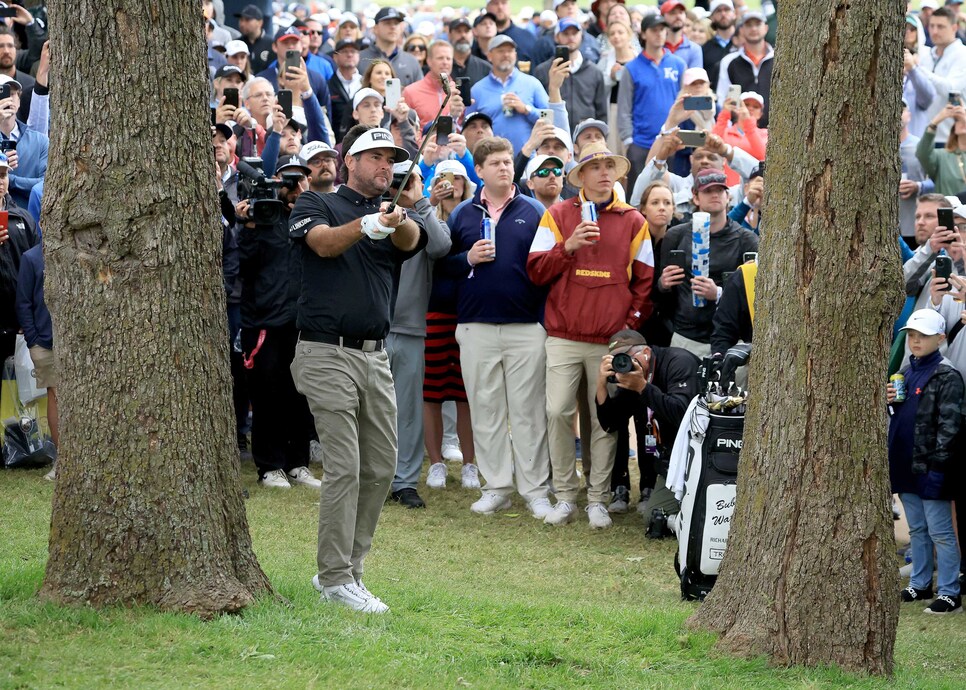 Bubba Watson plays his second shot on the 13th hole during Saturday's third round at Southern Hills.
David Cannon
Then the back nine came for Bubba. It came for Pereira, too, but while the Chilean recovered with a bout of almost shocking resilience on the tail of a four-bogeys-in-five-holes stretch, eventually rebounding to hold a three-shot lead, there was no such mercy for Watson. He suddenly looked his age on the 10th, with an errant drive leading to a bogey, and though he held off Mother Nature for the next four holes, his only realistic birdie chance came on 13, when he missed a nine-footer. Meanwhile, the back nine played easier for most of the contenders, and while Watson stagnated, Cameron Young, Matt Fitzpatrick, Seamus Power, Webb Simpson and even Stewart Cink came rushing from the bottom.
At the moment when he most needed a recovery, the wheels fell off for Watson. The 15th hole was the dismal lowlight, with a second shot out of the rough that traveled just 54 yards. And with a missed four-footer on 16, a costly birdie miss from six feet on 17, and a blown four-footer on 18, he faded from five under to two under in a span of four holes, posting a three-over 73 to settle seven shots back of Pereira and likely costing himself a realistic shot at winning.
Following his round, Bubba seemed to be more or less Bubba standing on stage at the Contestant Interview Area. He was full of his usual folks colloquialisms—"Yesterday I made them all, and today I missed 'em"—but was in no mood to answer questions about his age. When asked whether fatigue had played a part in his late stumble, he spoke as though an entirely different question had been asked.
"Yeah, they decided not to go in," he said. "Wish they would have went in. Maybe that's the problem, maybe I was wishing them instead of stroking them."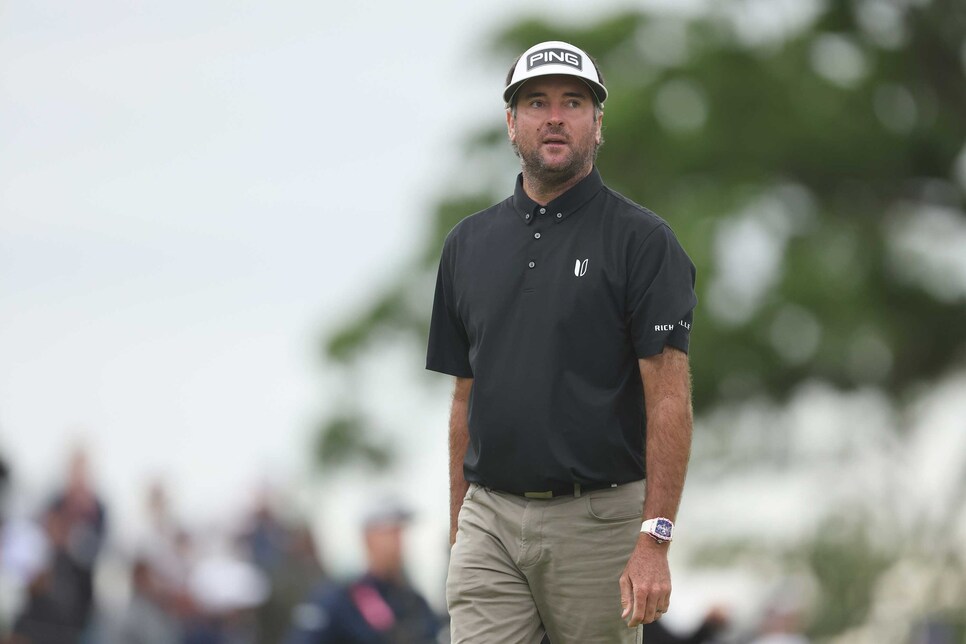 Watson's finish on Saturday wasn't what he'd hoped for, and his three-over 73 dropped him seven off the lead heading into the final round on Sunday.
Ezra Shaw
And as to whether he ever pondered that he might be getting his last licks at a major championship, the two-time Masters winner again responded to a second, imaginary interlocutor.
"All my victories and the two majors that I did win," he said, "I hit a shot out of the trees, you know what I'm saying? It was luck, let's be honest. I had a little skill in there, but the ball bounced my way those weeks. So I don't take any of them for granted."
One thing that's clear is that he still believes he has a chance to win. He put the desired number at 63—his Friday total—but admitted that even if he managed to attain those heights again, he'd need some help from the leaders. It's not likely, but he may get it.
For all his peculiarities, there's magic in Bubba still, and though it has faded with time like anything else and may not emerge with the same regularity, it can strike at any moment: a flash of vicious pink on the tee box, a roar when you least expect it echoing around a packed green.