KIAWAH ISLAND, S.C. — There was Rory and Brooks, Collin and Hideki, Viktor and Xander. It's Thursday morning of the PGA Championship, and these are the characters you pay to see in the flesh. But the eyes of three young spectators were transfixed on a less familiar, more wrinkled face.
A fair question, albeit a bit blunt. There is nothing unprecedented about a retirement-age men playing in a major. It happens every year at the Masters, where past champions are given the courtesy of planning their last trip 'round Amen Corner. But those guys are famous—legends of bygone eras, or one-hit wonders well-known for their one hit.
It's far rarer to see a journeyman like 60-year-old Sonny Skinner—that old guy was him, by the way—nipping sand wedges between the biggest starts in the sport.
The oldest man in the field shot 85 on Thursday at the Ocean Course. Thirteen over. Highest score of the morning wave. He hit a bunch of fairway woods into par 4s and one into a par 5. He took hyper-conservative lines off tees because, well, that's the only place he could carry the junk. He hit some good shots and missed some short putts. He was not angry or annoyed after the round, for Sonny Skinner is not a delusional man. This was, in his own admission, the hardest golf course he's played in his 39 years as a professional golfer. And he took it on in his seventh decade.
"What I experienced out there today, it's a big boys' golf course," Skinner said. "It's a big boys' situation with the wind and the climate and everything. I gave every shot my best; 85 was the best I could do. I tried on every one of them."
Skinner is one of 20 club professionals in the field this week, although he's not exactly what you think of when you hear "club pro." He's not quite Omar Uresti, who's played nearly 400 PGA Tour events and made nearly $4 million and still plays (and wins) the PGA Professional Championship. But he's also not the guy who started off in the bag room and worked his way up to member-guest duty. Skinner's bucket hat and leathered skin are remnants of a life lived in the sun, chasing the dream.
Skinner grew up in Tifton, Ga., an hour north of the Florida border. After graduating from noted golf powerhouse Abraham Baldwin Agricultural College, he turned professional. This was way back in 1982, 15 years before Collin Morikawa, the reigning PGA champion, was born. The next eight years were spent toiling on the Florida mini-tours until a big-time breakthrough in 1990, when he survived Q-School to get his PGA Tour card. He'd get through Q-school three more times over the next decade, win a couple times on the Web.com Tour, but could never quite stick around on the PGA Tour, so he gravitated toward the steadier paycheck of teaching golf—first at River Pointe Golf Club in Albany, Ga., then back home in Tifton at Spring Hill Country Club.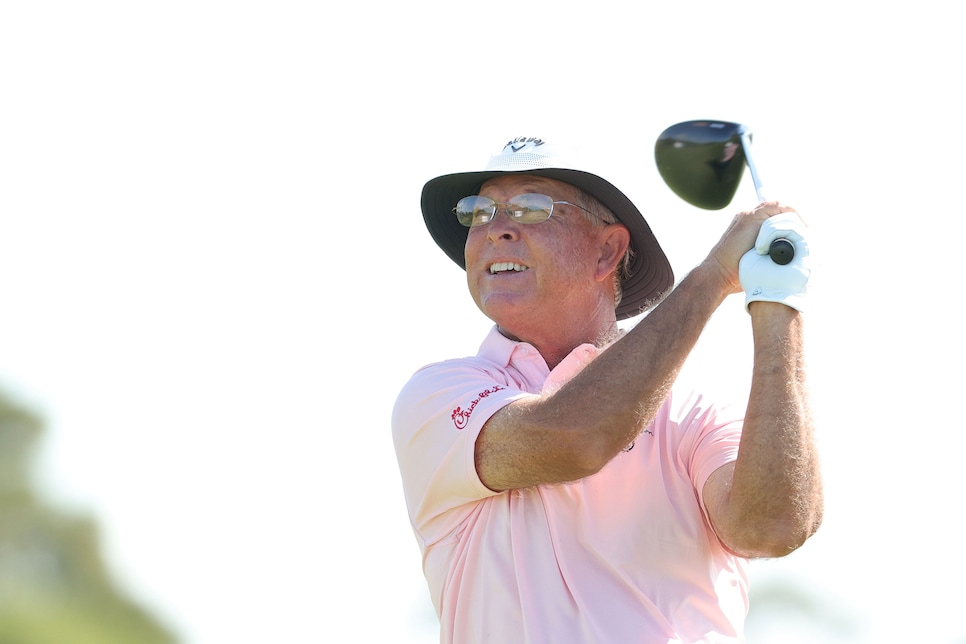 Sonny Skinner was playing in his fourth career PGA Championship, but his first since 2013.
Stacy Revere
Skinner first qualified for the PGA Championship way back in 2008, then again in 2010, missing the weekend both times. He played his way into some PGA Tour Champions status, making 23 starts on the senior circuit between 2012-15. It was also during this period that he qualified for his third PGA Championship, at Oak Hill in 2013. He was 53 at the time, a remarkable achievement, but surely his last start in a major championship.
But the game began to come around this summer, and he found himself in position to qualify for the PGA one more time in April. If he played the last two holes of the PGA Professional Championship in even par, he'd be in. One over, playoff. Two over, goodnight.
He bogeyed the 17th to make things dicey, then he made things super-dicey by pulling his approach dead left onto a hillside. He was short sided, the pin tucked back left, with a mound between he and the hole.
"I stood there, took a few deep breaths, and said it's not the most important thing in the world—but I can hit this shot," Skinner said in the PGA of America's Team of 20 video series. "It might not come off right now, but I can hit this shot.
"And I hit it. And it came off."
It trickled out to tap-in range, his 60-year-old nerves held up in the playoff, and all the sudden he'd booked a ticket to play a tournament on the longest golf course in major-championship history.
Skinner played in the PGA Tour Champions event last weekend and arrived to Kiawah on Tuesday night—so much for taking it all in—because, in true golf lifer form, he was busy playing another event. No, not the Champions Tour one, but the Orchard Senior Classic in Clarkesville, Ga. He finished seventh in a 38-man field.
"I knew what I was up against before I came," Skinner said of the decision for minimal prep. "I didn't feel the need to overwork and over-push, just show up and hope lightning might strike, but it did not."
His first time seeing the Ocean Course was on Wednesday. As he rolled a few putts on the practice green, he began talking with a fellow Callaway staffer he did not recognize.
"Hey, I saw you on TV!," the bearded man said in a British accent. "That was a hell of an up-and-down!" It was Danny Willett, the Masters champion.
Skinner played the first nine holes of his lone practice round all by his lonesome, then stopped for lunch and went back to the tee.
"There was a logjam. I just stood in line, it came my turn. I stood up, as I was about to walk to the tee, Dustin and Kuchar came strolling up, and I invited them to play, and they said, sure. After watching him hit his first tee shot, and Kuchar really smacked it out there, too, I was like, 'Wow, so this is the way the game is really played these days.' What are the chances somebody of my age is going to be able to play at this time in my career with a player of that caliber, and it was an eye-opening experience."
On the 17th tee on Wednesday, playing 240 yards into a stiff breeze, Skinner swung all-out with a driver, barely carried the drink and plopped one onto the front edge—drawing a toothy smile from Kuchar, which isn't so hard to do, and an equally big one from Johnson, which deserves a Nobel.
Skinner said Johnson would continuously outdrive him by roughly 100 yards—Skinner carries his driver around 250 yards and his 6-iron around 170. The man knows his physical limitations, and told his sister and brother-in law staying with him this week that he had absolutely no expectations. He is, after all, a 60-year-old man competing on the longest golf course in major-championship history.