The Good, The Very Good and The Ugly
PGA Championship 2021: The most surprising rounds of Day 1 at Kiawah
It's only natural, logical even, to think of Brooks Koepka's three-under 69 Thursday in the 103rd PGA Championship being among the most surprising rounds of the opening day at the Ocean Course at Kiawah Island. Bum knee. Limited reps. We get it.
But, come on. It's Brooks Koepka in a major. And "Major Brooks" is different from "Run-of-the-mill-tournament Brooks." The guy has eight PGA Tour titles and four of them are history book material, including PGA Championship wins in 2018 and '19. He's been in the top-four on the leader board after eight of the last nine rounds in the championship including Thursday's effort.
So, if you're surprised, you haven't been paying attention.
There were plenty of other candidates, however, for most surprising opening round on the sand-strewn Pete Dye pressure cooker. And, by the way, John Daly, who Wild-Thinged his way to an 85, wasn't one of them. Neither was Rory McIlroy, who shot 75 and once again proved incapable of breaking fast from the starting gate in a major.
Plenty of other qualifiers out there, though. Our list, in sort of a particular order:
Good surprise: Corey Conners, 67.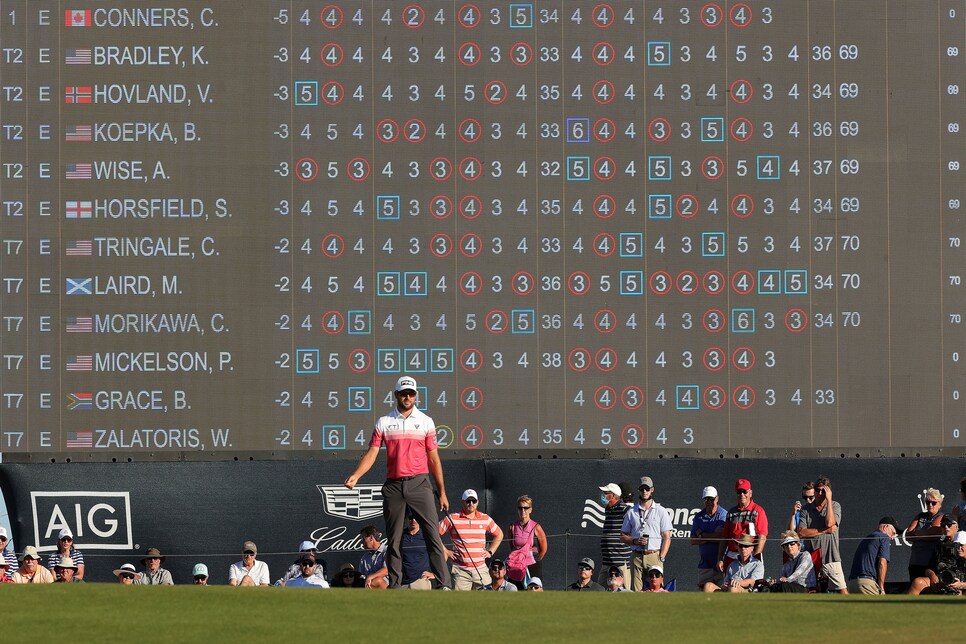 Given how he has performed this season, including consecutive top-10 finishes in the Masters, Conners has shown a propensity for posting some nice rounds. The surprise here is that a 67 didn't seem plausible in that wind, where the scoring average hovered around 73-74 all day. And the 29-year-old Canadian, ranked 39th in the world, made it look kind of easy. One bogey marred an otherwise impeccable day. No pictures on the scorecard, but this one actually deserved a few.
Bad surprise: Justin Thomas, 75.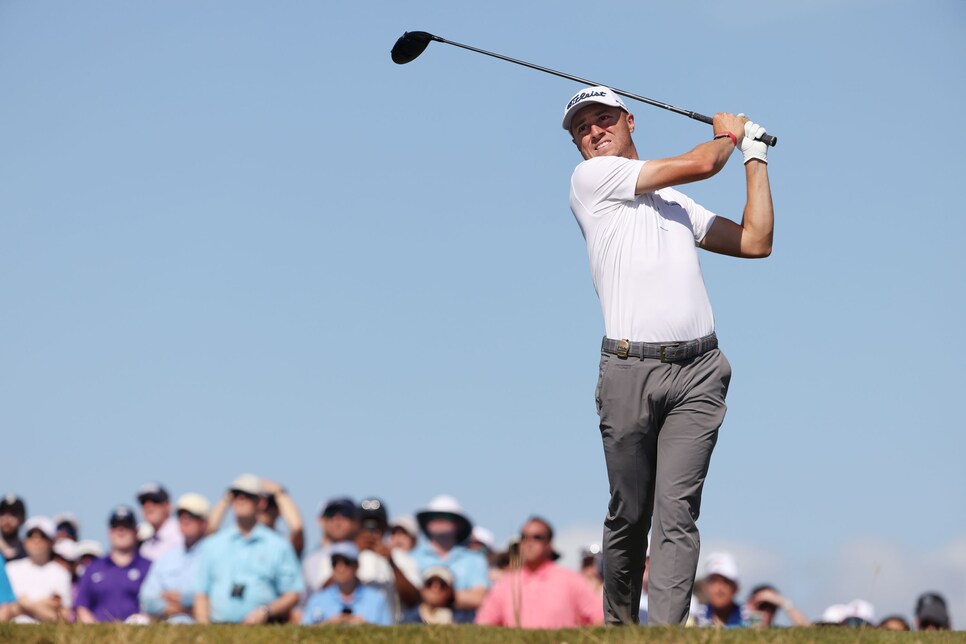 Thomas surpassed his worst PGA opening round by two strokes—though maybe that isn't a bad thing; his previous high first-round score came in 2017, the year he won his only major. Clearly one of the pre-championship favorites, especially after winning the Players in March on another Dye design, Thomas had one of those "couldn't-throw it in the ocean" rounds. And that's with the Atlantic Ocean right there. If it wasn't for his work around the greens, at which he is among the tour leaders, and classic grinding, he might still be out there.
Good surprise: Keegan Bradley, 69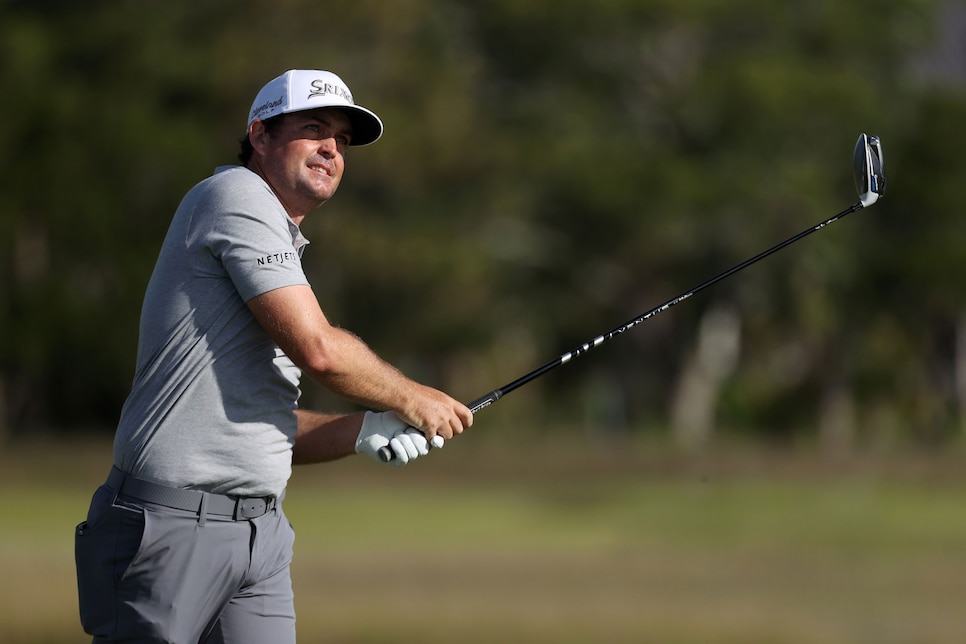 Ten years removed from his surprise win at Atlanta Athletic Club, Bradley posted his second-best first-round score in the PGA. You could make the Koepka-style argument that this isn't much of a surprise since the run of good play that Bradley has been on this season. He hasn't missed a cut since February and posted opening rounds of 64 and 66 in his last two PGA Tour starts. Plus, Bradley was T-3 at the 2012 PGA at Kiawah. Still, hasn't had a top-10 in a major since the 2014 U.S. Open and has made the cut in only four of his last nine major starts since 2017.
Good surprise: Rickie Fowler, 71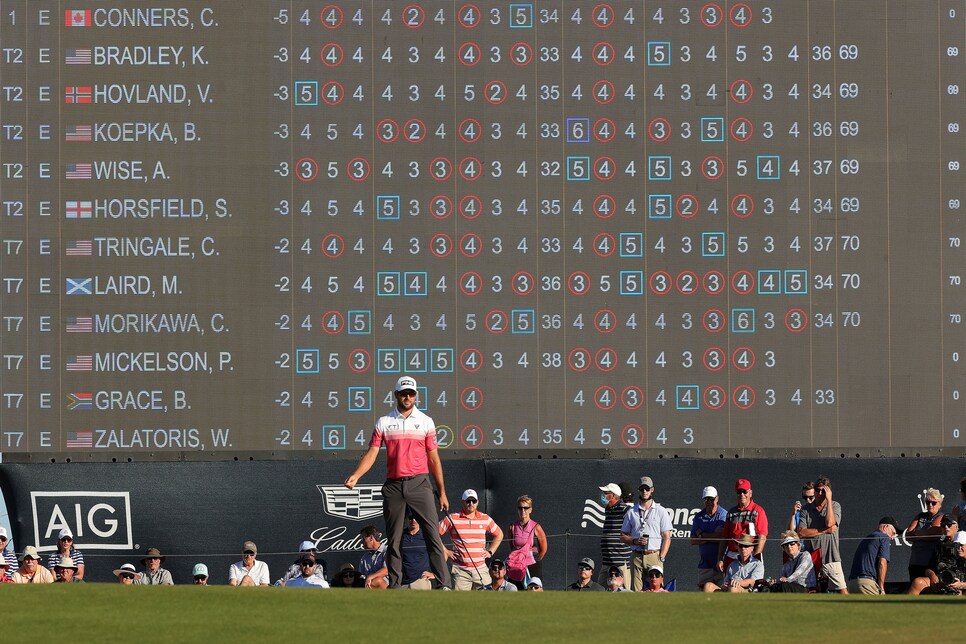 This was so good, and so unexpected, we wrote an entire story on the game's best ad pitchman. That's not meant as a dagger. He's popular. And he's wise to cash in on his celebrity. He just needs to augment his resume. Good place to start. With a finish no better than 17th this season, and now 128th in the world, Fowler didn't have eye-popping stats Thursday, but he avoided the big number in a round of three birdies and two bogeys. He ranked 10th in the field in strokes gained/approach. Contrast that to his season rank of 184th in approach. So maybe he's approaching some form.
Bad surprise: Sam Burns, WD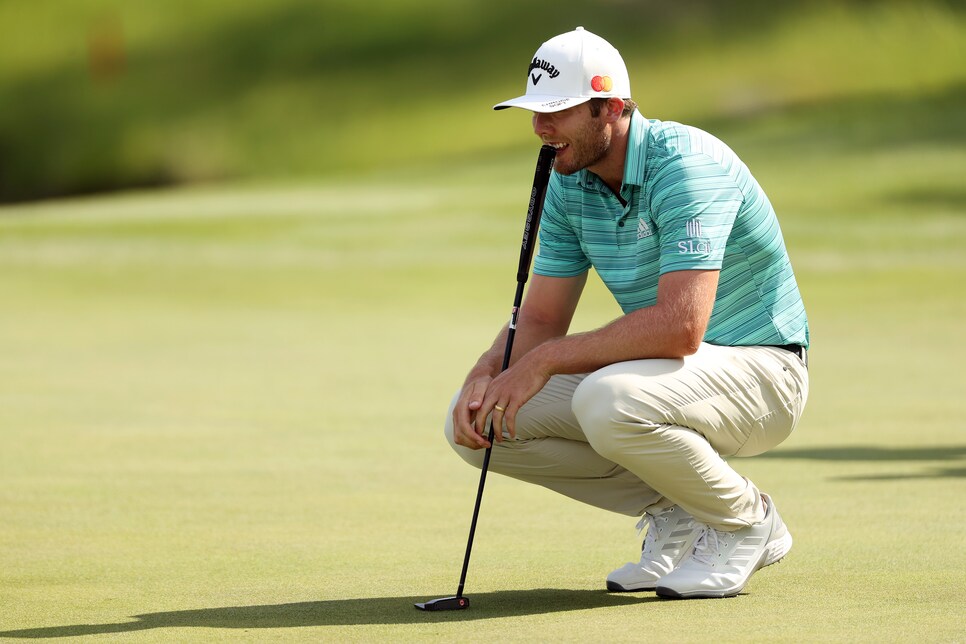 The Louisiana native reportedly slipped on the fifth hole and aggravated an old back injury en route to a front-nine five-over 41. Frustrating for sure given he finished 1-2 in his last two starts. (Fatter wallet must have thrown off his equilibrium?)
Good surprise: Jimmy Walker, 73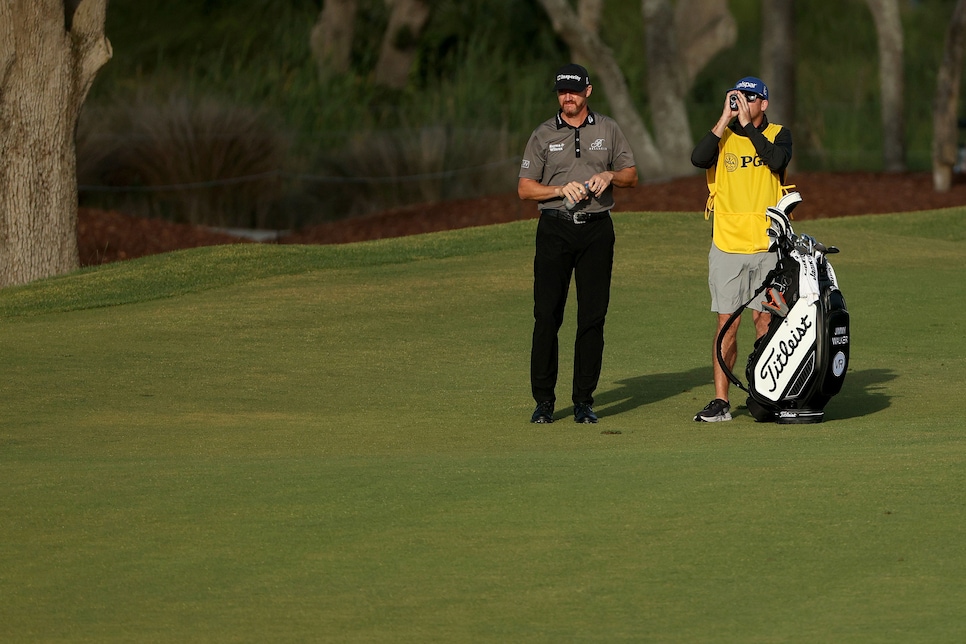 The 2016 PGA champion has fallen to 528th in the world, which might have led to the privilege of playing in the same group with Daly. Watching Big John bang it around in 85 whacks couldn't have been helpful, and yet Walker, who has soldiered on despite complications from Lyme Disease he contracted in '17, managed a highly respectable score. A confidence-boosting birdie-birdie start undoubtedly was the key for the 42-year-old Texan, who entering the week had played just 50 rounds in 18 starts this season. Not a good average.
Remarkable surprise: Phil Mickelson, 70.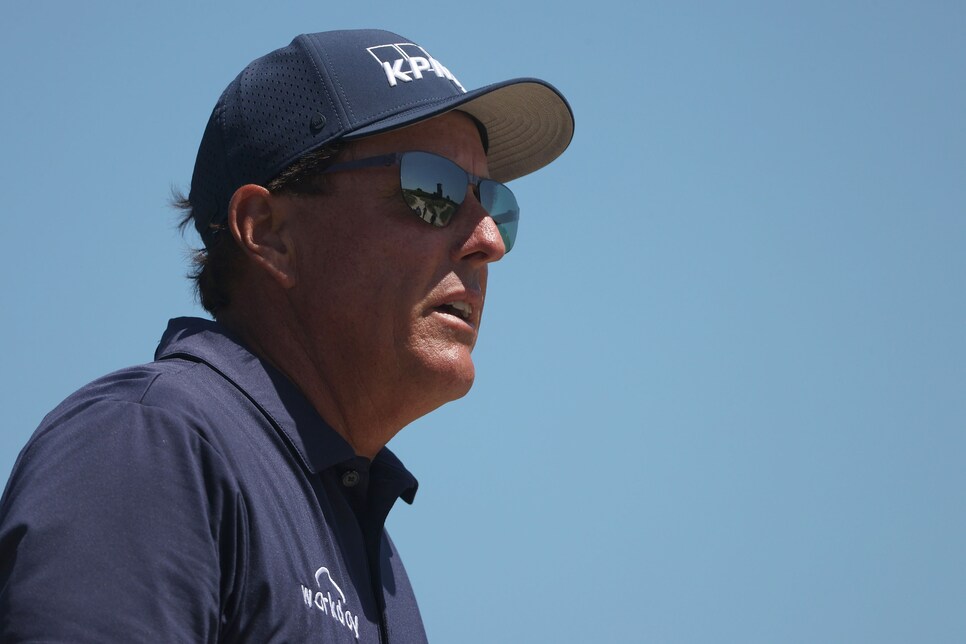 In his 29th PGA Championship, the left-hander found himself three over after six holes following three straight bogeys, and he was looking like the guy who finished off the Wells Fargo Championship 76-76 on the weekend. Then he registered five birdies and didn't put another square on the scorecard. He obviously thinks he's still Phil Mickelson. For one day, he was, but again, go back to Wells Fargo, where he opened with a 64. Maybe this week will be different?
Incredibly bad surprise: Adam Scott, 78.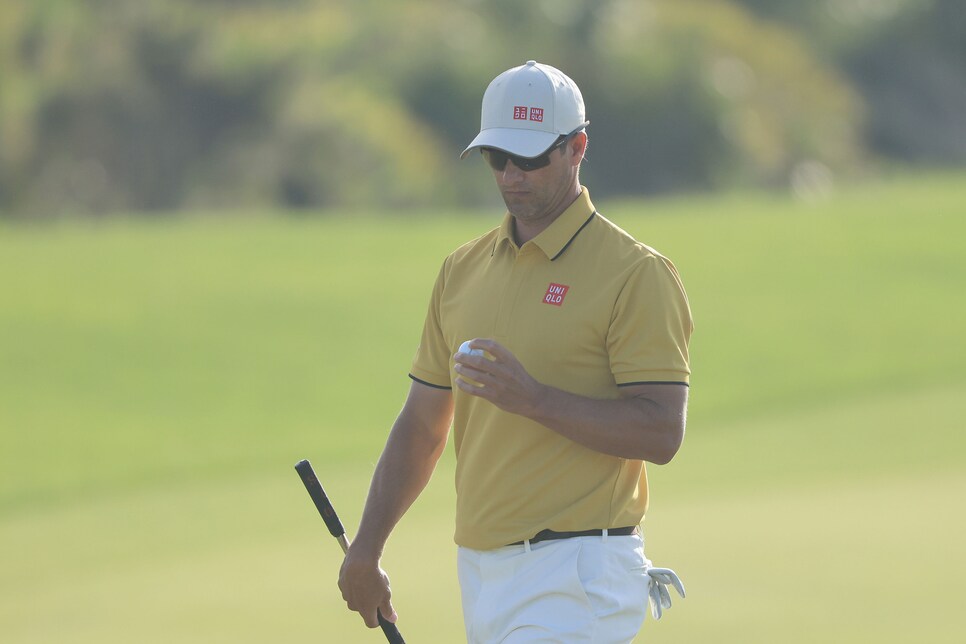 As a native of Australia, Scott probably knows how to play the wind in countless endeavors. Some of which he might be hesitant to talk about. The 2013 Masters winner rinsed his opening tee shot at the par-4 10th hole and started scribbling down hideous numbers. His effort was 10 shots higher than his opener in 2012, in which he eventually finished T-11. In his first start since last month's Masters, Scott played poorly tee to green, hitting just eight fairways and seven greens. Weird stat line. And done with that swing?
Ugly surprise: Daniel Berger, 79.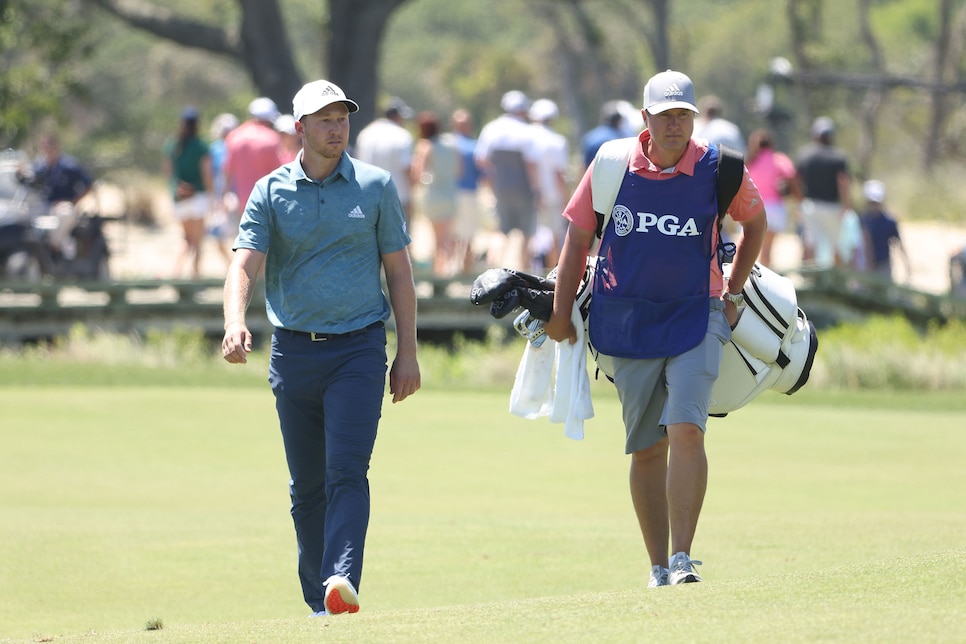 One birdie from a player who ranks third on tour in birdie average was perplexing. Didn't help that he was chopping it up alongside U.S. Ryder Cup captain Steve Stricker. Welp, find a torniquet and get ready for tomorrow.