PGA Championship
PGA Championship 2021: Brooks Koepka is looking like a bad man again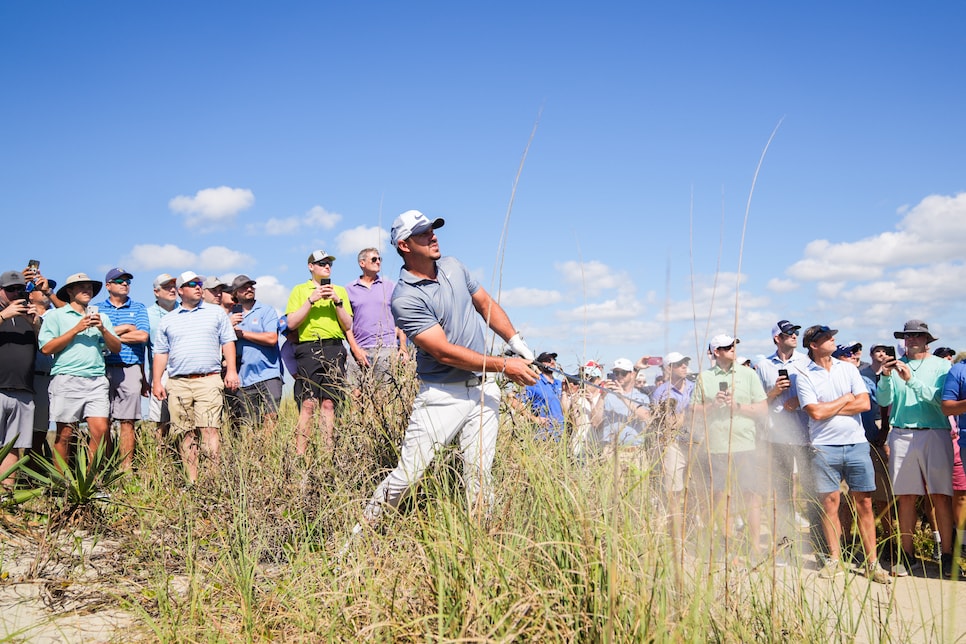 Darren Carroll/PGA of America
KIAWAH ISLAND, S.C—The week was in doubt as he walked to the second hole. That sounds dramatic, and as Jordan Spieth noted in his pre-tournament press conference, the media tends to dabble in the sensational. Yet it was not that Brooks Koepka made 6 on the par-4 10th to start Round 1 at the PGA Championship, but how, and how he looked. The how: A push-cut drive into a waste bunker, the second clipping the bunker's lip, a blast out, an approach to 30 feet and a putt that went 27. The look: Bewildered, hobbled, dejected, looks that have been familiar for the four-time major winner as of late.
More than five-and-a-half hours later, that look had greatly improved, which is not a look his competitors wish to see.
Koepka bounced back from an opening double to fire a three-under 69, tying the low score among the morning wave at Ocean Course.
"It kind of helped refocus," Koepka said of his stumble out of the gate. "I can't play with any mistakes, maybe one a day, and that was my one, and I got it out of the way the first hole. Just had to be real careful and watch what I was doing."
In a sense we shouldn't be surprised. This is a major, those tournaments Koepka once dubbed easy to win with performances to back those words up. To watch Brooks at one of the big four is to watch Andy Cohen at a reality reunion show: A man in total command amid the chaos that surrounds him.
"You just said it. It's a major," Koepka said. "I'm going to show up. I'm ready to play. I've been itching to do this since Augusta."
However this is a different Brooks, one that has been humbled by his body and hubris over the past 16 months. Yes, he won earlier this year at the Phoenix Open and had a runner-up two weeks later at the WGC-Concession. But a strained right knee led to surgery that forced him out of the Players Championship, and though he returned to play at Augusta National he looked like a shell of the tour de force that was on display in the Arizona desert just two months prior. A quick out at last week's Byron Nelson did little to inspire confidence, nor did a Tuesday interview where Koepka admitted he's months away from being fully healthy.
Belaboring his injury-spurred downturn were the rises of Bryson DeChambeau (a favorite bullying target of Koepka) and friend-turned, well, not-friend Dustin Johnson. Their growing statures did the once-unthinkable: Cast a shadow over big, bad Brooks. With that opening double, this did not portend to be the week for Koepka to return into the light.
"Probably a poor club choice off 10. I thought 3-wood would have carried, but it didn't," Koepka said. "I also didn't find the face, barely hit the face. The first rule is, if you're in trouble, get the hell out. I couldn't reach the green. It was a bad lie. Didn't know what I was going. Just tried to hit a pull sand wedge up by the green instead of just chopping it out. So mental mistake there. Deserved every bit of that."
Of course, we should have known better to doubt Koepka, whose career has been powered by turning slights into sustenance.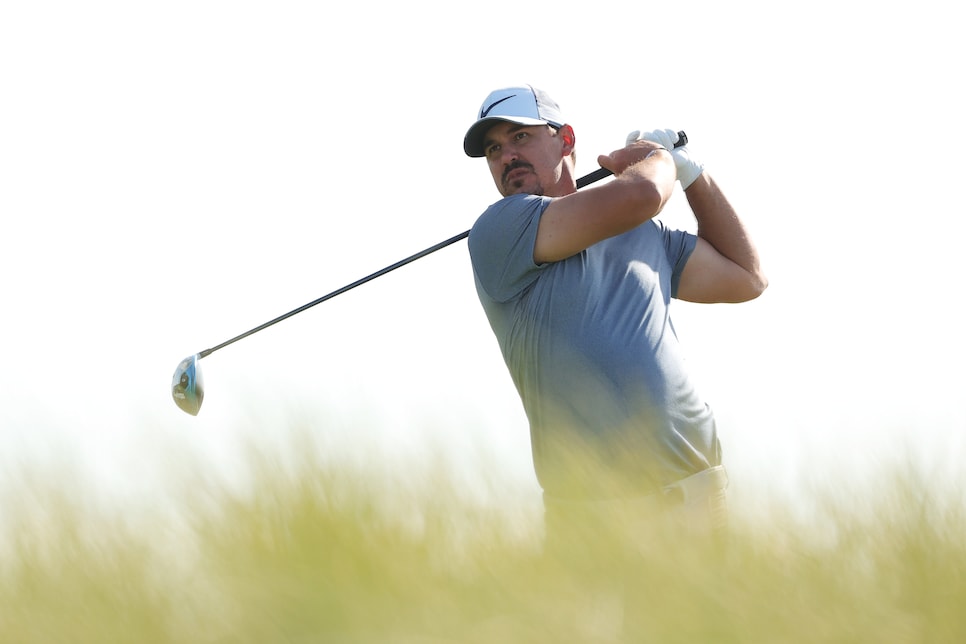 He birdied the 11th and 13th to get back to even, and quickly excused a bogey at the 15th with another birdie at the par-5 16th. Two no-nonsense pars followed to make the turn at 36, almost two shots better than the morning wave's average on the back nine. Koepka proceeded to take advantage of the easier side, racking up three birdies and no bogeys. He did so thanks to a lights-out iron display, ranking first in strokes gained/approach as the afternoon group makes its way around Kiawah.
"I just know mentally I can grind it out. Like when it's windy like this, it's not so much putting, it's more about ball striking, and I felt like I struck it really well today," Koepka said. "I feel like that's why I've done really well. You've got to understand that sometimes par is a good score. You've got to understand that 30, 35 feet is a great shot sometimes, and you've just got to accept it and move on."
While Thursday's round signaled a rejuvenated Brooks, it was not a round without worry. Koepka struggled with his driver, making a number of visits to Kiawah's sand dunes and marshes. Though it does seem that knee is prohibiting a full transfer of power, Koepka blamed Thursday's leaky driver on poor ball position. The same could not be said for reading putts, with Koepka visibly in pain when he bends down. This rugged property does that knee no favors; his gait remains so heavy-footed and awkward it's easy to wonder how much punishment it can take.
But those are worries for the weekend, and after his opening hole Thursday, worries Koepka will gladly accept.
"I felt like I already had confidence," Kopeka said. "So in my mind, it's just a major week. Just show up. That's all you've got to do."