News
PGA Championship 2020: Early leader at TPC Harding Park has no clue how he's leading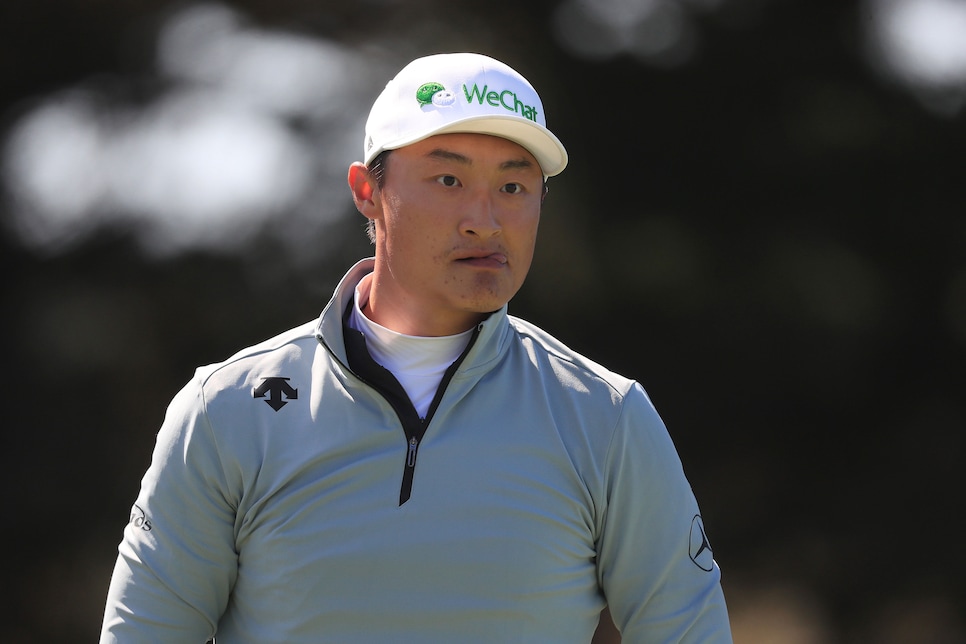 Haotong Li looks on from the 12th tee during the second round of the 2020 PGA Championship.
Tom Pennington
SAN FRANCISCO — Show me someone who saw this coming from Haotong Li, and we'll show you a liar. Heck, even the man himself didn't believe this was in the cards.
"I didn't even think I could play like this this week," Li said. "Especially, like you said, had no confidence."
Li, a 25-year-old from China ranked No. 114 in the world, shot a bogey-free 65 on Friday at TPC Harding Park to post an eight-under 132 total, good for a three-shot lead when he signed his card. Out of nowhere, he has a chance to become the first Chinese man to lead at the end of a round in a major championship.
Li birdied five of his first 10 holes, then grinded out eight straight pars on the back nine to equal the second-lowest round of the week. And he did it while hitting just four fairways, matching the lowest score in the last 20 years in PGA Championship history from anybody hitting four or fewer fairways.
That's a hugely impressive round under any circumstances. But Li's recent results push it to hard-to-believe territory. He has played just two tournaments since the COVID-19 pandemic, missing the cut at last month's Memorial and finishing T-75 in a 78-man field last week at the WGC-FedEx St. Jude Invitational. He has no top 10s on a major tour since April 2019.
So, naturally, he opened with 67 in the tougher afternoon conditions on Thursday in the Bay Area and followed it up with a fantastic round on Friday.
What, then accounts for the turnaround?
"Nothing, really. Just try to play golf."
Golf fans will remember Li for his performance at the 2017 Open Championship, when he shot 63 on Sunday to finish solo third as a 21-year-old. A two-time winner on the European Tour, Li has been as high as No. 32 on the World Ranking and played his way onto last year's Presidents Cup team, though he went 0-2 and was generally considered to be the weakest player on either squad.
Li is, however, not without humor. He said he was "doing nothing" during the COVID-19 break, then told ESPN he gained 15 pounds during it. "Just out here to have fun," he said.
Earlier this year, in Dubai, he showed up to the tournament with "HAOTONG IS THE MOST HANDSOME MAN IN CHINA" stamped on his wedges.
The odds say the next two days won't be a stress-free as his first two, when he made just one bogey of the first 36 holes. So, did that sparkling play alter his hopes for the week?
"I've got no expectation, actually."