News
PGA Championship 2020: Bryson abandons all-driver attack, and Adam Scott takes a smiling shot at him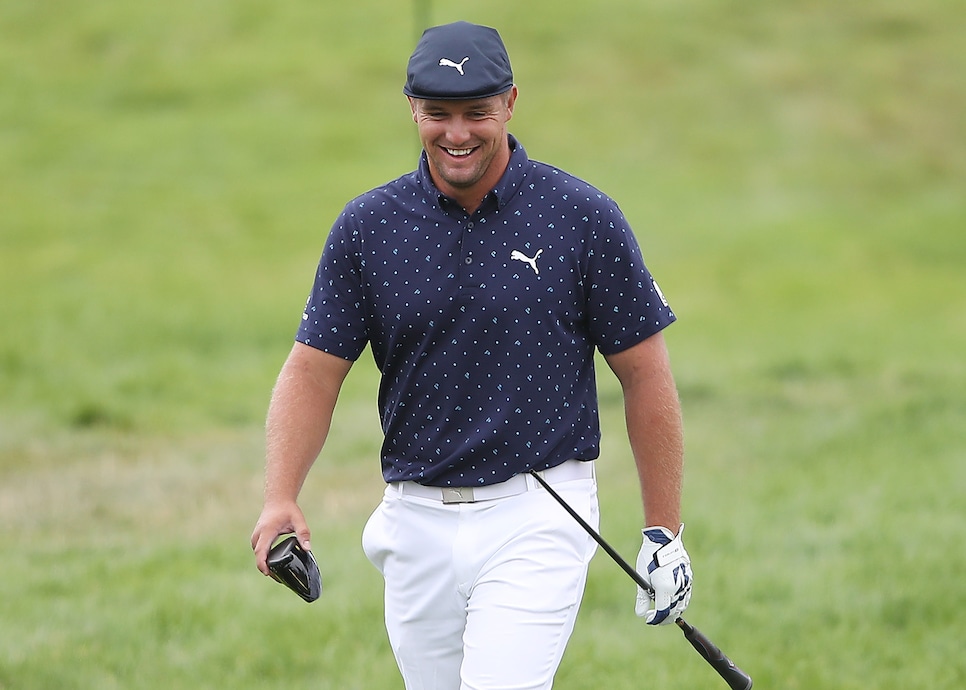 Bryson DeChambeau laughs after breaking his driver on the seventh hole in the first round of the PGA Championship.
Sean M. Haffey
SAN FRANCISCO — The driver broke. Expired is probably the more appropriate word.
Bryson DeChambeau has been walloping that thing relentlessly for months now. Swinging it as hard as he can, which is harder than anyone else on tour can. It made it through Colonial. Held up in Hilton Head and Connecticut. Peaked in Detroit, where he bullied the competition and beat them all. Survived the late-night, adrenaline-addled speed sessions in his swing coach's living room. Stuck with him through disappointing showings in Columbus and Memphis.
The club had been with him for more than a year, throughout the entirety of his bulk-up and "speed training," which has been the talk of the post-COVID golf world. But on Thursday at TPC Harding Park, on the seventh hole of the PGA Championship, when its owner tried to lean on it, the shaft finally gave out. Can you blame it?
"At some point, material is material," DeChambeau said. "You keep wearing it and using it like that, you know, stuff is going to break down. I'm just glad it lasted this long."
Undeterred, he dispatched his manager, Conor Olson, to the parking lot. That's where his backup was. Olson had 15 minutes or so to play with, because DeChambeau's next hole, thankfully, was a par 3. Olson made it back in time, DeChambeau attached the head to the replacement shaft—same specifications, to comply with Rule 4.1—smashed one 327 yards down the center on No. 9, made birdie and continued on like nothing happened.
"The nice part about it is that I've used that [replacement] shaft on the practice range this week, testing, just making sure I have backup shafts. I pretty much do that every week for the most part because I know I'm swinging it this fast, something is going to happen sometime. It's just—you know, it's just going to happen."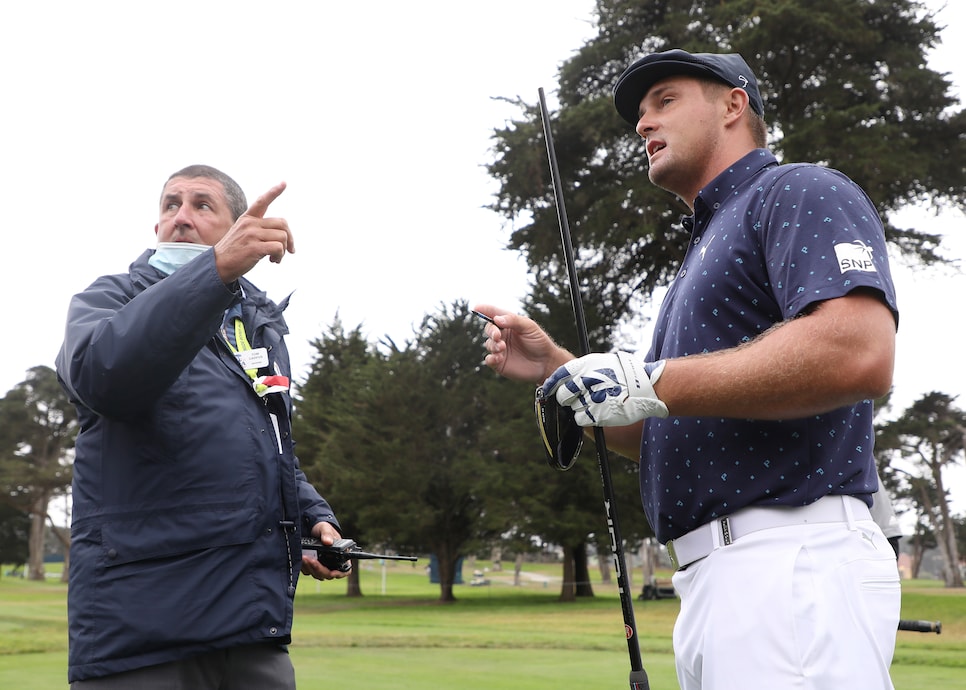 Bryson DeChambeau speaks to rules official Tom Carpus about getting a replacement shaft for his broken driver.
Christian Petersen/PGA of Americ
DeChambeau managed a two-under 68 on Thursday, a solid score, especially considering he had the misfortune of falling in the late half of the draw. The course played nearly a full stroke harder in the afternoon, as the temperature dropped and the wind picked up. The twilight conditions forced him to abandon his driver-or-bust strategy—he hit irons off both the 15th and 16th tees, playing those two holes in one over, before bringing it back for one last 347-yard smash at 18.
"The golf course changed dramatically on the back nine, and it was one of those things that you almost got to be careful and cautious," DeChambeau said. That's, uh, not exactly his style these days.
"I hit 4-iron off of 15, and the wind just blew it really hard to the right. The fairway got firm, and got an unfortunate spot. It just seemed like, you know, we were grinding to finish. The golf course showed its teeth, and you know, we took the brunt of it."
It's not apples to apples, as a number of his drives on the back nine were down wind, but DeChambeau's driving distance actually increased with the new shaft. He averaged 320.5 yards before the break and 339.5 yards after it.
It was an impressive display—to everyone except Adam Scott, that is. He'd been back home in Australia, waiting out the COVID madness, until flying to the States just a few weeks ago. This was his first tournament in five months, so it was his first time playing alongside Bryson 2.0.
"He's hitting it long. There's no doubt about it. Not to like put him down any, but I thought it was going to be longer," Scott said with a friendly smile. "There's been so much buildup, me reading the news and listening to him and watching him play, I thought I was going to see like almost one of those long-drive guys."
Perhaps if Bryson breaks two drivers on Friday, Scott might change his tune.