News
PGA Championship 2018: Our 10 favorite prop bets, odds, wagers and picks at Bellerive
ST. LOUIS—The season's last major visits the Gateway to the West, and what better place to post a friendly wager or two. We're on the banks of the Mississippi, after all; riverboat gambling isn't a hobby here, it's a way of life. So while others may mock our interest in betting club pro head-to-heads or deride interest in 175-to-1 propositions, St. Louis welcomes us with open arms.
And will likely send us out with empty wallets.
Here are 10 of our favorite prop bets, odds, wagers and picks for the 2018 PGA Championship at Bellerive.
Nationality of Winner: USA 8/11, Non-American 11/10
Only six of the top 13 players in the world have Old Glory next to their names, and six internationals have captured the PGA in the last decade. In that vein, taking the red, white and blue with unfavorable odds seems like a stay away.
But that's the problem with this once-great country. Instead of facing the challenges ahead, we shrivel and wave the white flag at the first sign of resistance. Well, I don't know about YOU, but I'm going to stay right here and fight! For when the goin' gets tough, the tough gets goin'!
Plus, Americans have won five of the last six majors, and there's a good chance DJ wins this bad boy by four shots.
Dustin Johnson Wire-to-Wire win: 100/1
Yes, he missed the cut at Carnoustie. In his five other starts since June, the World No. 1 has two wins, two third-place finishes and a T-8. There have only been three wire-to-wire winners in tournament history, and Johnson has, ahem, a mixed track record at majors. Conversely, given the heater Johnson's riding, 100/1 is pretty, pretty tempting.
Also worth noting: Defending PGA champ Justin Thomas, who just laid the smackdown at Firestone—a course redesigned by Robert Trent Jones, who also did, you guessed it Bellerive—is 175/1 to go wire-to-wire. Not that I'd ever tell you how to spend your well-earned money, but, for the sake of your back account, I think you can spare $5 for each of these props.
Will there be a playoff? Yes 3/1, No 2/9, Four-Man Playoff 50/1
I really, really want to endorse a four-man playoff, if only for the 50/1 windfall. Alas, the PGA has been decided via overtime just four times this century, the last in 2011. The way the course is setting up, don't think we're going to see a barn-burner (more on this in a moment). It's not exciting or particularly prosperous, but "No" is the route to take.
Top Continental European: Rafa Cabrera Bello 18/1
Rahm is the smart choice. Bellerive suits his bomb-and-gouge proclivity, and his recent résumé (20 top-five finishes in last 52 events) is absurd. However, his 10/3 odds don't offer an enticing payout, and his admittedly-small sample at majors—one top 25 in nine professional starts—doesn't build confidence. Francesco Molinari has the second-lowest odds (7/2) in this group, yet, as strong as he's been as of late, this course doesn't speak to his strengths.
Cabrera Bello enters St. Louis ranked ninth in strokes gained/approach, and while he's had a so-so summer, seems like the Spaniard is due to start heating up with the Ryder Cup on the horizon. Don't be surprised if the 34-year-old is in contention come Sunday.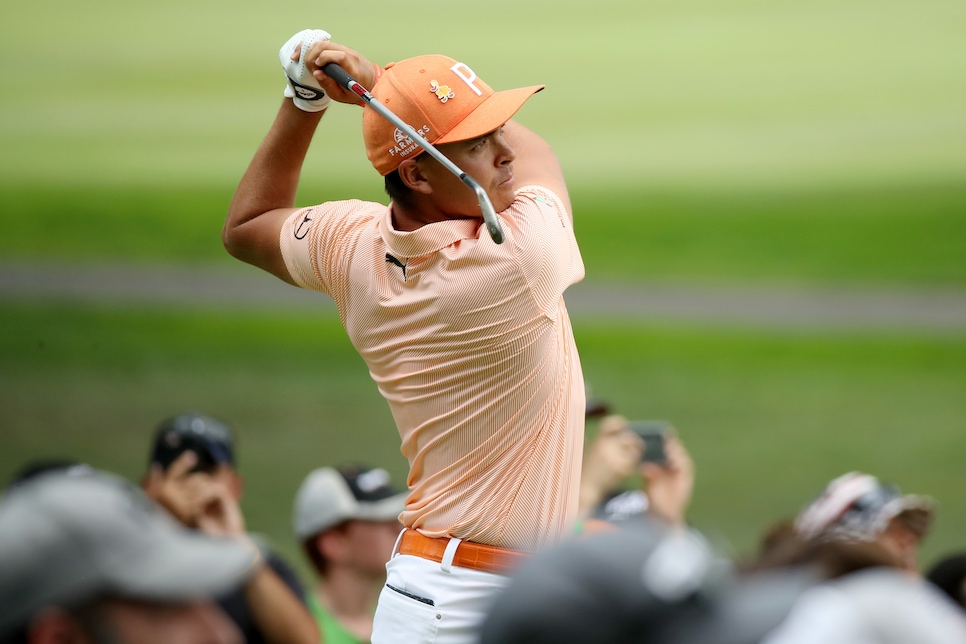 First Round Leader: Rickie Fowler 35/1
Rickie Fowler's scoring average ranks, by round, this year:
1st Round: 9th
2nd Round: 32nd
3rd Round: 31st
4th Round: 68th
Fowler also boasts two top-five finishes in his last four PGA Championship appearances. Understand the aversion to Fowler at majors, but a) His run at Augusta National four months ago showed he's ready to win the Big One b) His putting, which has been somewhat iffy compared to his historical output, is starting to come around c) He's just 29. Throw in the extra incentive to secure a Ryder Cup spot this week and those throwing in the towel on Fowler will come to regret it.
Winning margin: 1 shot 5/2, 2 shots 4/1, 3 shots 11/2, 4+ shots 7/2
Only two players have won by four-plus shots in the last two decades: Rory McIlroy (eight at Kiawah in 2012) and Tiger Woods (five at Medinah in 2006). Conversely, observers are expecting a relatively benign set-up, one that will facilitate a host of red figures. And when things turn into a shootout, the winning margin tends to be wider than we believe. Three shots feels right, and 11/2 odds make it an easy sell.
Head-to-Head: Marty Jertson, Matt Dobyns (-110 each)
That's right, a club pro match-up. You thought we were kidding in the lede? In case you had any doubts that we're degenerates.
Jertson is director of product development for Ping who will be making his third PGA Championship start, while Dobyns—a PGA Professional Champ legend—is a PGA Championship regular. Both hit the hell out of the ball; Jertson gets the slight edge in iron play, while Dobyns is a short-game wizard. It doesn't matter who you back: If you're going down this fox hole with us, you're a winner. (For the record, we put a not-so-small amount on Jert Bird.)
Hole-in-one: Yes -140, No +100
It's no. Trust us, an ace ain't happening. We're not happy about it either. Let's just move on.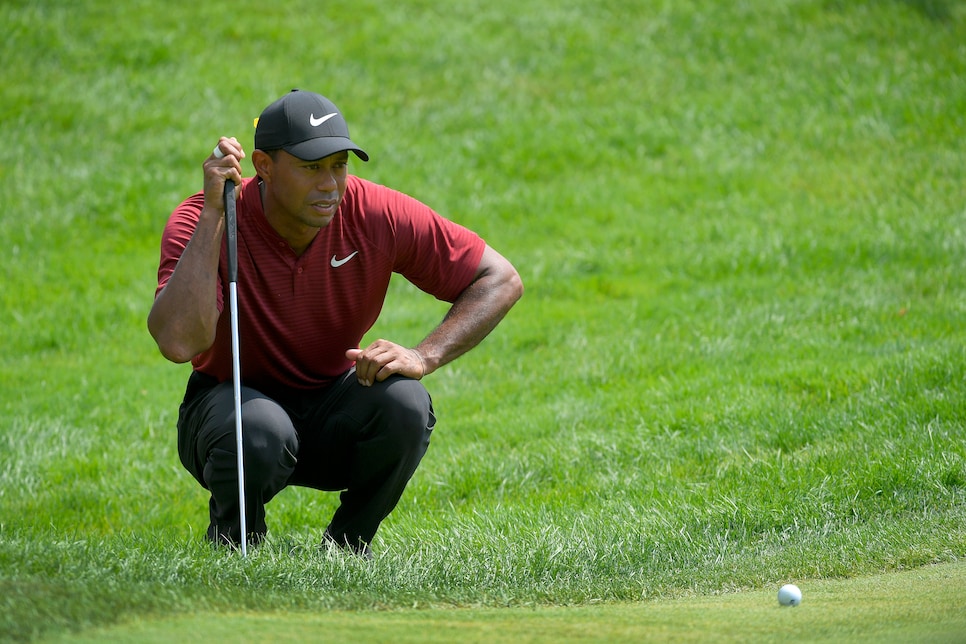 Will Tiger Woods make the cut? (Yes +110, No -110)
Not sure Tiger has the juice to compete over four days in the Missouri humidity, particularly coming off a weekend in Akron when it looked like he was running on fumes. Mentioned above, the Bellerive set-up seems to portend fireworks, and, at this stage of his career (or at least comeback), that's not a race Woods will win.
However, he did play well the first two days at Firestone, and, in case you were in a coma, the man damn near won the claret jug. Plus, as we've established, you can get wild off the tee without penalty at Bellerive, a sentiment that's promising for Woods' prospects. It may not be pretty, but expect Woods to be teeing it up on Saturday.
Winner: Tony Finau (30/1)
People are jumping on the Finau bandwagon, and with reason. He's the only player to finish in the top 10 at every major this year, astonishing considering he dislocated his freakin' ankle the day before the Masters. He's coming off an auspicious showing at Firestone, his tee-to-green game (15th on tour) is tailored for Bellerive and the course's slow greens should negate his sometimes-woeful short game. The odds aren't especially alluring, and it's worth noting that he still has just one win on tour (at an alternate event at that). Still, the Finau Breakthrough has been oh-so-close over the past year. It will finally come to fruition in St. Louis.